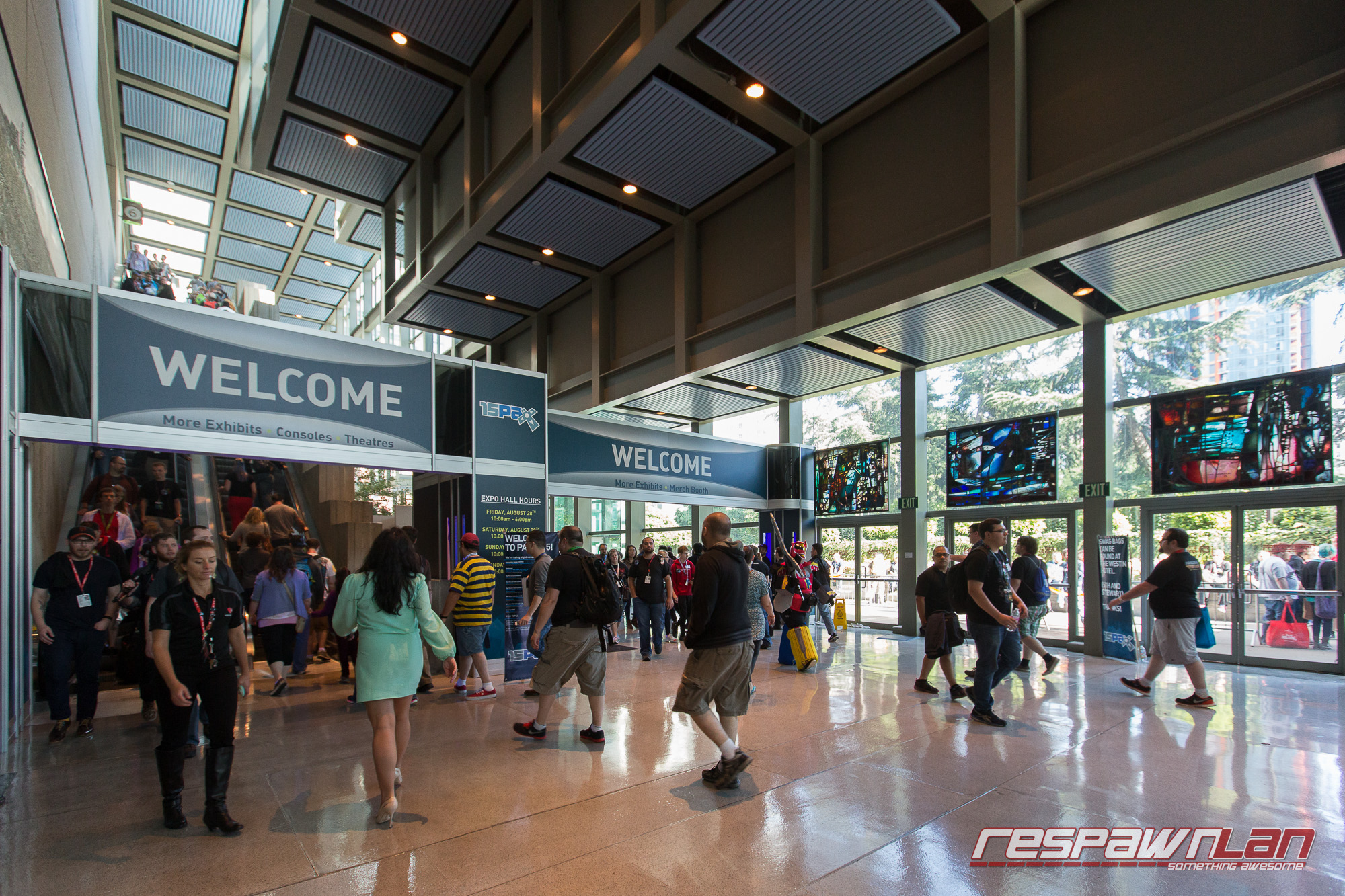 One PAX, for me, per year, wasn't going to be enough. After the awesome that was PAX Aus last year, it was clear to me that I needed to do something about this; I called up my airline and booked some flights and the next thing I know, I'm spending nineteen hours in the air on the way to Seattle, Washington, in the great land of the United States of America for a gaming convention.
I had Internet for two of those hours, while in the air. This was some crazy voodoo "the future is here" stuff going on.
What is PAX?
Well, this, in a nutshell.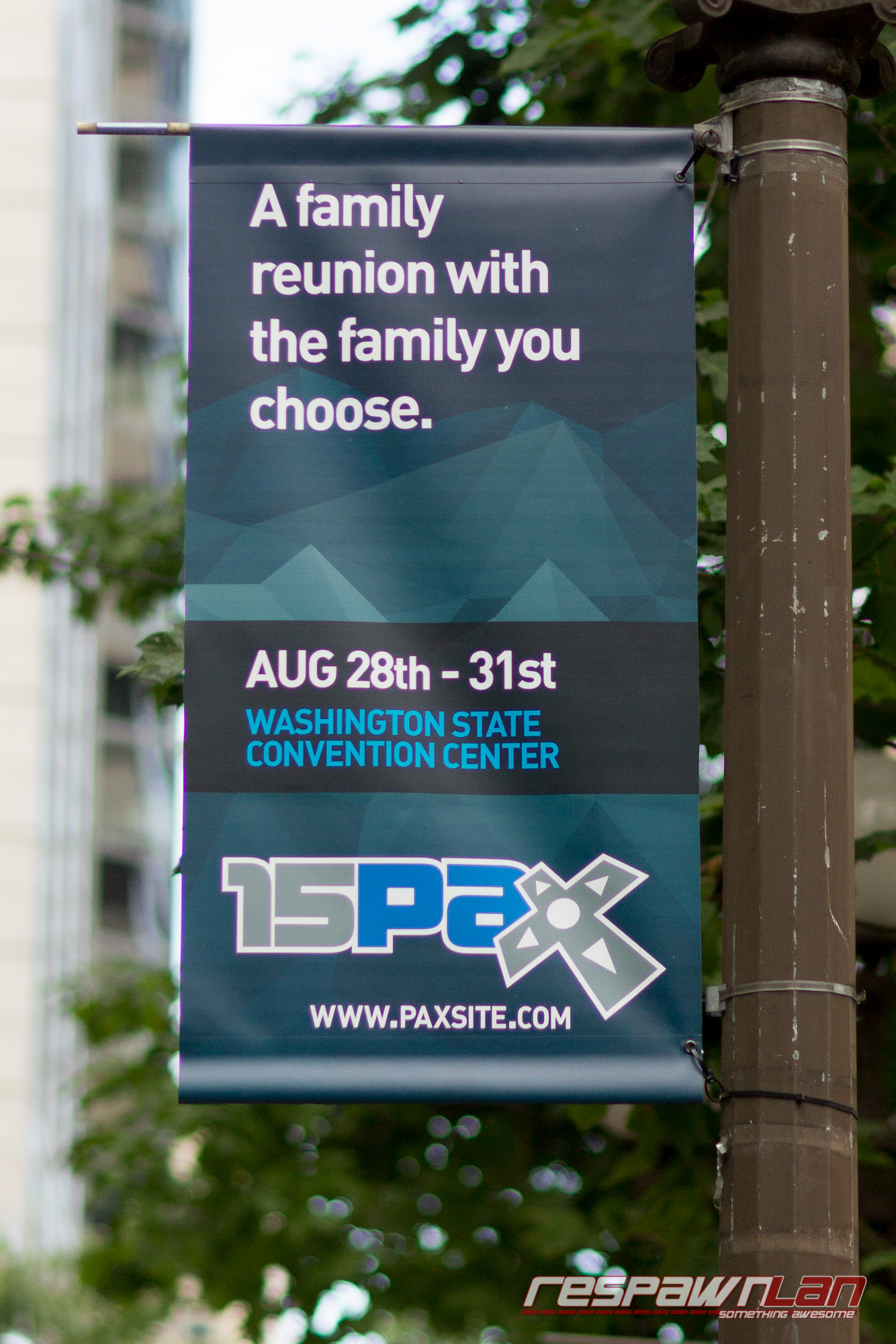 And lots and lots of this: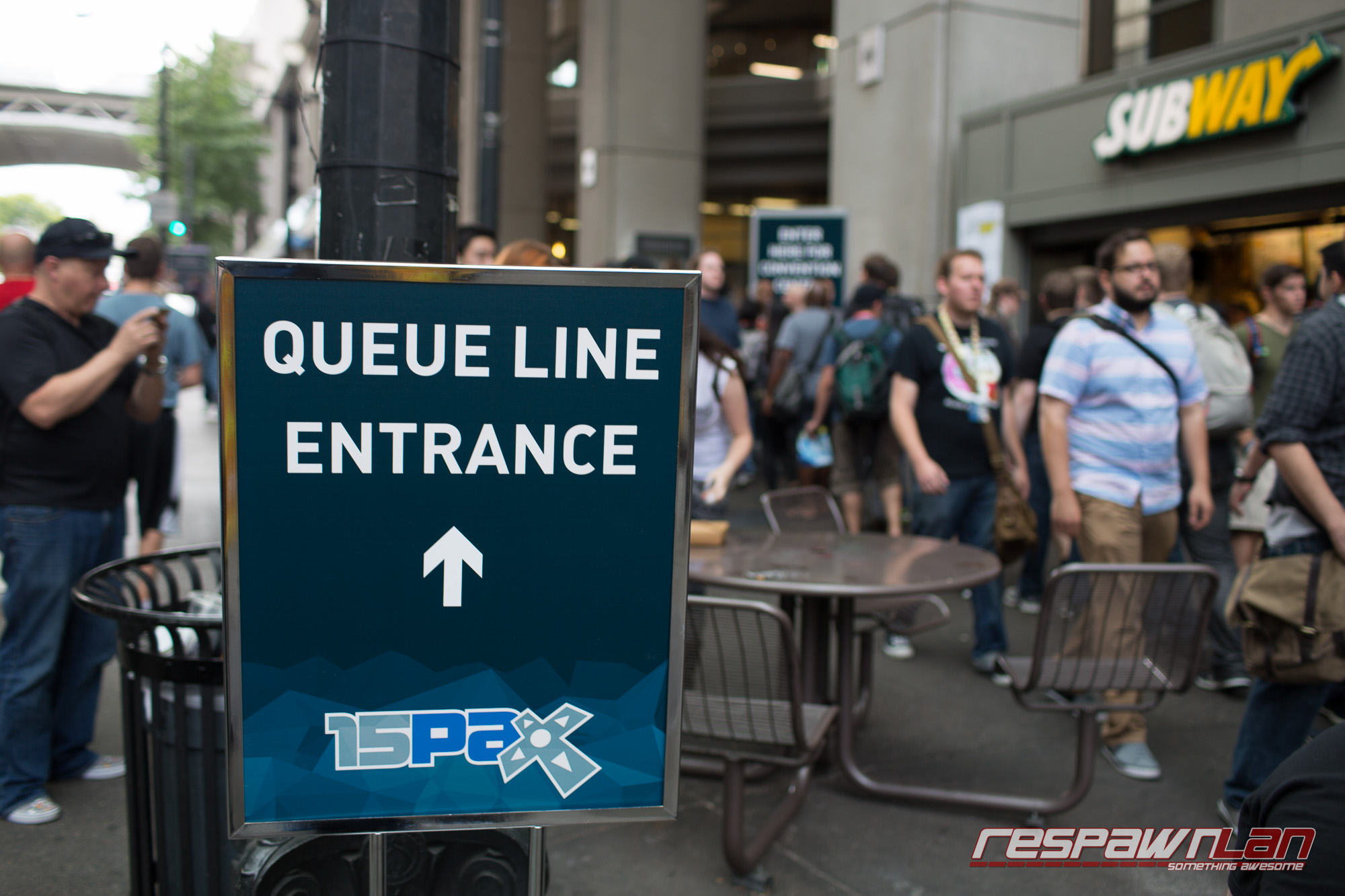 It's like comic con, but for games. Video games, board and card games, PC games, anything that has something to do with gaming is there. Think of it as E3 but for the rest of us. You'll be there with tens of thousands of people just like yourself; with a passion for playing games and other cool things.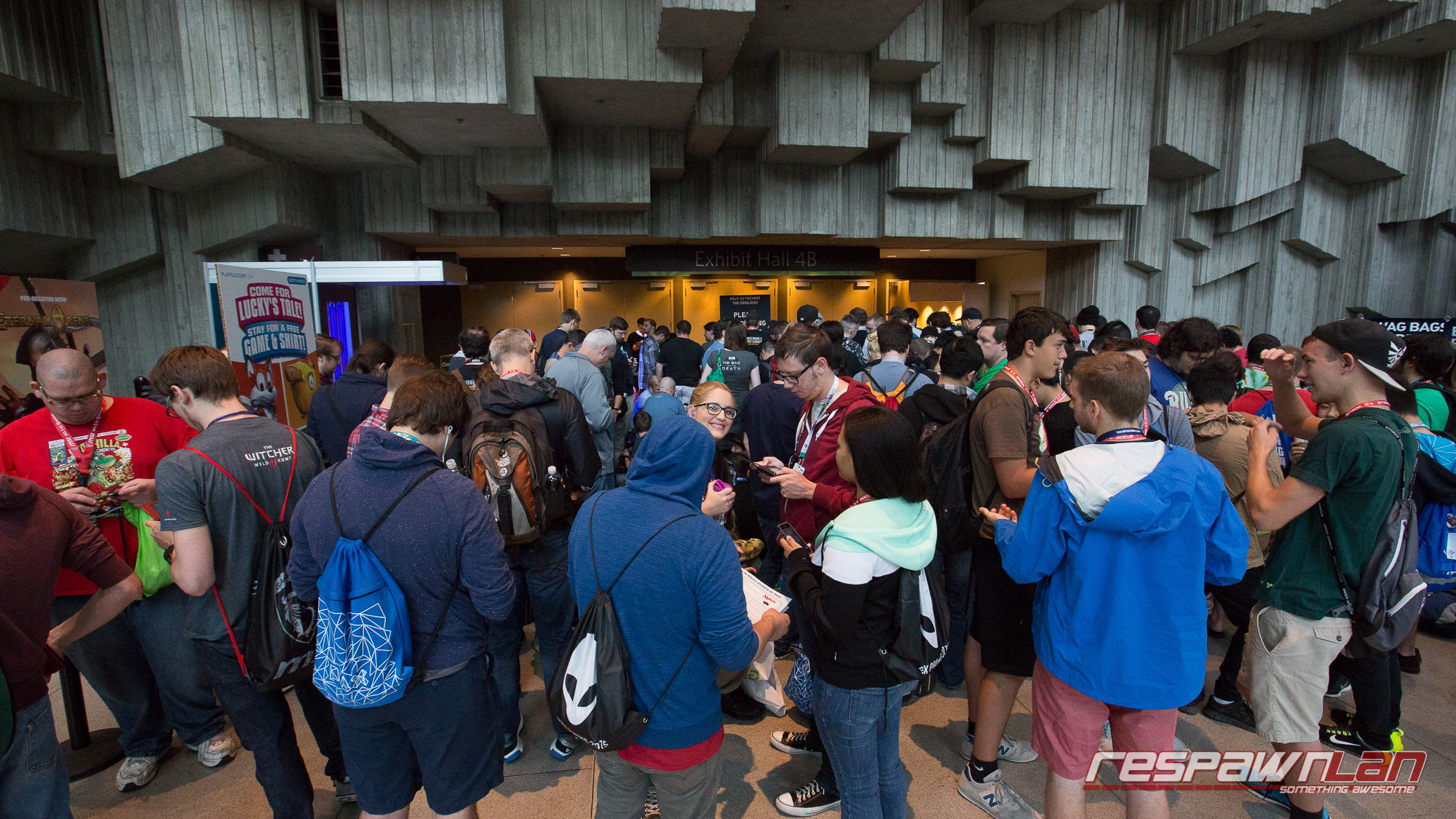 It's challenging to talk about PAX to people who have yet to attend. It's a gathering of people just like you. And the atmosphere is amazing - there is a real energy about the place that can't easily be described.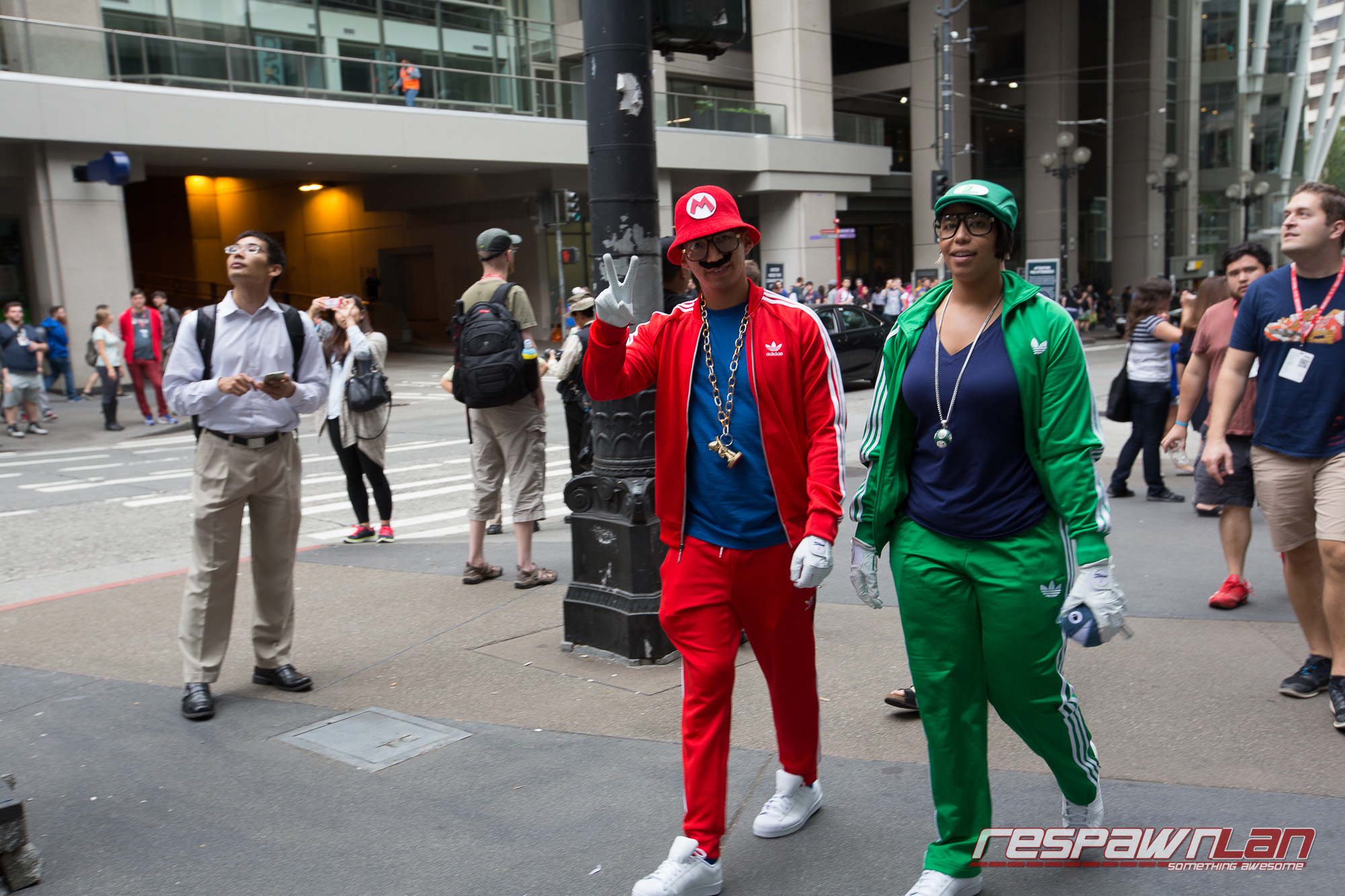 This has been the 11th year of PAX, which started in 2006 in a very small convention centre and rapidly - very rapidly, grew from there, year on year. What started out as an informal gathering of fans of the Penny Arcade comic strip in the GameWorks bar was quickly embraced by Penny Arcade and has been grown into the PAX we know today; four events, three of them in the United States plus the only PAX that will ever be run outside North America, PAX Australia. There are four PAX events:
PAX Prime
in Seattle, Washington, their biggest and longest running PAX event.
PAX East
in Boston, NY, which started in 2010.
PAX South
in San Antonio, Texas, which started in 2015.
PAX Aus
in Melbourne Australia, the only PAX that will ever run outside North America, started in 2013 at the Melbourne Showgrounds before moving to its new home at the MCEC facility in South Warf.
PAX Dev
runs in the days leading up to PAX Prime and is aimed at game developers. PAX Prime is the only PAX that runs for four days; all others run for three. Prime typically falls on labour day weekend so Monday is a public holiday but this year was different, although the numbers on Monday were still strong. The expo hall runs from 10am till 6PM on all four days; the rest of the show is open until 11PM on the first three days but closes up at 7PM on the Monday to allow for time for teardown.
In short, if you like games, PAX is for you. If you don't like games, then I am really, really sorry for your loss.
How do I PAX? (updated 20/9/2015)
I met someone a few days ago who also went to PAX Prime. There are very few Australians who go, so this was a bit of a surprise to me. The even bigger surprised was that our collective experience of PAX Prime was very different; he told me about the Omegathon, of which I didn't see at all. Apparently, the final was held with a game of Mario Bros with a custom PAX-themed course developed in Super Mario Maker. I'm somewhat sad I missed it but I know I would have missed something else if I had gone to the Omegathon final.
You see, this is okay. There is too much to see at PAX; it's really not possible to experience every single activity or event at a PAX. Do not kid yourself; do not try to be hardcore by trying to see everything. You will miss more by trying to get a cliff's notes from everything than experiencing the fewer things that truly interest you.
So my advice is to flick through the guidebook and pick the things that *you* want to see. For example, I'd probably spend an entire day - or a large portion thereof, in the Magic area in future. I didn't spend enough time there this time and I missed out on more by trying to not miss out on everything else at PAX. I also completely missed the Splatoon tournament in console tourney. Missing my favourite game of the moment? Rookie mistake. My objective this time was, however, to find out what PAX Prime was all about - what were the similarities to PAX Aus? The differences? It was to get the cliff's notes. Now with that knowledge in tow, I'll take a more relaxed and focused approach to future PAX Prime events.
This advice holds true to any con or event. If you're there with friends and they don't want to do all the specialised things you'd like to, for example, if you are an aspiring game developer and want to check out the numerous panels about the industry and how to get started, do not worry! Leave your friends behind; you'll meet people who share the same passions and ideas as you and be better for it. Just don't tell your friends that I said this, but they'll meet amazing people, too.
Use the PAX opportunity to go to things that you're passionate about. Meet people in lines, keep in touch with them. Join them for dinner or drinks during PAX after doing so.
For that reason, PAX is one of the very few activities which is just as enjoyable alone as it is with a group of people.
Oh, and make sure you see the final of the Omegathon.
The Venue(s)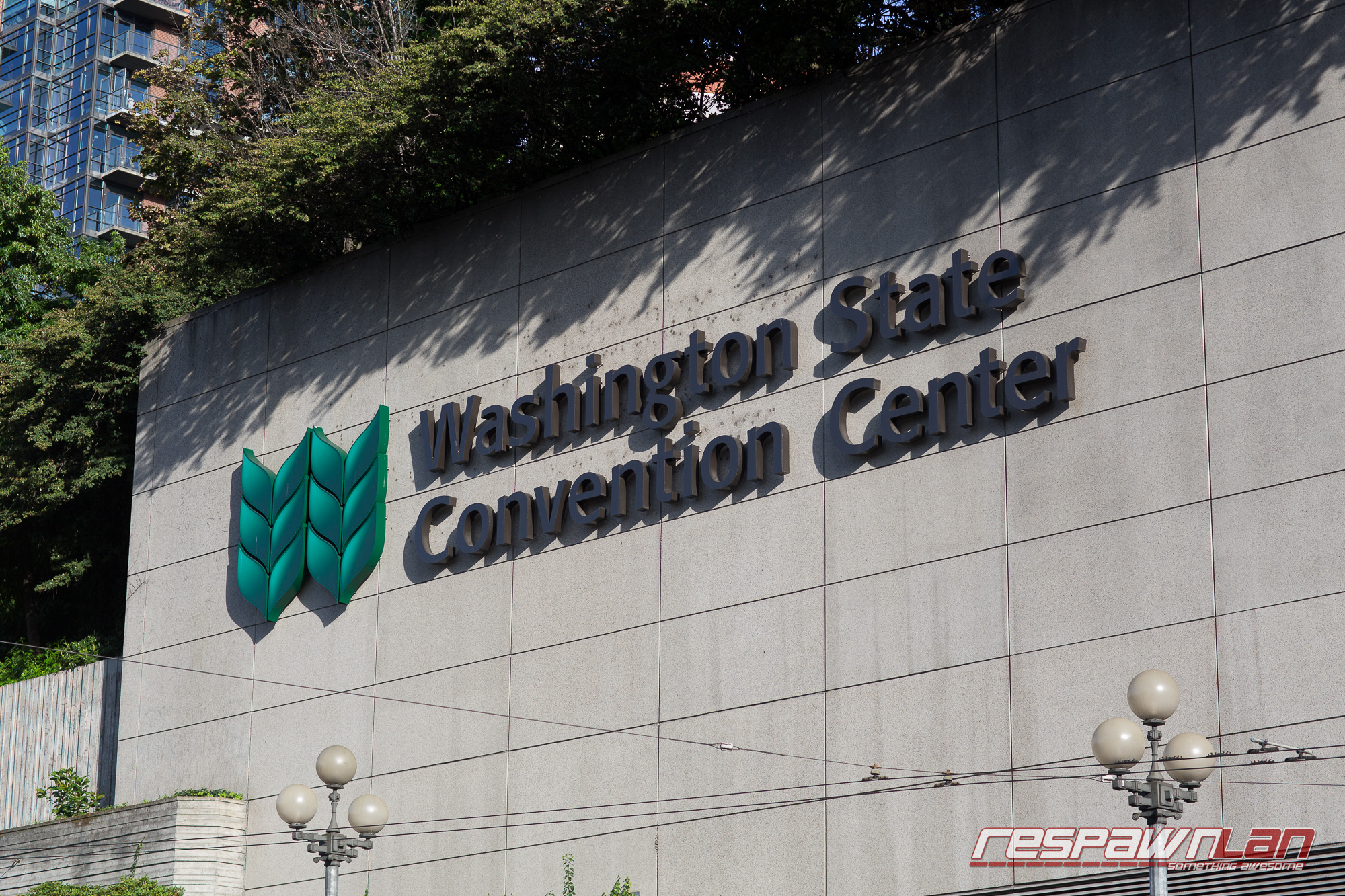 PAX Prime is held in the Washington State Convention Centre in Seattle. Over the years it has since outgrown this venue and now takes up residence in the Parkroyal, the Sheraton, the Benaroya (think a hall similar to Hamer Hall, home of the Seattle Symphony), Paramount Theatre and the Westin Hotel. This means, for panels, you need to allow a lot more time for walking about the city.
The Westin put on a Portal theme for the weekend: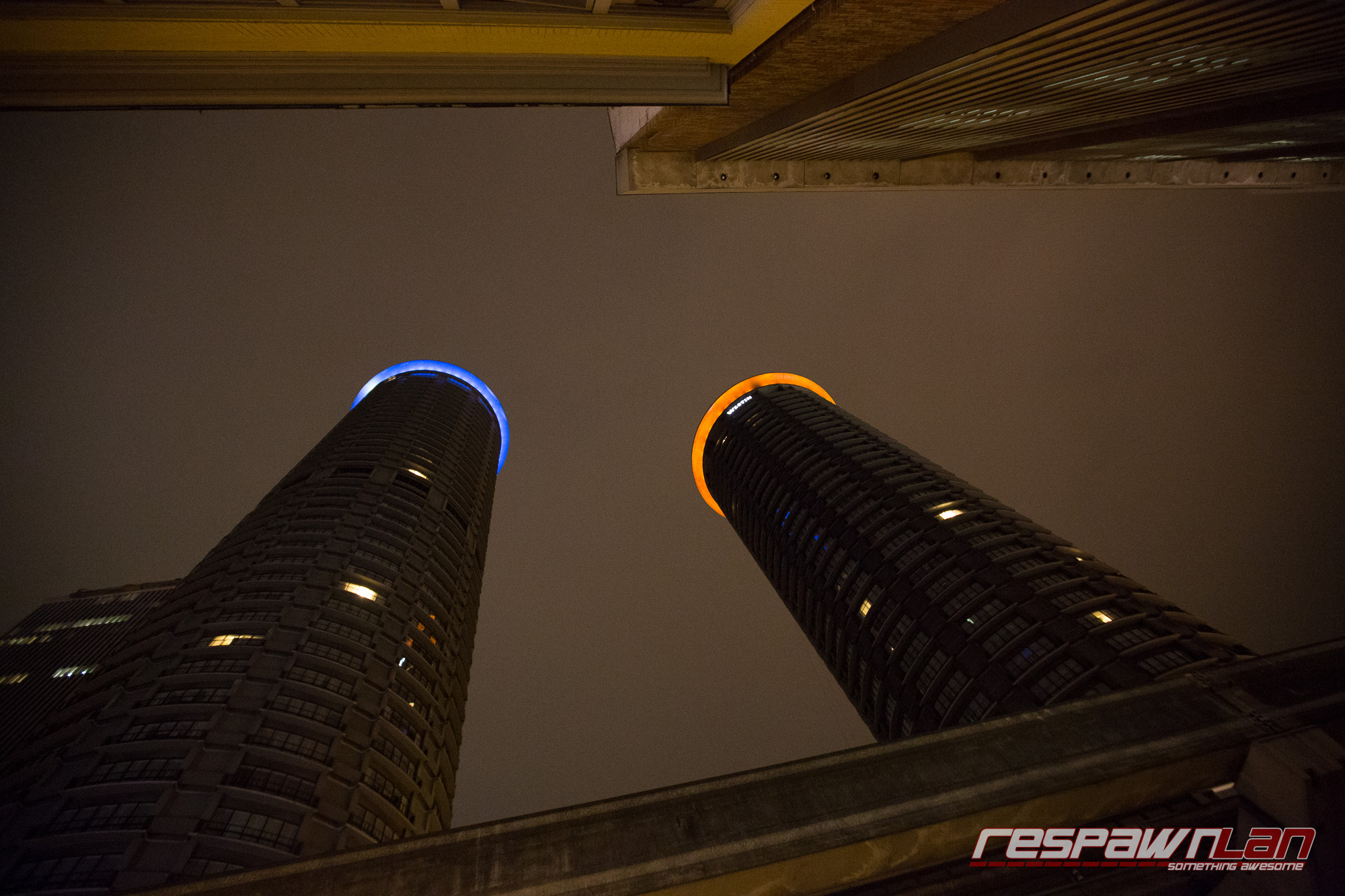 Look, let's just say that PAX Prime's venue is the city of Seattle.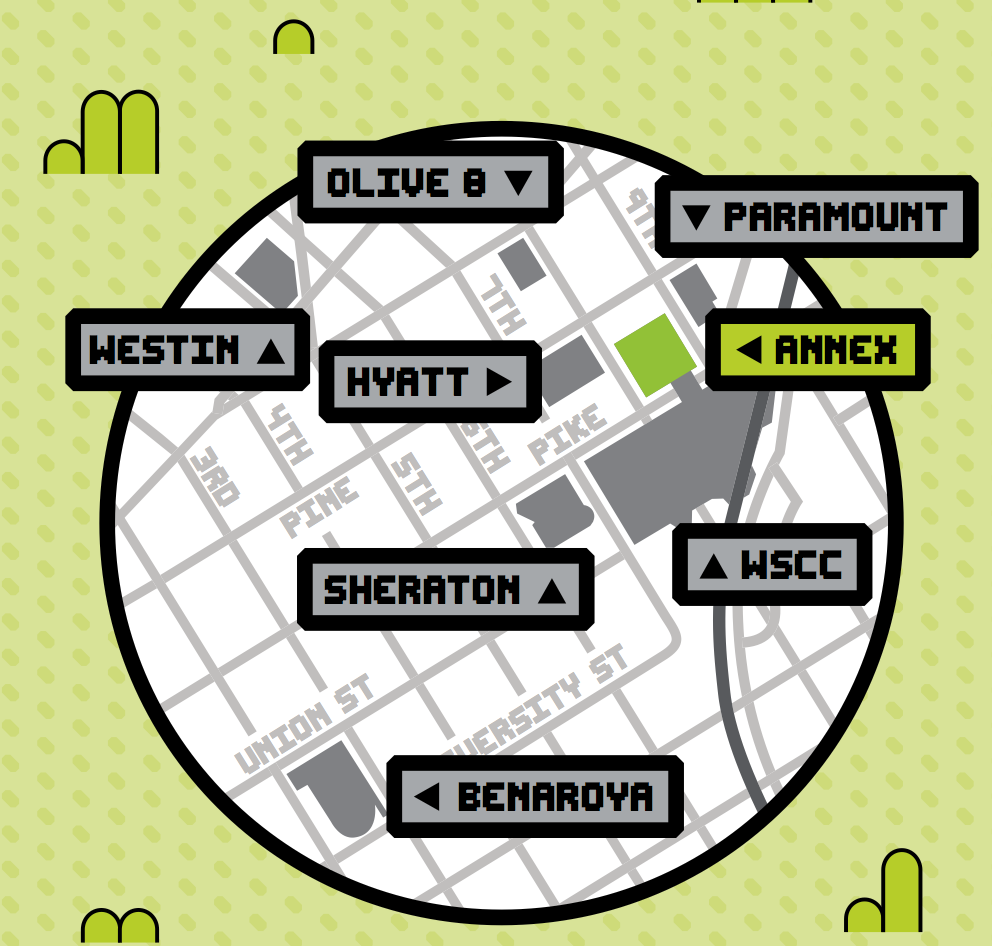 Seattle is a beatiful city; you'll rarely find any litter (sorry, trash) on the footpath (sorry, sidewalk) in the CBD (sorry, I mean, "downtown"). Once you come to terms with the fact that they have slightly different names for some things, the city is reminiscent of Melbourne in many ways.
If you're ever visiting from Australia, be sure to bring some Tim Tams over; they can't get them over there in the states, especially the flavours (sorry, flavors) that you'd expect to appeal to that market such as the salted caramel or peanut butter flavours.
But the accent alone is a great conversation opener, the Australian accent opens doors.
Spreading out PAX over an entire city gives the whole place a certain energy in the air; PAX takes over Seattle in a way you'd expect the Olympic Games to take over a city. Everywhere you look, there were people with PAX badges around their neck. This wasn't limited to just the above venues; you'd often find yourselves lining up for a while to get food or drink in many places across Seattle.
This is unique to this particular PAX; other PAX events are mostly confined to their surrounding convention and exhibition centres.
The Expo Floor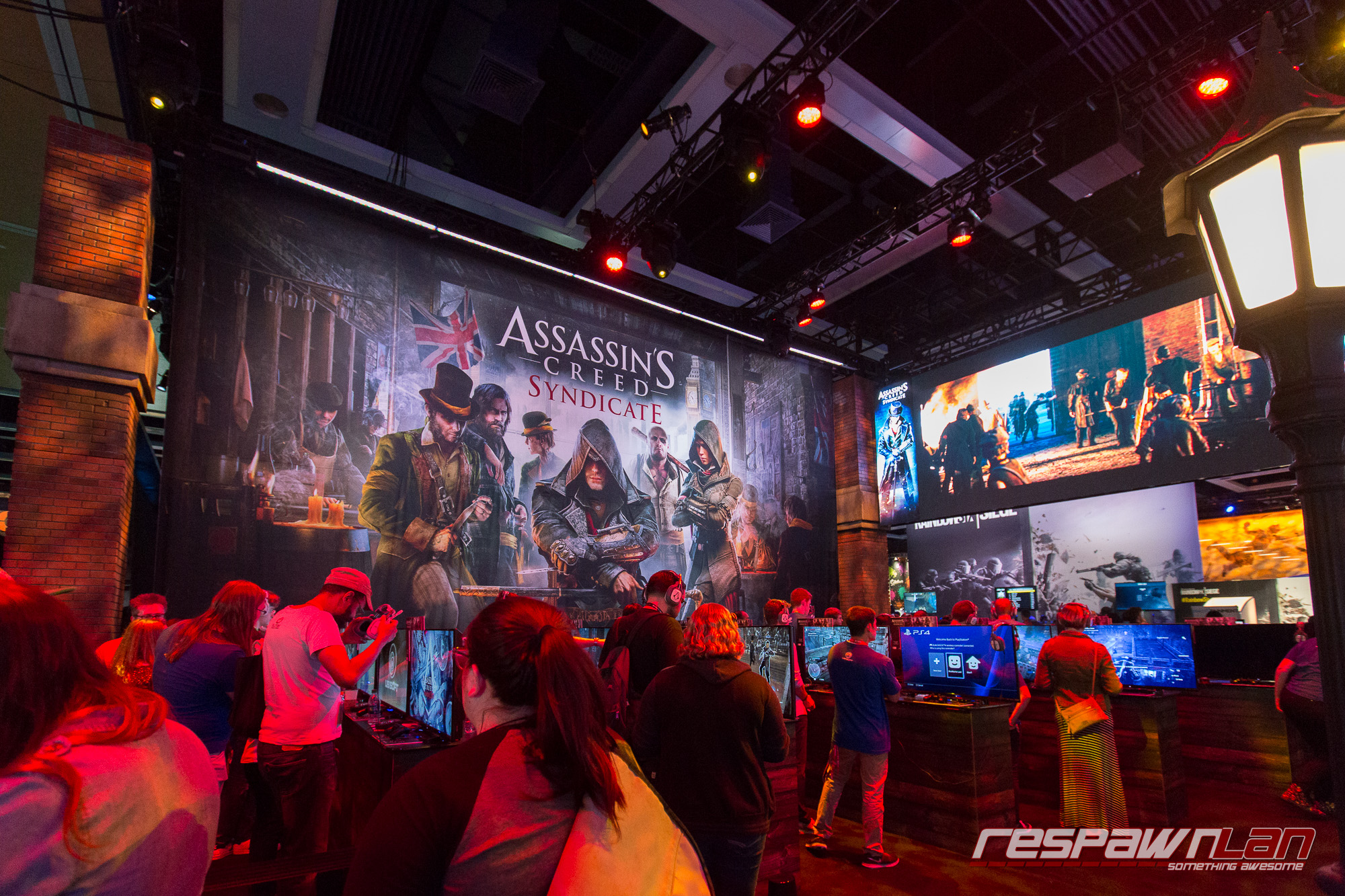 Now I'm going to keep saying this over and over again - there is much more to PAX than the expo hall. But the expo hall at PAX Prime is worth of spending a great deal of time in, because that's where you'll find the biggest names showing off their biggest wares and this is where most of the exclusive and free stuff is distributed.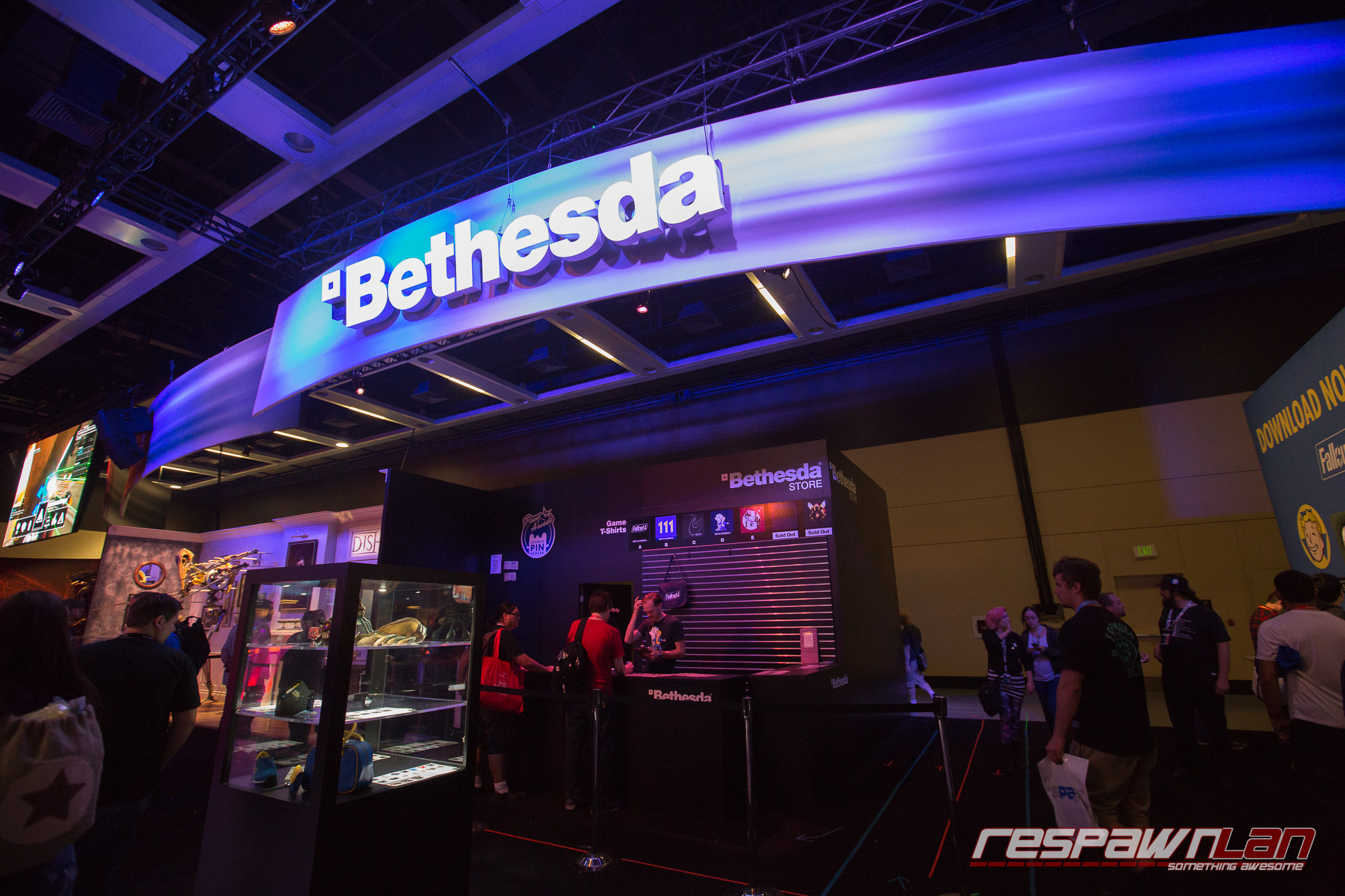 The expo floor is amazing. From the literal second you walk inside, there's an energy that can't be described.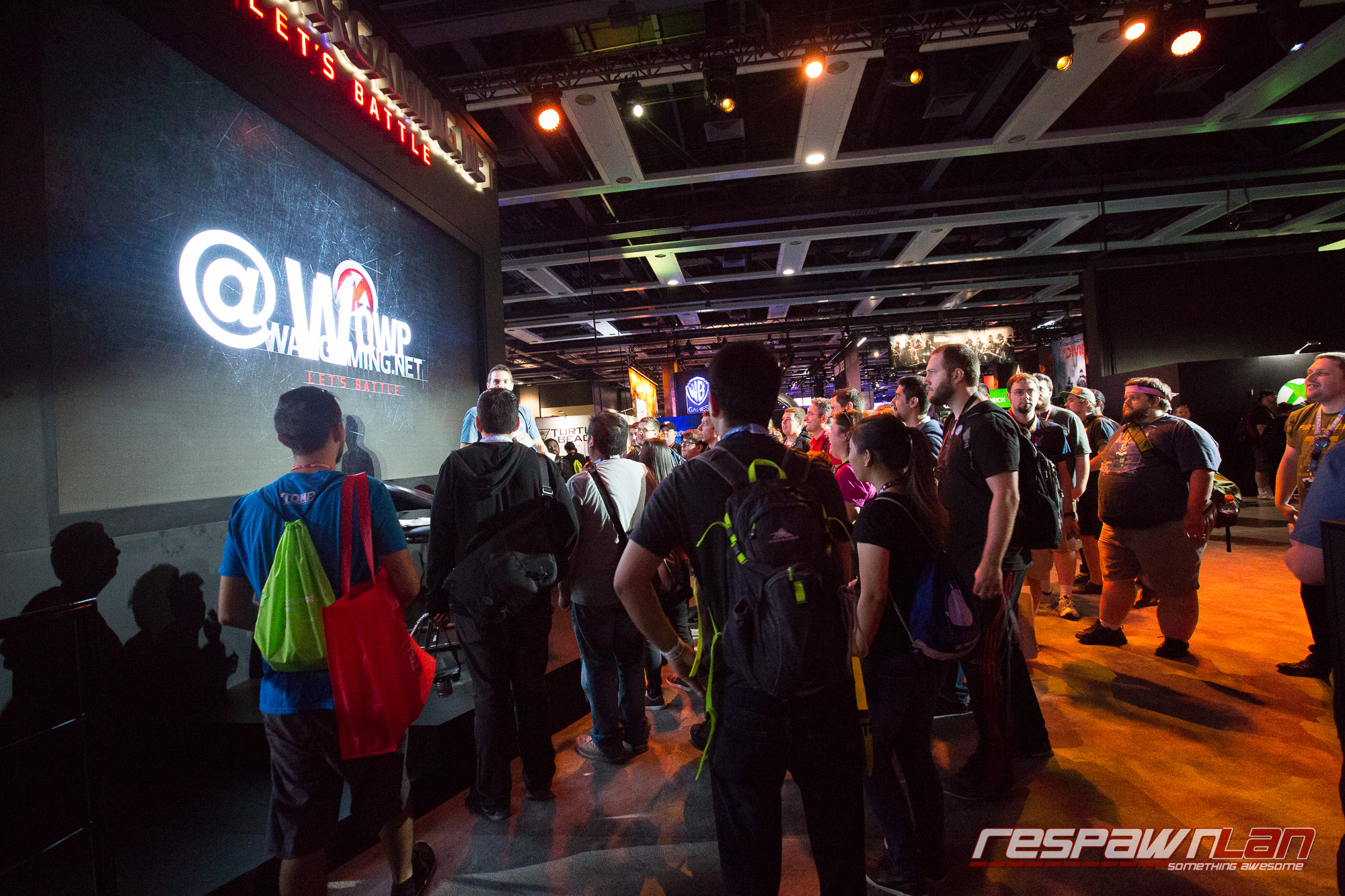 This is where you'll find all the exclusive, limited release stuff that goes on sale from 10AM. Bethesda had a limited run of Fallout 4 pins, Twitch had a limited run of Twitch pins, there were T-shirts and plenty of other swag you could win. Everyone was giving away something impressive.
Kingston's Hyper X brand was well established, with plenty of giveaways and raffles.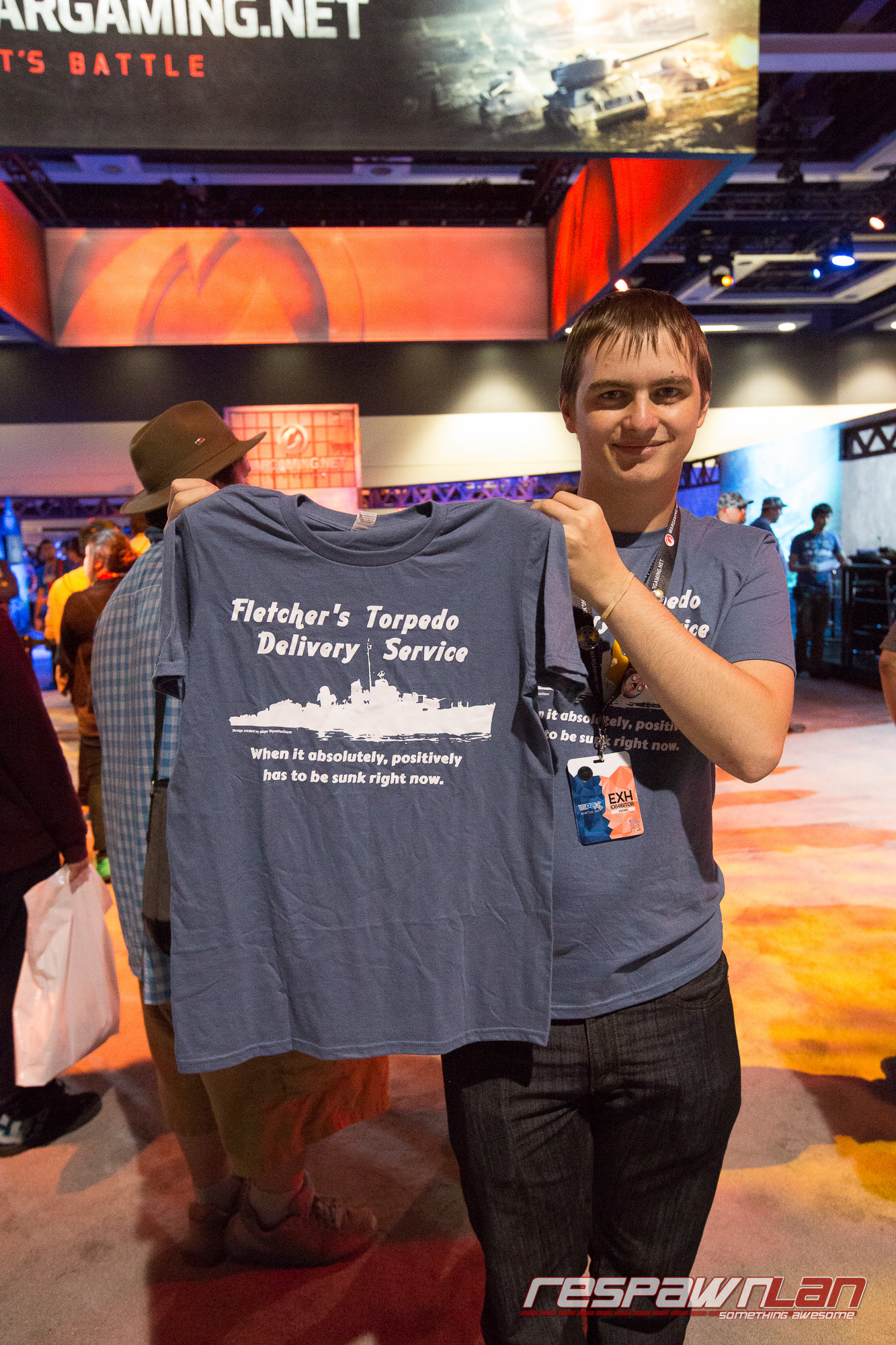 Wargaming had a great display of World of Tanks and World of Warships, complete with live casting of matches played at their 'booth. I lined up for 20 minutes in order to get their official pinny arcade pin and hilarious T-shirt - which you had to play World of Warships to get - but I ended up being seconded into playing a full-on team game with four other fellow teammates. It lasted one and a half hours but it was an awesome experience, getting to really know the game and being coached by a member of a competitive eSports team who plays the game.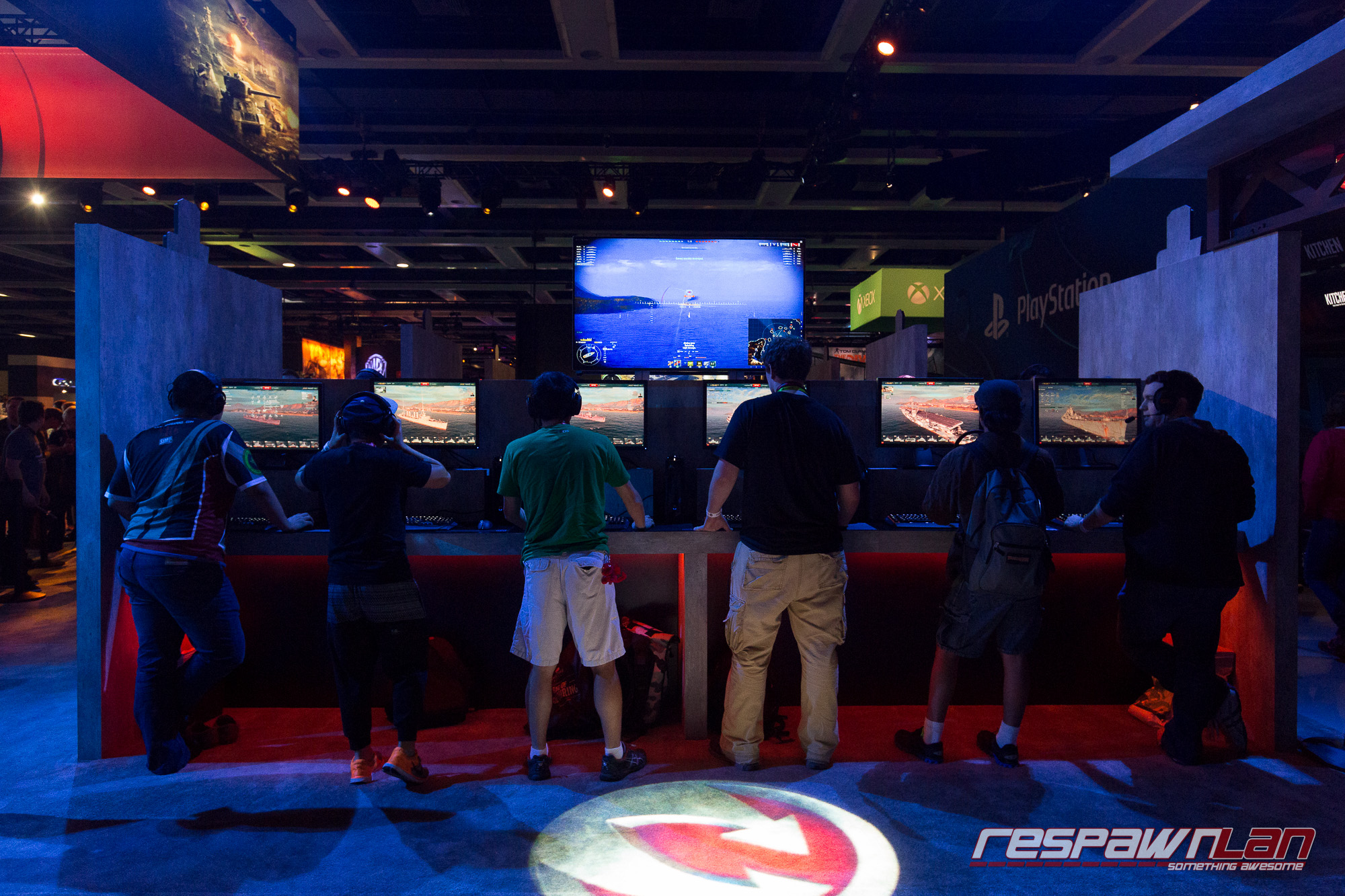 Our team came second. Don't cheer too loudly just yet; there were only two teams; I walked away with a HyperX 32GB memory stick for my trouble. The winning team walked away with headsets. I'm somewhat glad that I didn't win the headset - not to be greedy - but excess luggage was a big concern for an international traveller. Being live-streamed as the other team Sunk My Battleship felt a little exposing but I was okay with this - this was PAX, and getting live-streamed on big screens by playing games is part of the deal!
I didn't line up at the Microsoft stand; I was told the line took just over an hour to cycle through in order to play Halo 5 which was playable at the show.
I was disappointed that the new DOOM wasn't playable, but they had a thing where you could get your photo taken holding a chainsaw DOOM-style. The line seemed long so I opted out of that one, only realising later that there was a special Pinny Arcade pin in it for my trouble.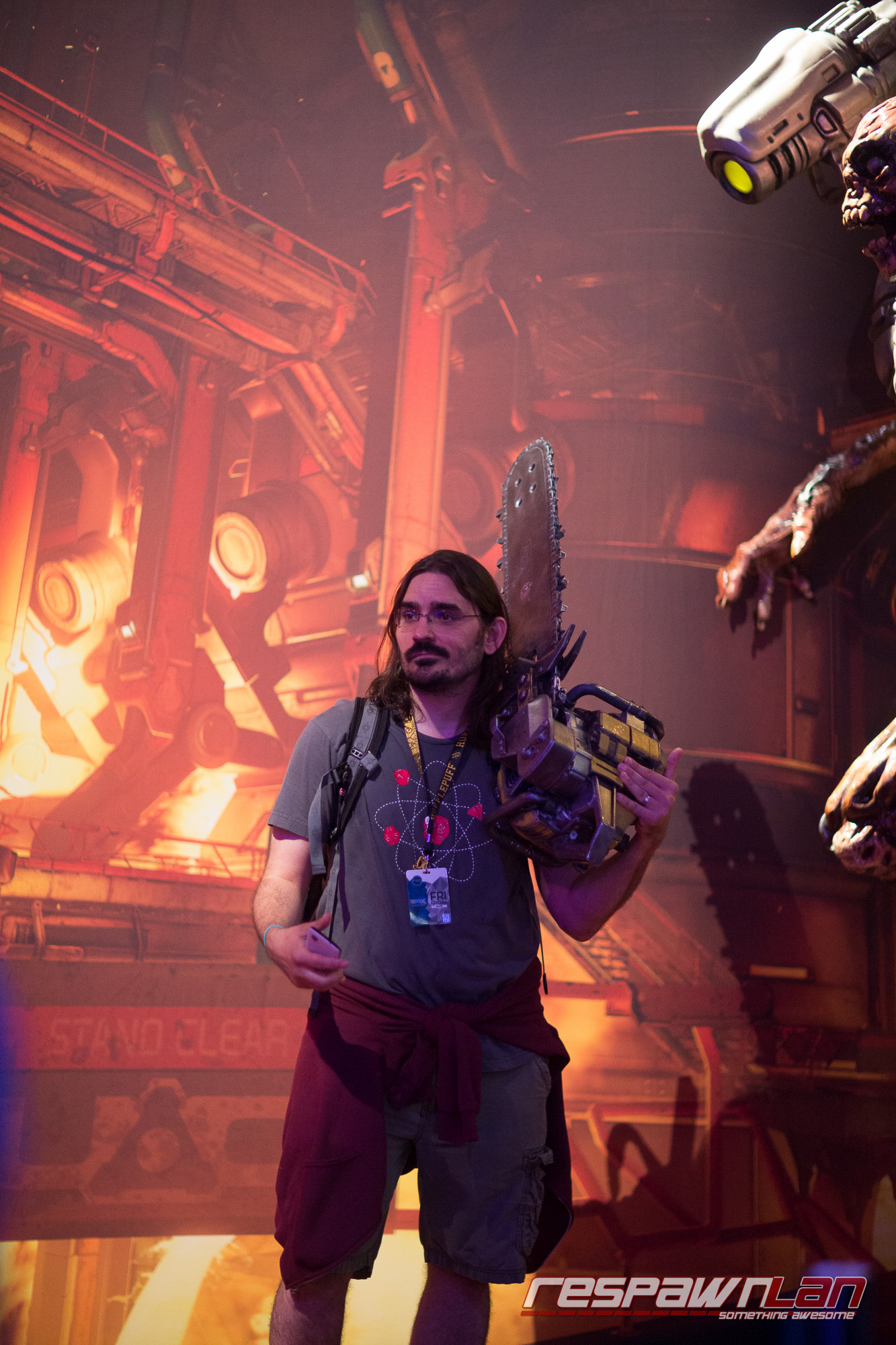 Twitch had a massive presence and were live streaming all sorts of material, including interviews with well-known streaming personalities and included a game of Superfight.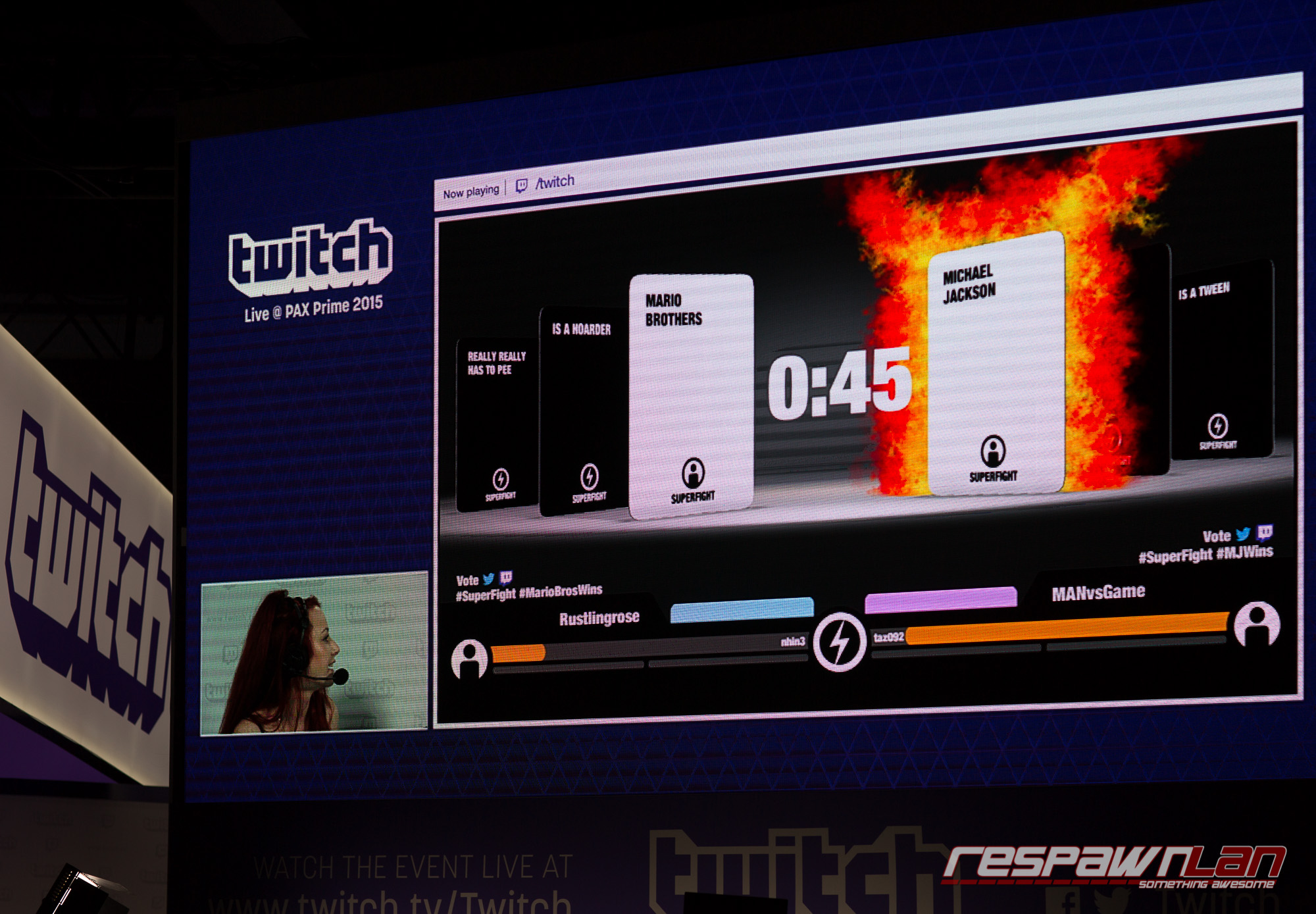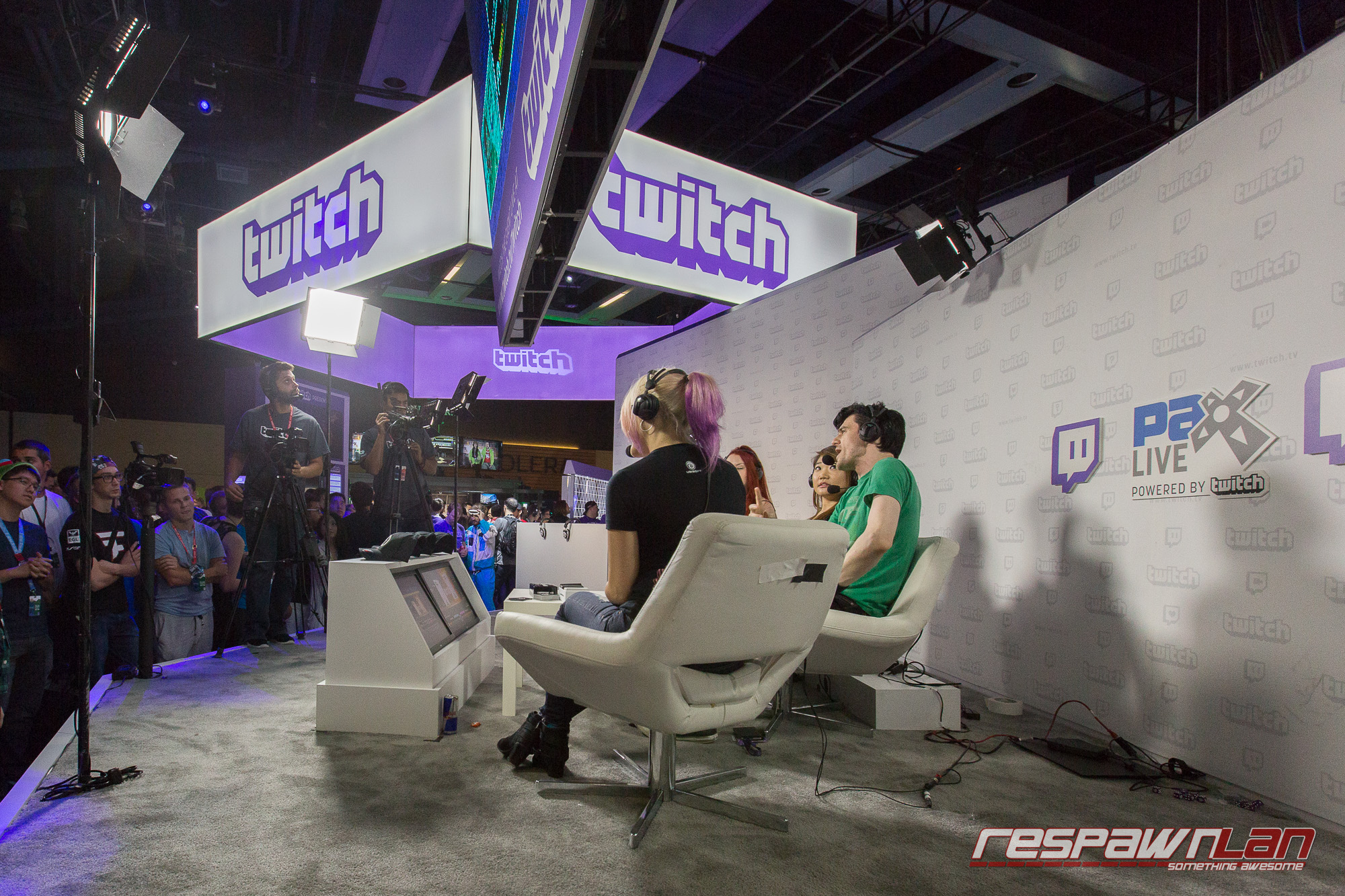 YouTube also launched their new YouTube Gaming network at PAX Prime and had a presence to match.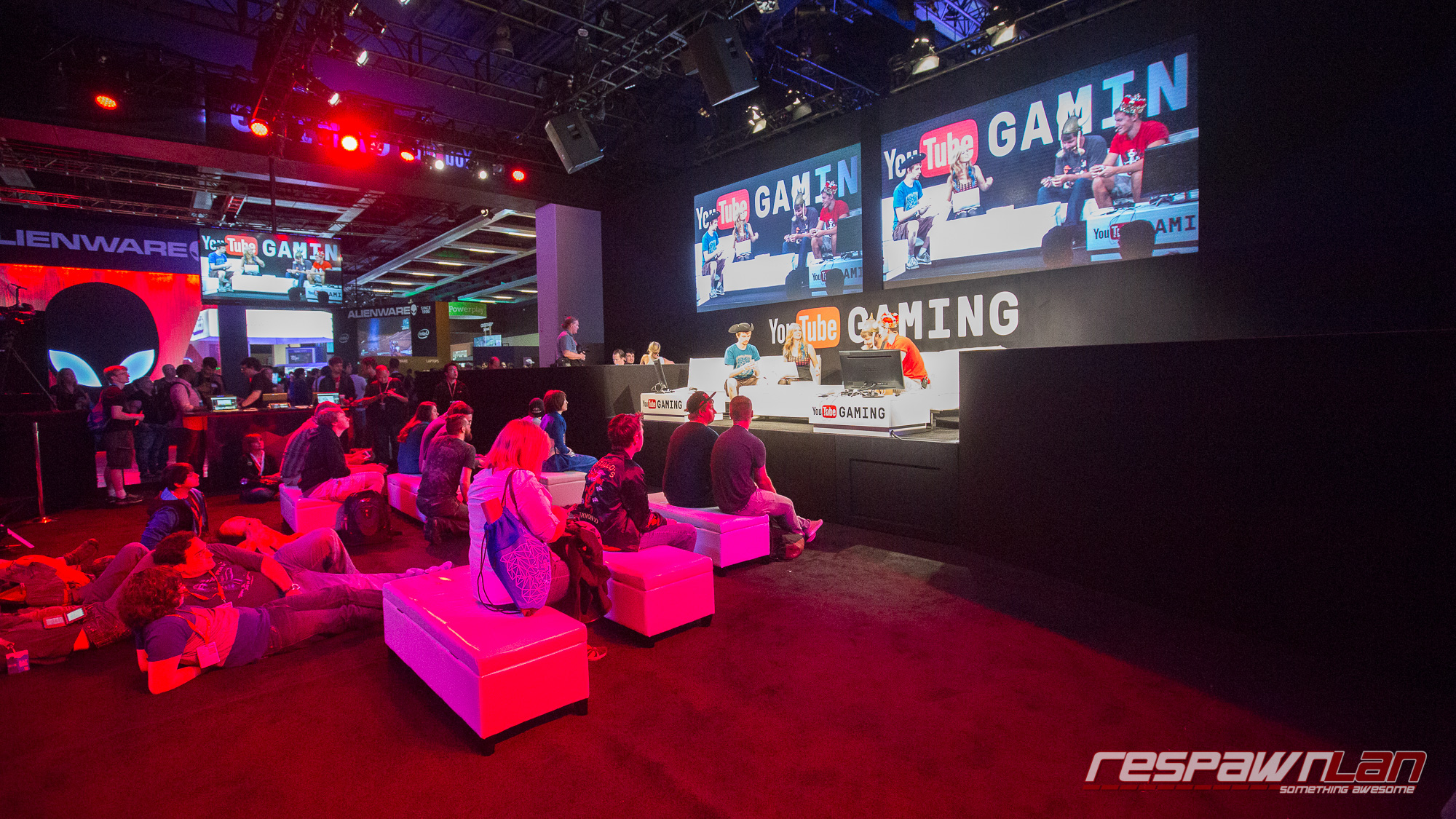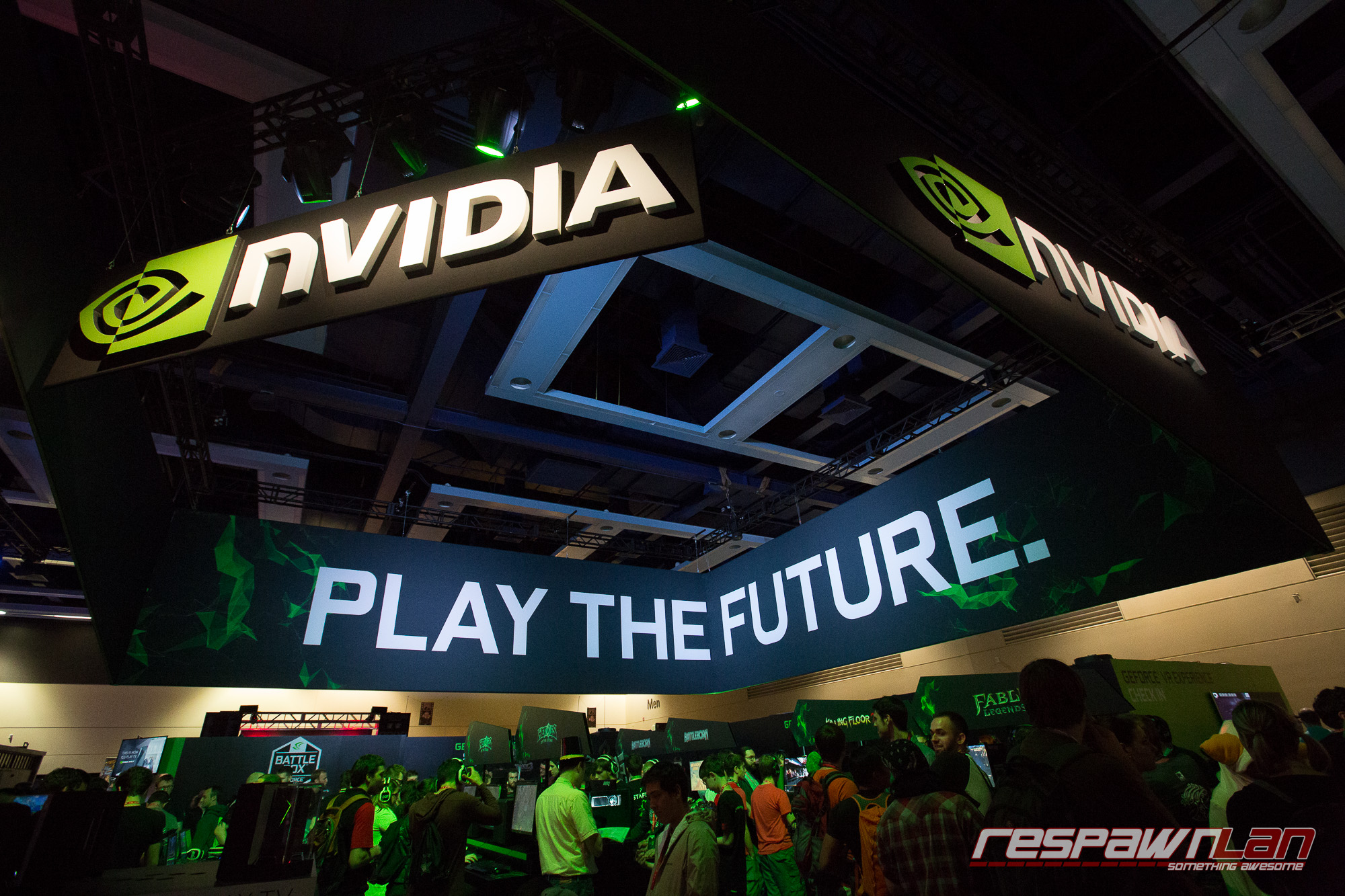 NVIDIA's giveaways were in a panel, which I sadly missed - but was told that they gave away a healthy amount of GPUs and Shield hardware. Their booth was full of their latest NVIDIA graphics hardware and custom PC builds designed by their partners through the Battlebox program. You could try everything from the GTX950 to the latest 980Ti GPUs - some running on 4K displays, others on GSYNC displays with the latest games, some unreleased.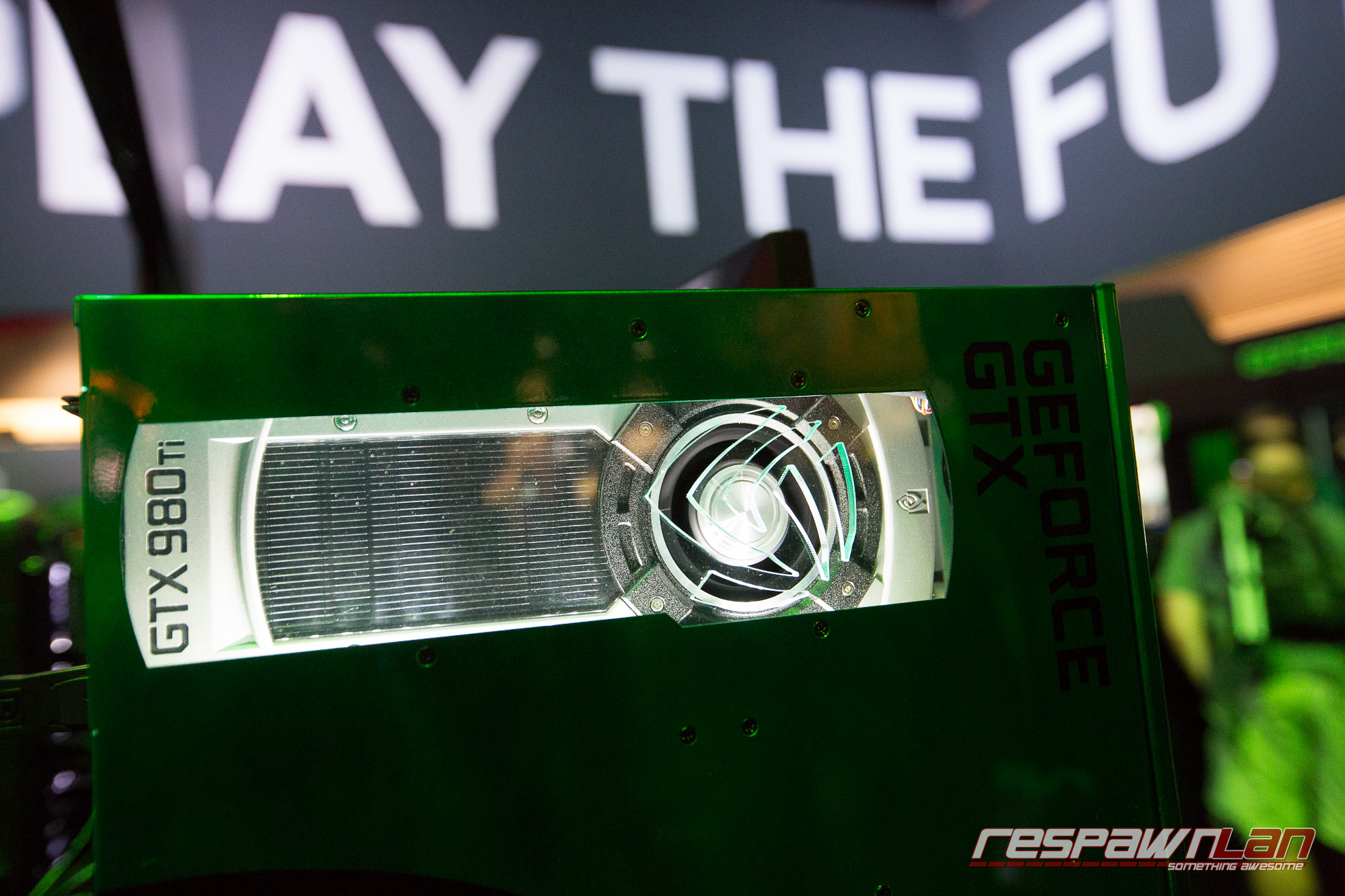 The NVIDIA Shield set top box was on display. An Australian launch date has yet to be announced but this product would do well here; NVIDIA ship the device with a wireless game controller (more available as accessories) and it will not only stream games via Steam from a PC but will run its own native Android-based games right from the Shield device itself. Apps already include YouTube, PLEX, Twitch and so on, so your streaming and media needs are covered.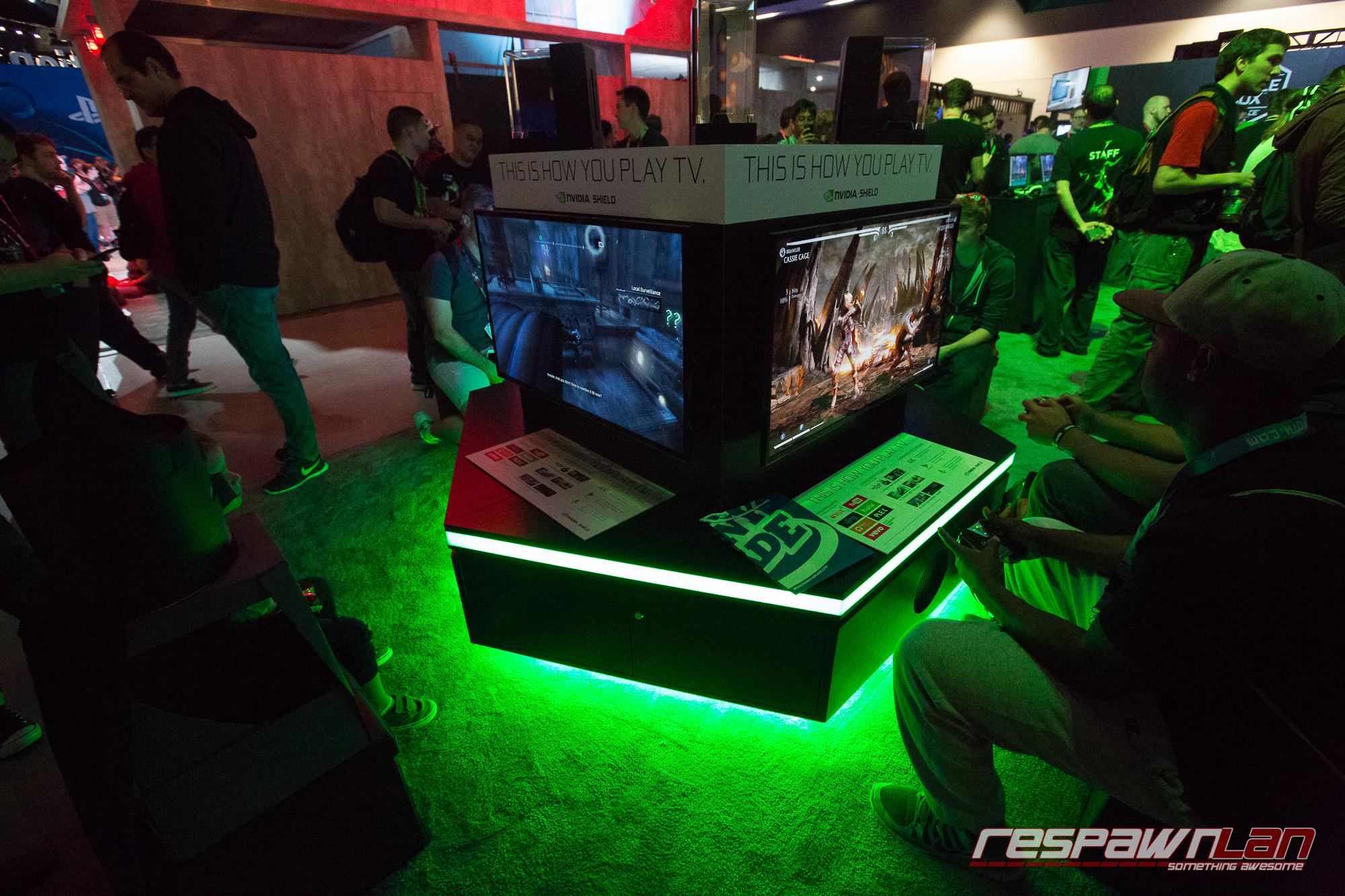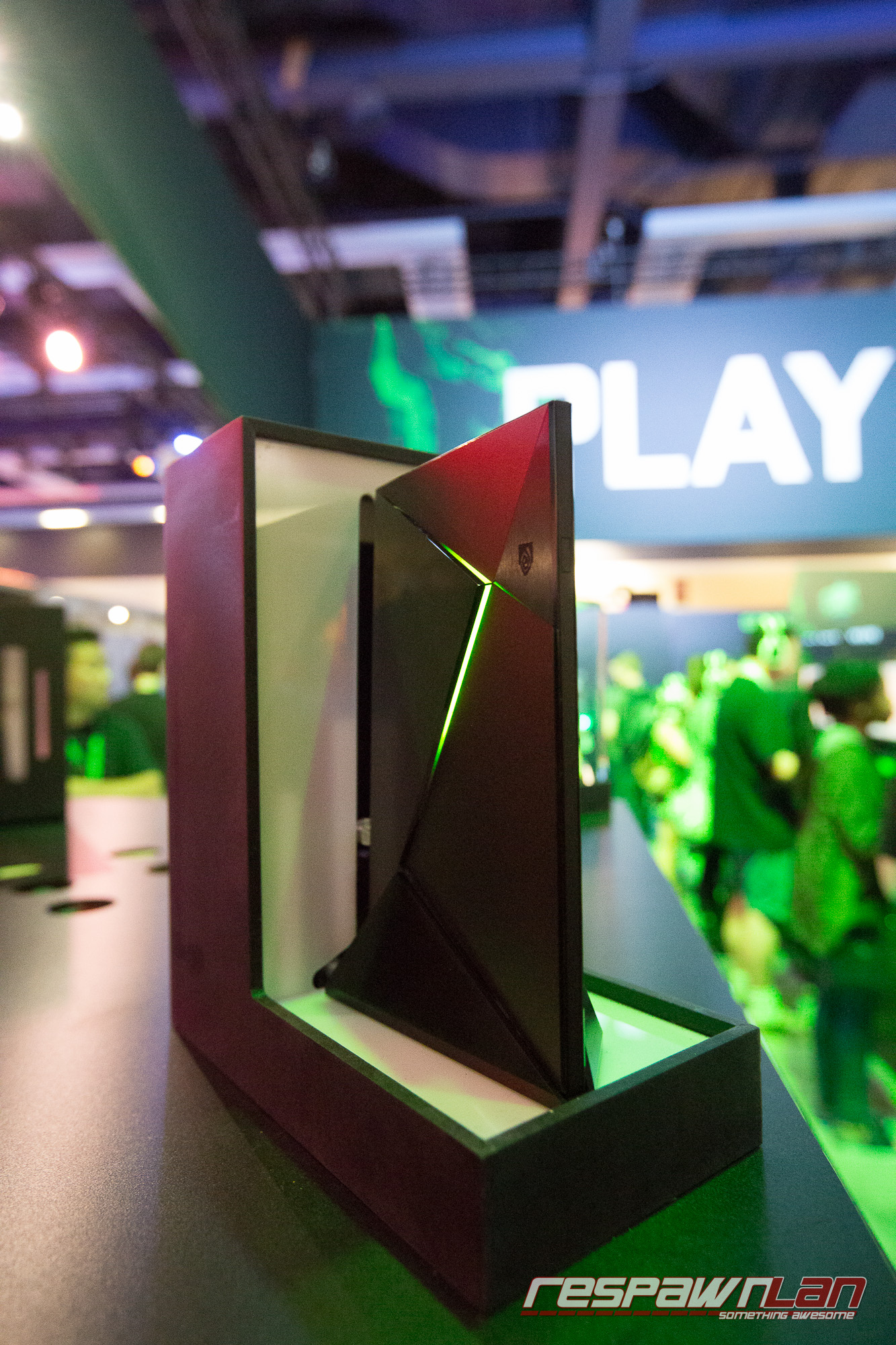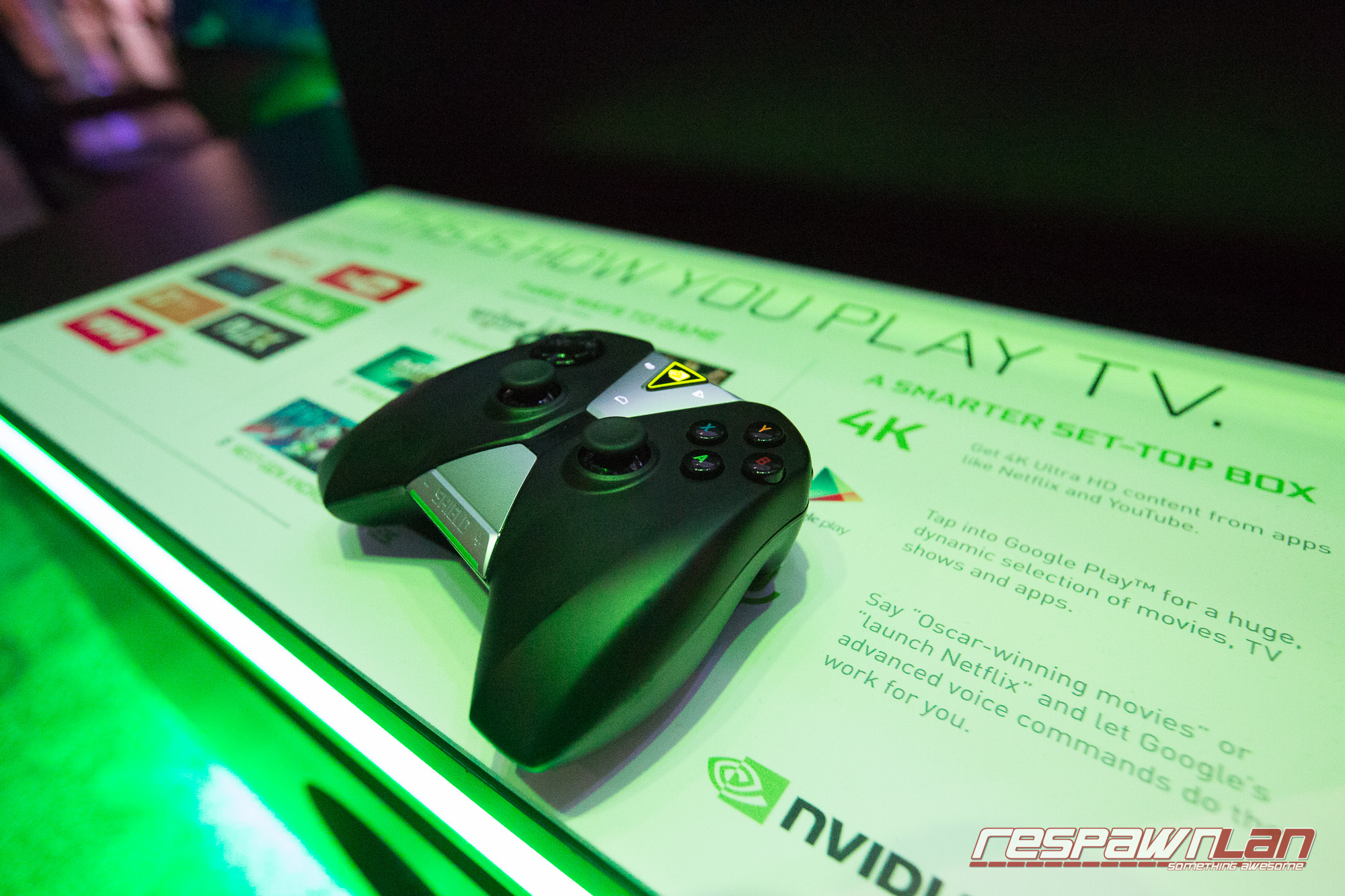 Soft carpet. Many of the booths, including NVIDIA's, had soft carpet, a velvety thick pile that was SO NICE ON THE FEET. It's a lovely place to spend some quality PC gaming time in front of some high end hardware and ultra-wide displays.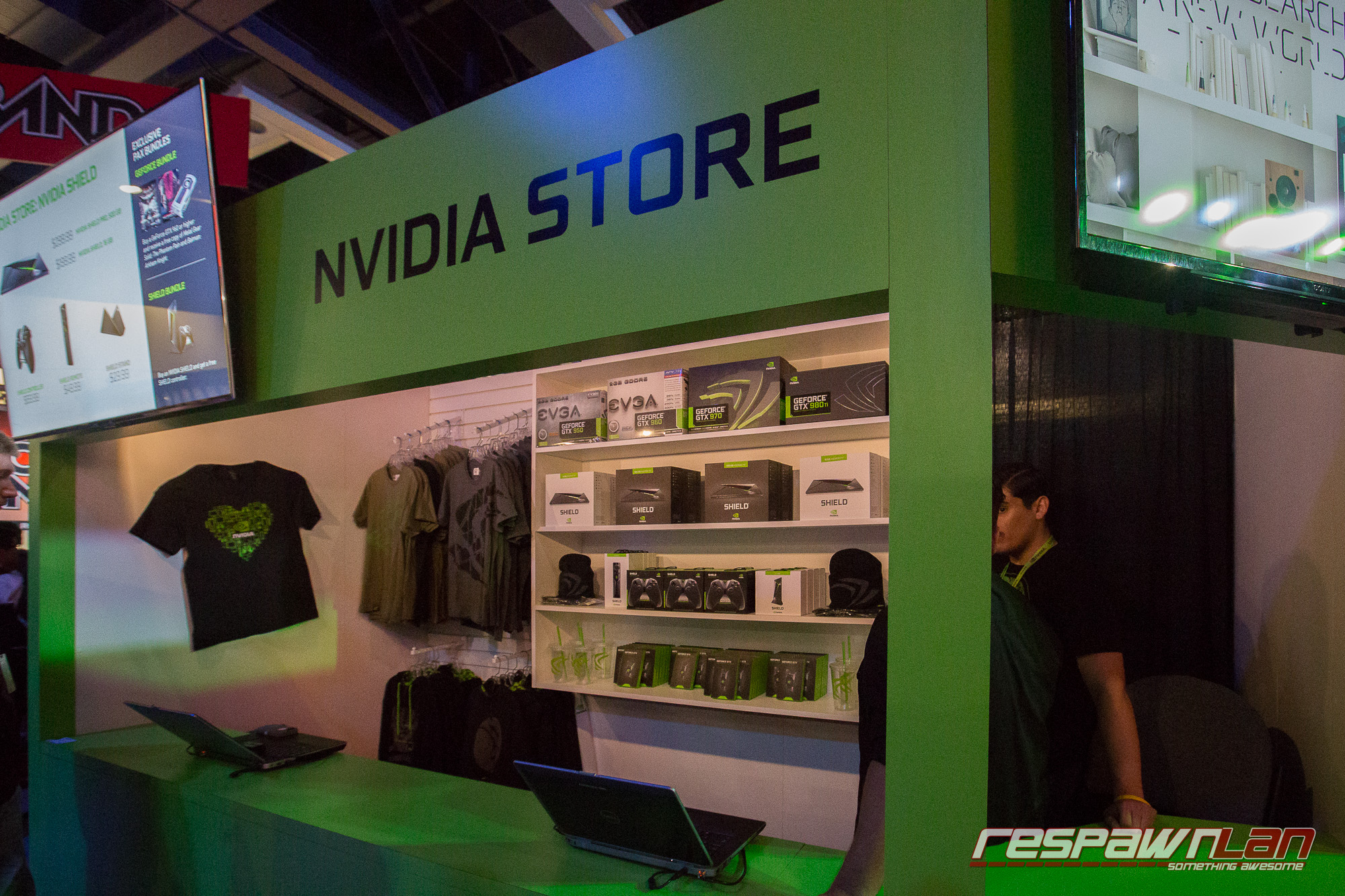 NVIDIA had an on-site store, where you could purchase their GPUS and the Shield and were running a Shield promo where you'd receive an additional second controller, US$69 value, for free if you bought a Shield unit. You bet that I feel a great deal of regret for not buying one of these systems and bringing it back home.
There were some AWESOME vendor-produced case mods on display: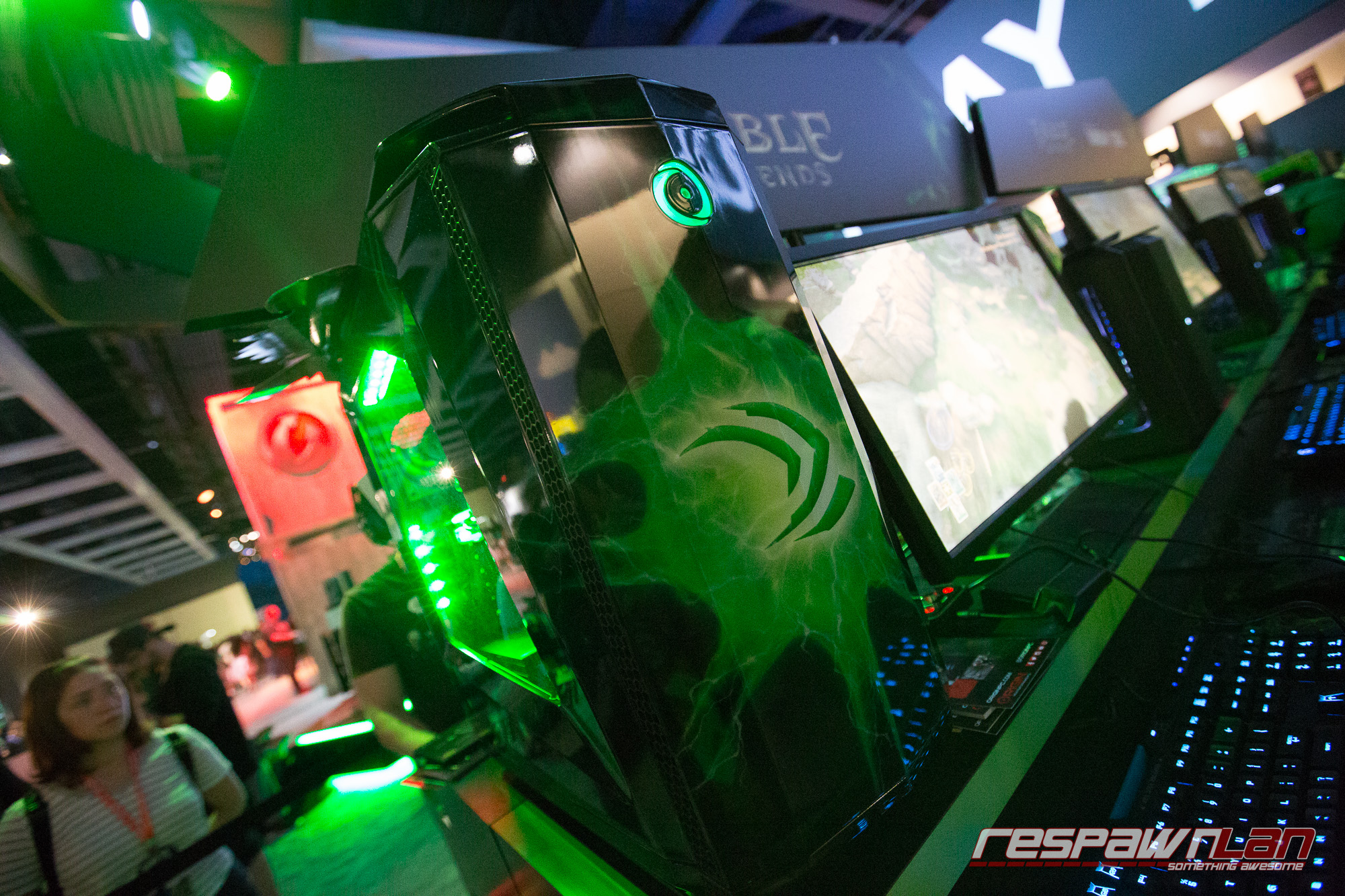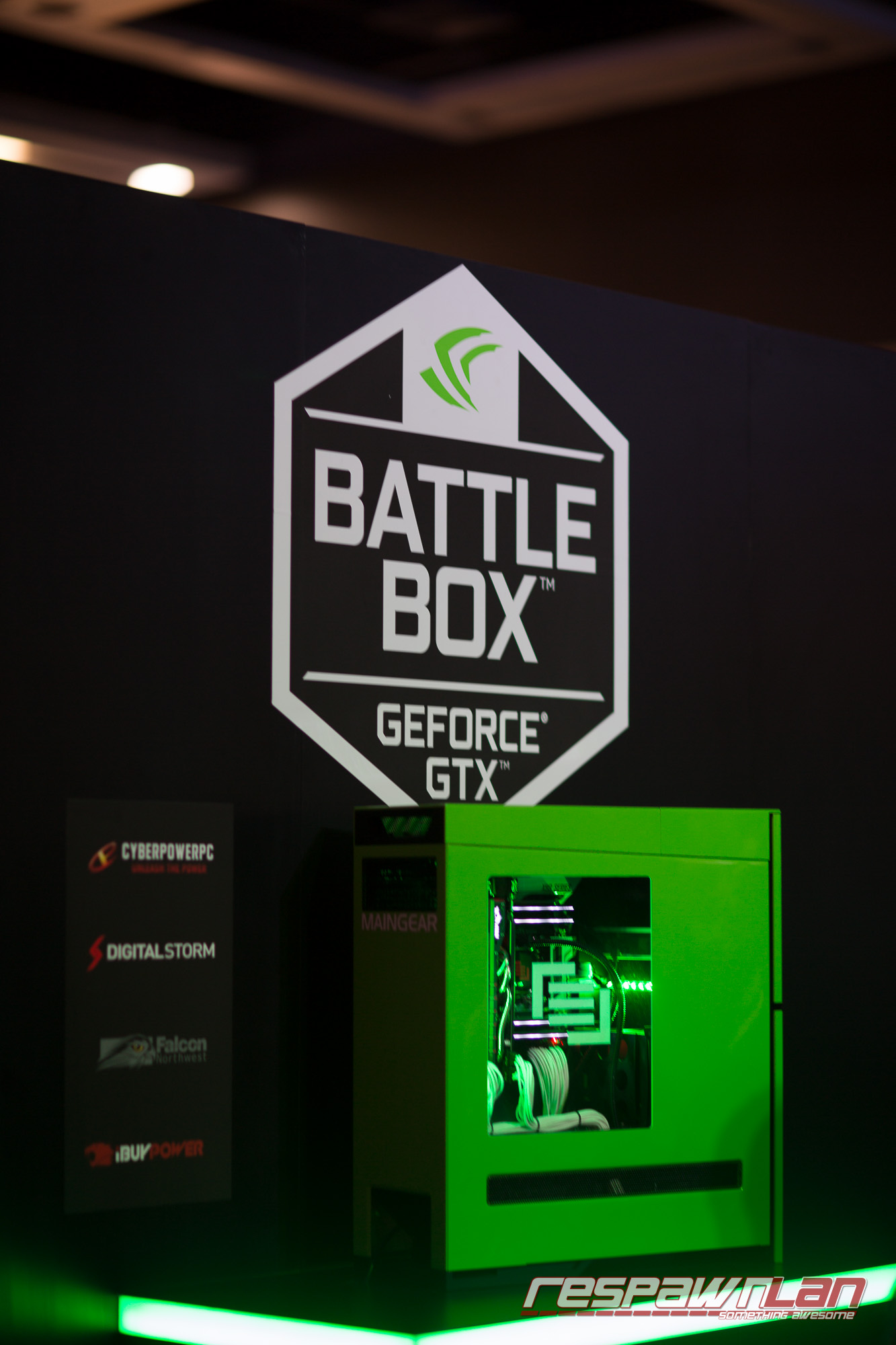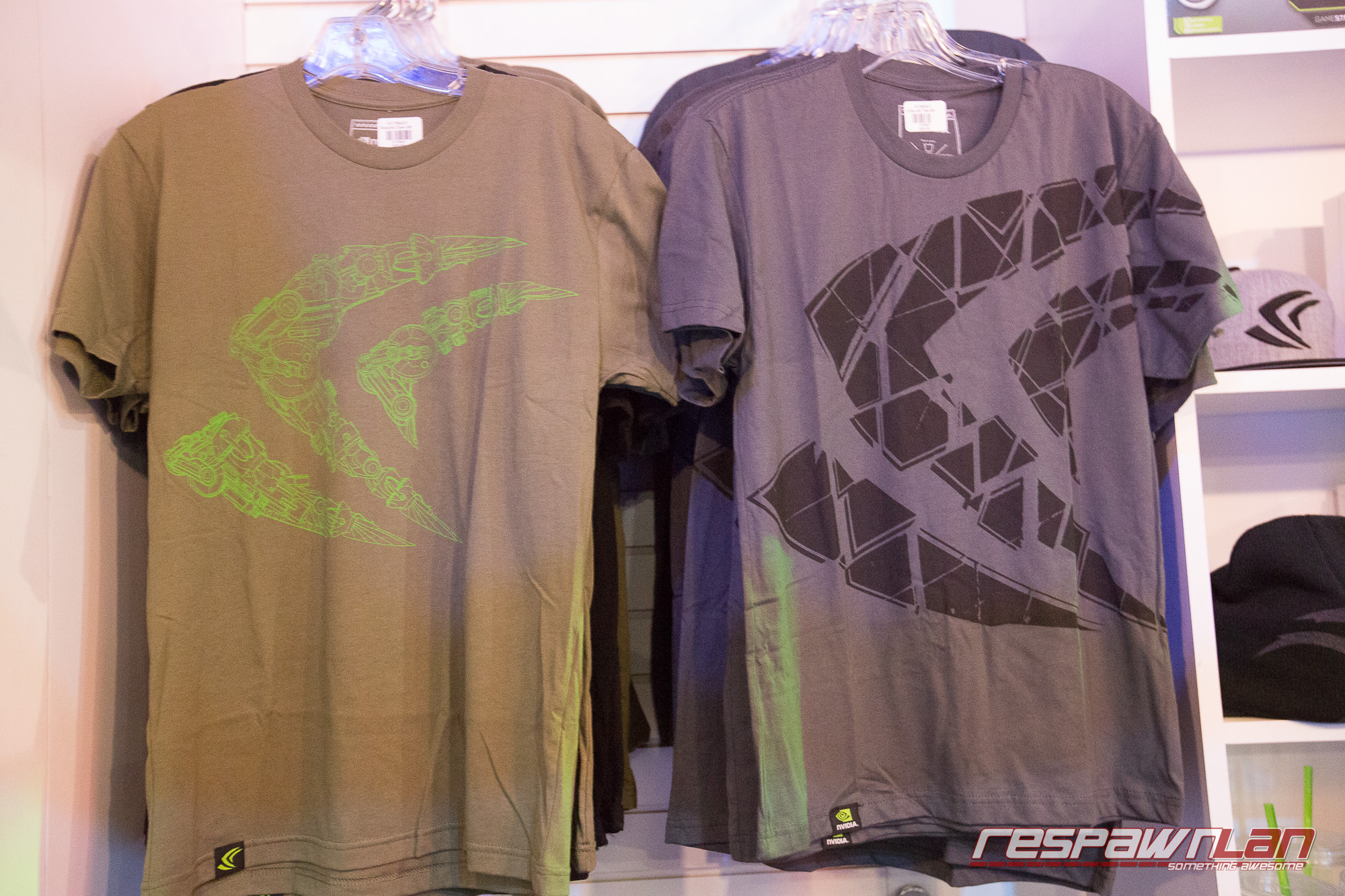 The Nintendo booth was epic - dozens of consoles set up with Super Mario Maker Wii U and a 4v4 setup of Splatoon running a special custom release with a LAN mode. Splatoon still honoured the Splatfest that was on that weekend, so if you lined up for an hour to play the game in a 4v4 team match, you'd receive an awesome looking T-shirt that was PAX exclusive. Unfortunately I ran out of time and didn't get there soon enough and the Splatfest ended up Saturday night so I didn't have a chance to line up for one on Sunday. These t-shirts go for around a hundred bucks on eBay right now - and my attempts at buying a T-shirt off anyone at the show were futile. People LOVED these things.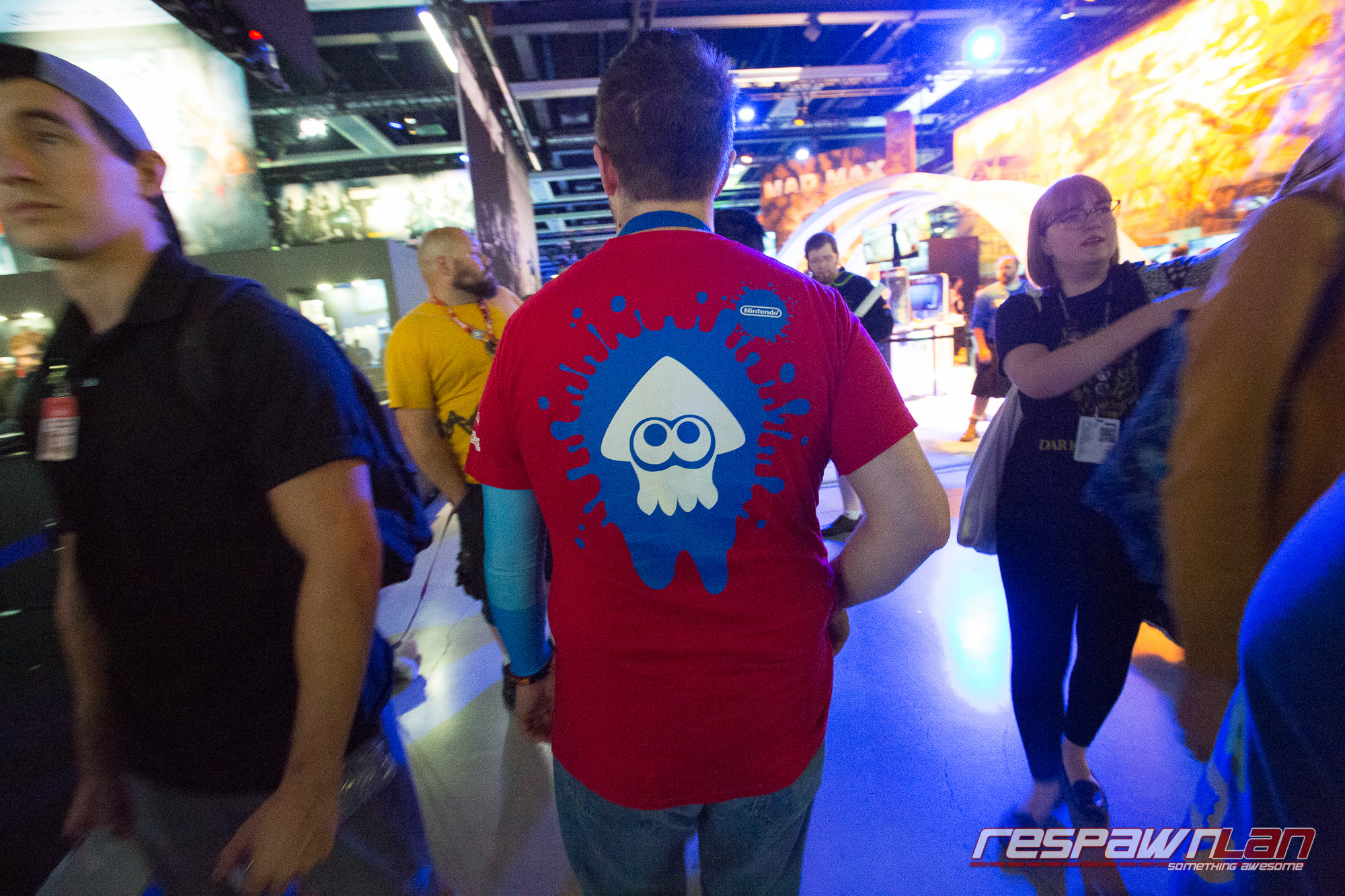 Super Mario Maker otherwise took over the booth. They had heaps of systems to play the game on and get familiar with it ahead of the recent launch, so it was a chance to finally play a game that as of PAX, had not been released yet.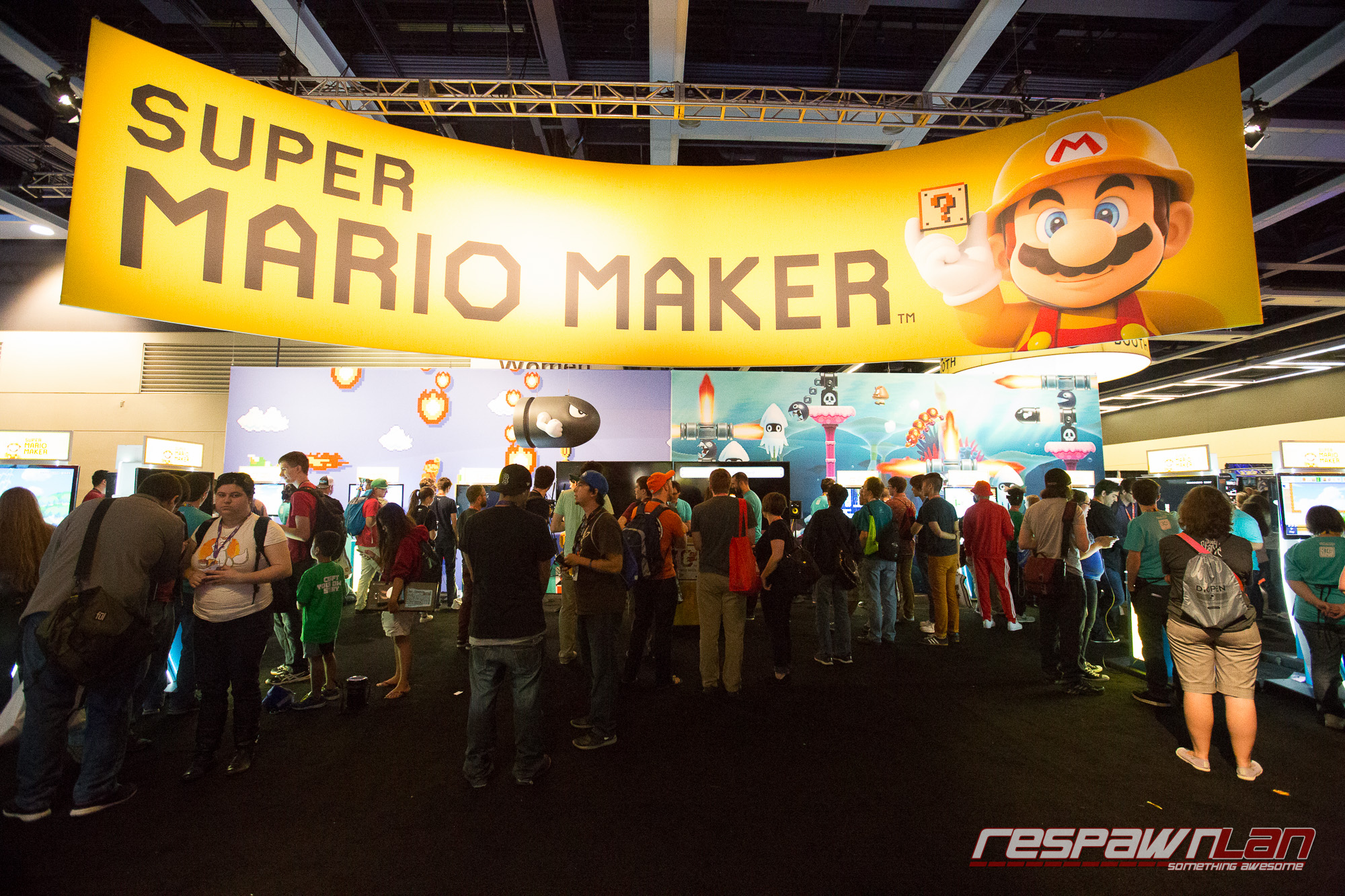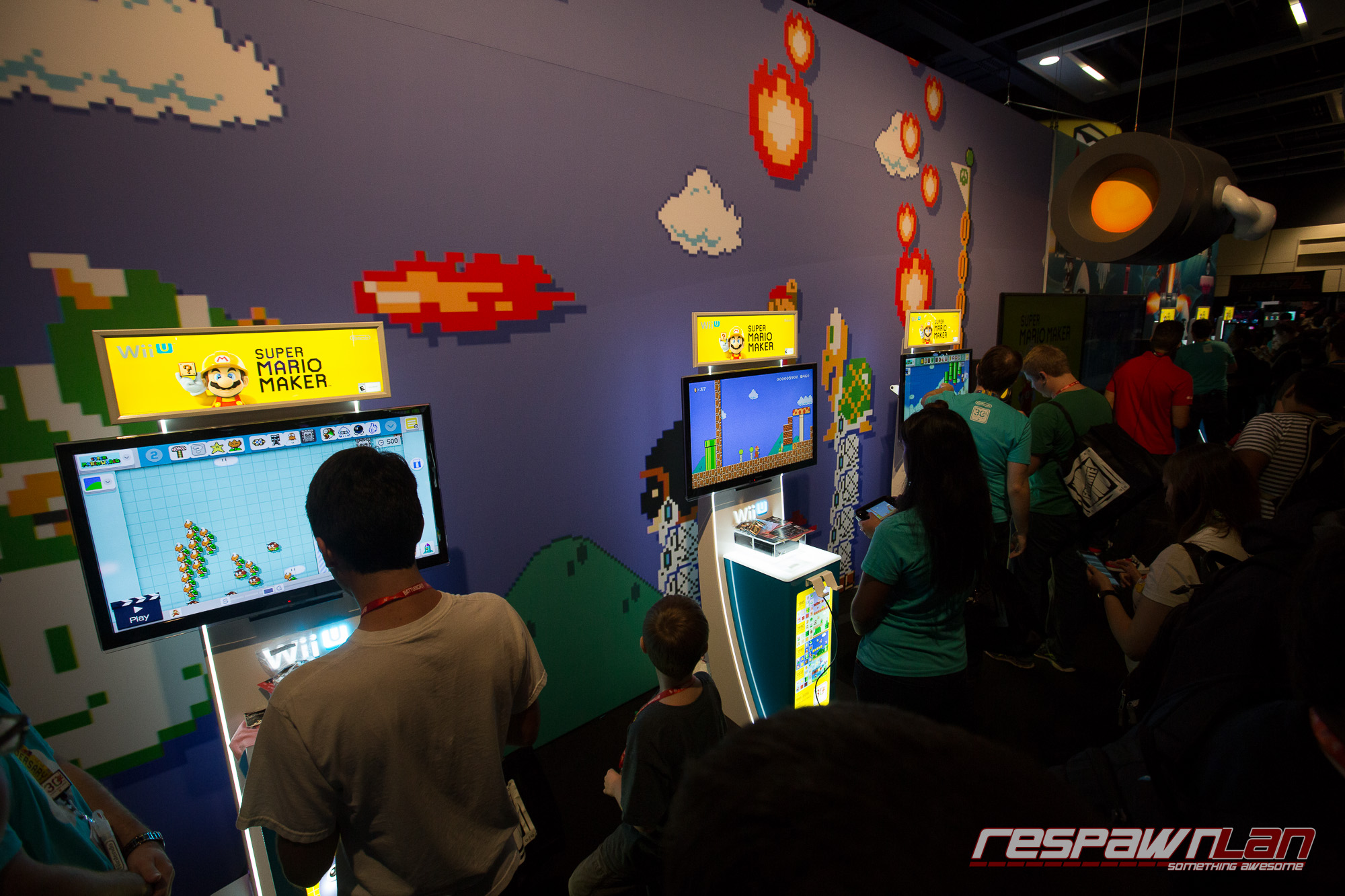 Panels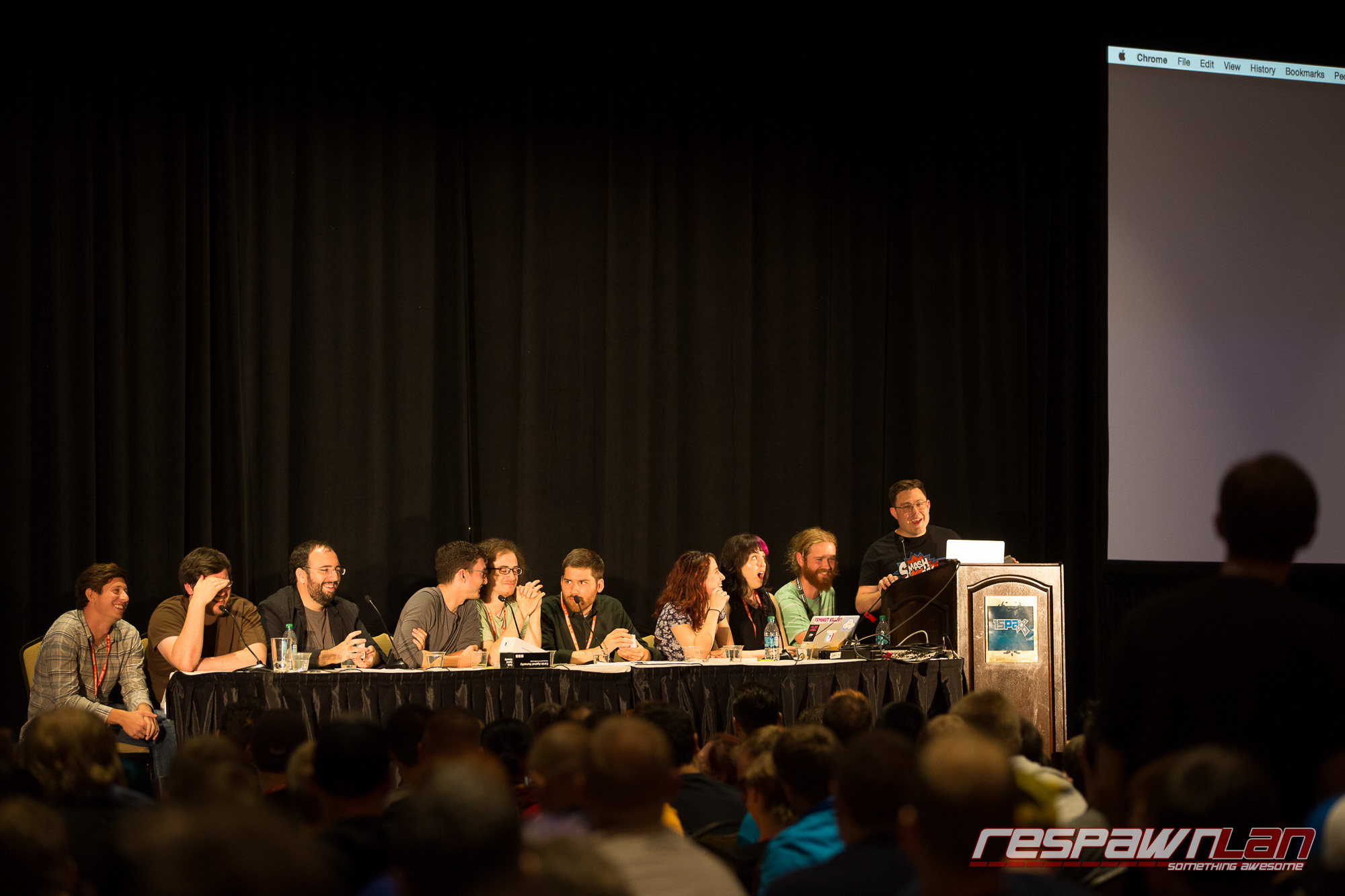 There's just so much to do at a PAX; there are panels on constantly throughout the event, in multiple locations simultaneously. I made it to only one panel throughout the whole event, being Cards Against Humanity. Many of the panels are recorded live, although you don't get the benefit of asking questions or actually *being there* in a panel which is a whole different experience. The advantage, however, is being able to watch panels when you can't be in two places at once, or if you're tired of waiting in line - or if you missed out on getting in.
Some of the panels are streamed live via Twitch: the archive can be found here:
http://www.twitch.tv/event/pax
Live music
PAX Prime, like PAX Aus, has taken a leaning towards nerdcore and similar music genres that appeal to gamers. During the day, you'll find the artists upstairs on level 6 of the WSCC, hanging out at their booths, selling their CDs and merch, signing autographs and chatting with anyone who happens to come up to them. It's all very real and accessible and you'll find no elitism here.
You'd think I'd be at the live music gigs every night but there was so much going on, this was one of the things that had to give.
Handheld lounge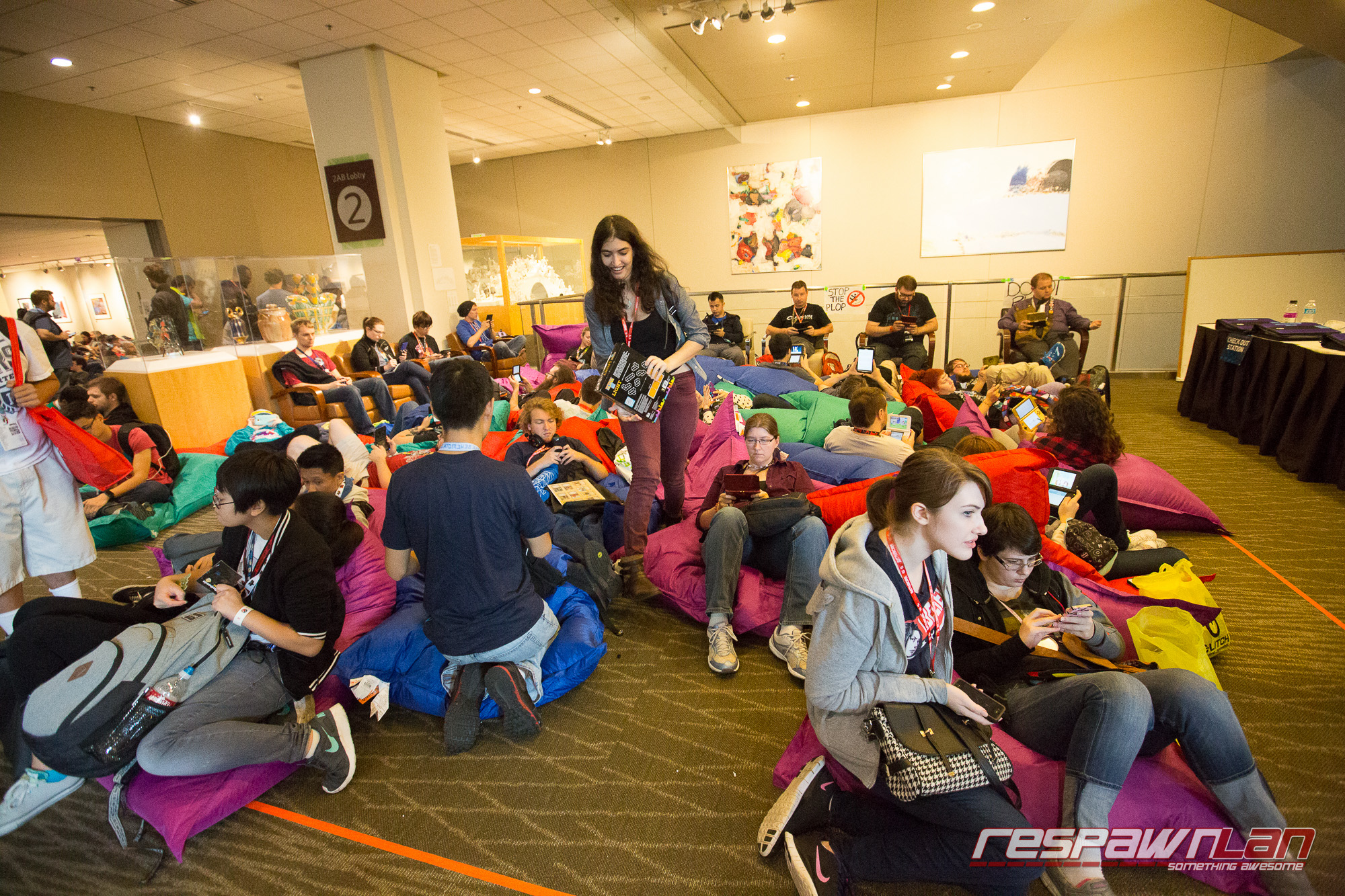 I was rocking a Nintendo 3DS XL. I left my games at home, however, but PAX do something very cool - you can borrow games from their extensive library of games and play them right there for free; you simply have to hand over your ID (just in case you think that doing a runner is a good idea, good luck getting back home without a passport) and you can pick any game you want and challenge other like-minded handheld gamers to a game.
This was good news as I left my 3DS games at home. Except for Pokemon, and I wanted to play Smash Bros insteasd.
Unfortunately, I was bitterly disappointed to realise that Nintendo have region locked their 3DS consoles, meaning that any unit purchased in Australia cannot play the North American games; they don't even show up as inserted. HOW IS THIS STILL A THING? Yes, they are the only caps I've used in the entire article and I am going to use them here. This was a HUGE disappointment.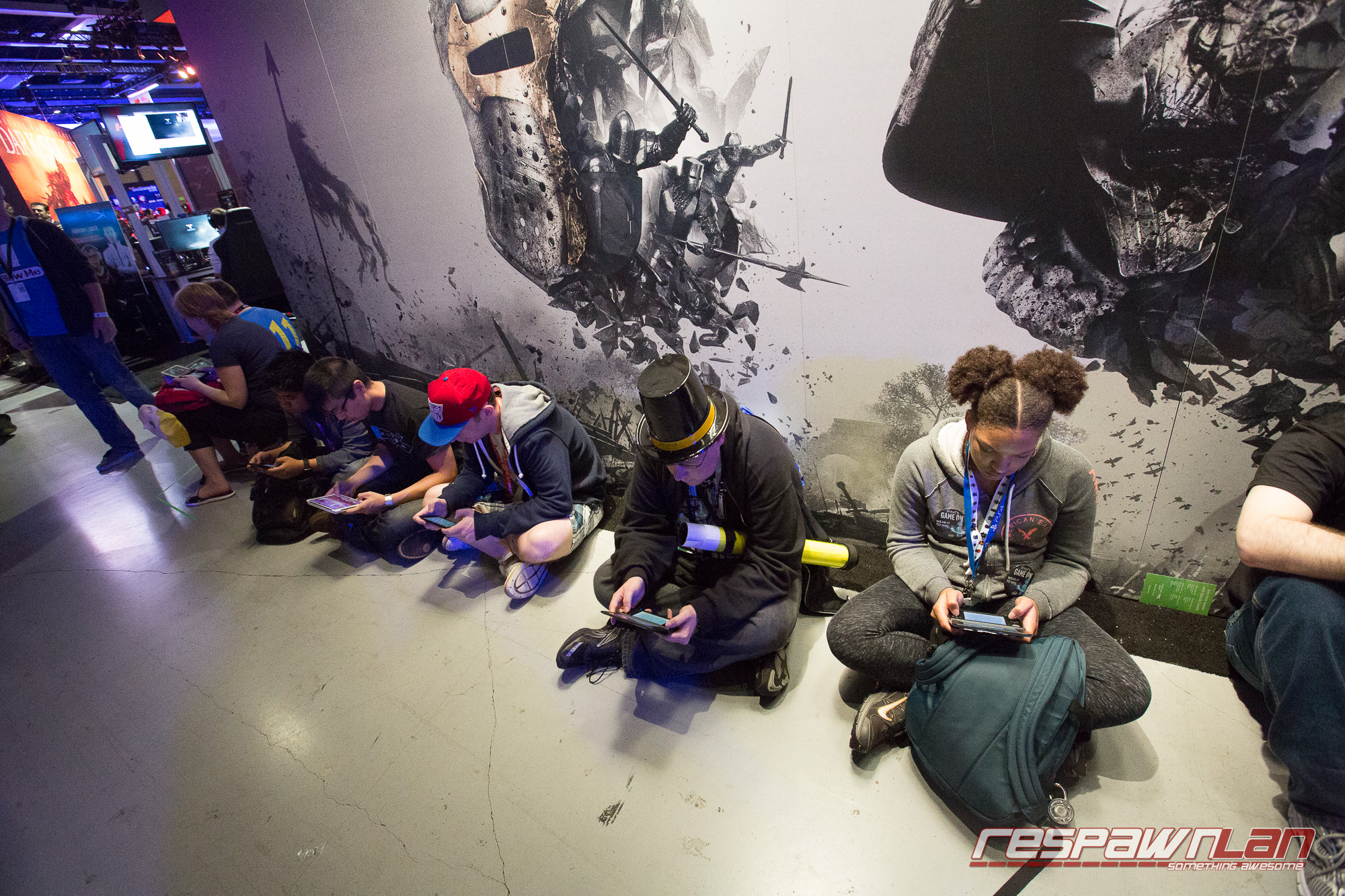 Street Passing, however, is a huge thijng. Streetpass is a technology on the Nintendo 3DS consoles that allows you to exchange player data when 'passing' others, via a modified WiFi protocol. It's usually advantageous to meet lots of Street Passers. You will NEVER find that many Street Passers in the same area as you will at a PAX. You'll see countless lines (like the one above) where people sit on their 3DS units to pass the time.
Classic Console and Console freeplay.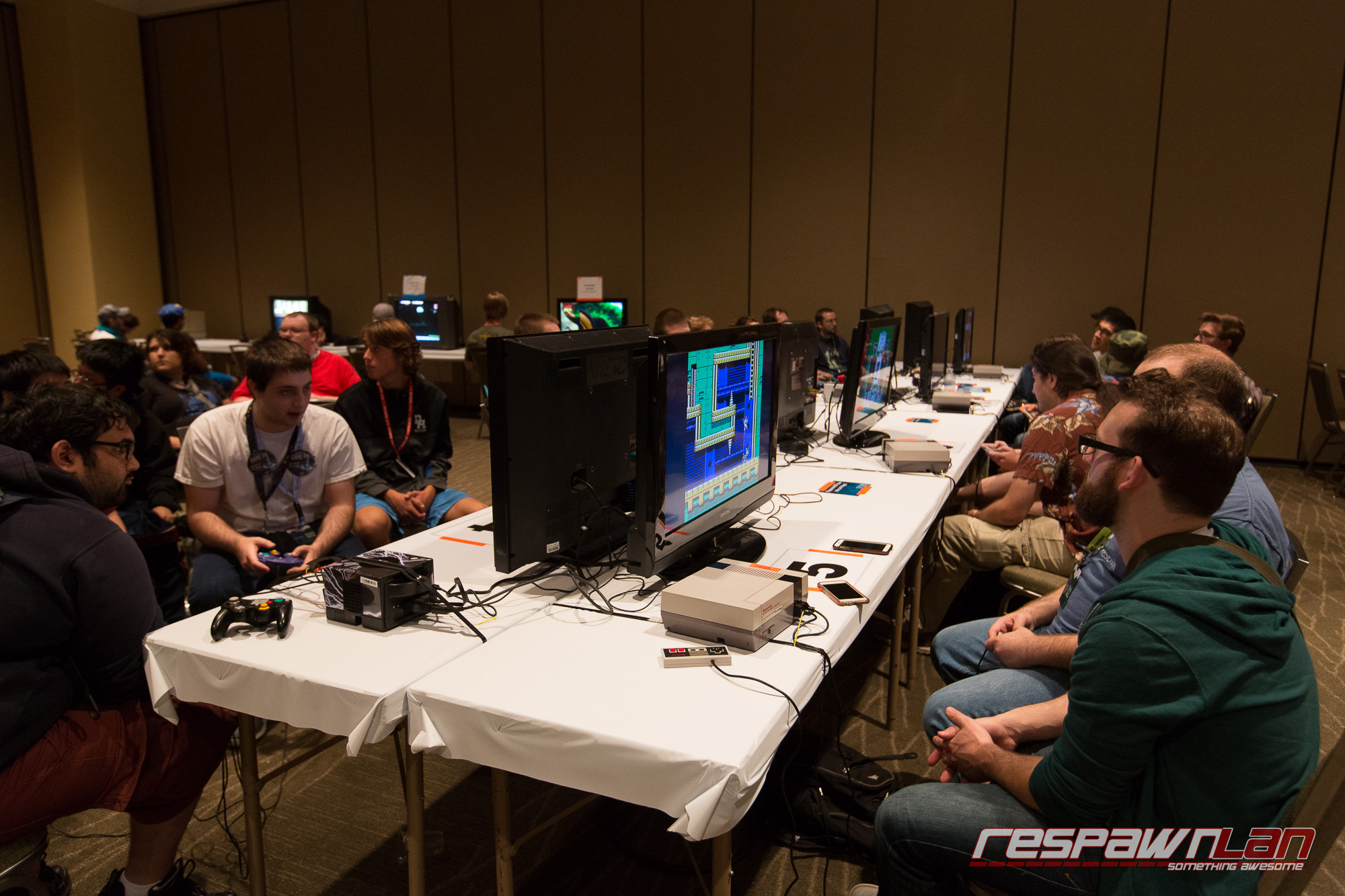 I spent a grand total of zero minutes in CFP. Remember how Splatoon is my favourite game? They ran a small Splatoon tournament which I didn't know about because I didn't read the schedule. Otherwise, there was simply too much to do at PAX Prime to sit in front of a gaming console and since I missed Splatoon, I really had no desire to hang out in a room with a bunch of televisions.
Check out this wonderful tribute from the CFP team: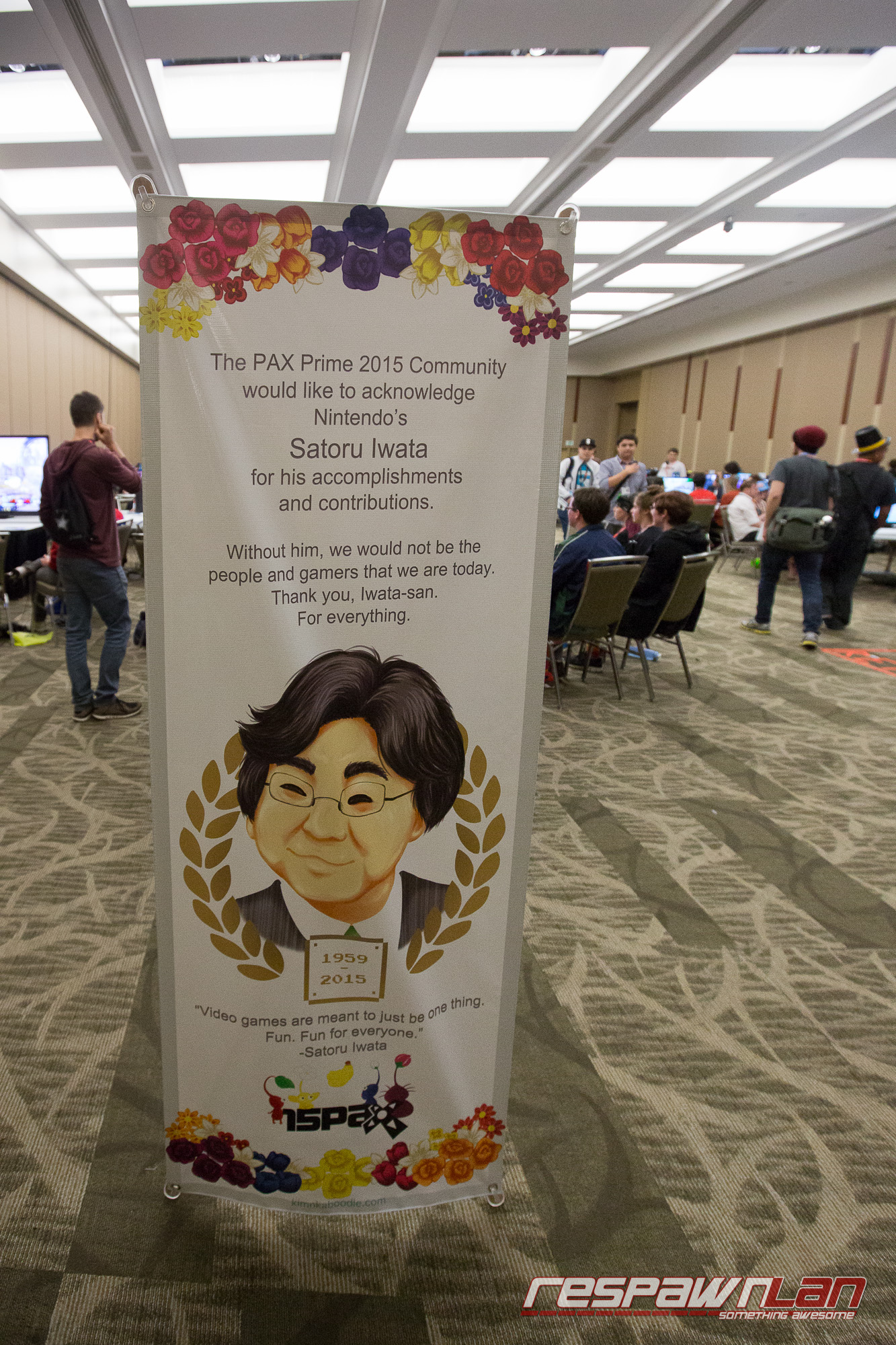 For console fans unlike myself, there's several rooms of console games worth knowing about at Prime. There's CFP, where you'll find the latest modern console gear and a full, extensive library of games to go with it, such as the XBOX 360, XBOX One, PS3, PS4 and Wii U. There's the Classic Console room, offering everything from the Atari 2600 to the XBOX and everything in between. Yes, they had a few NES units hooked up and some more obscure consoles.
If you like Smash Brothers, there was a whole room at the Westin Hotel set up for Smash, including Wii U and Wii consoles running the newer smash brothers variations and some CRTs plugged into GameCubes for the oldschool purists. A whole entire *room* of this stuff. Just for Smash.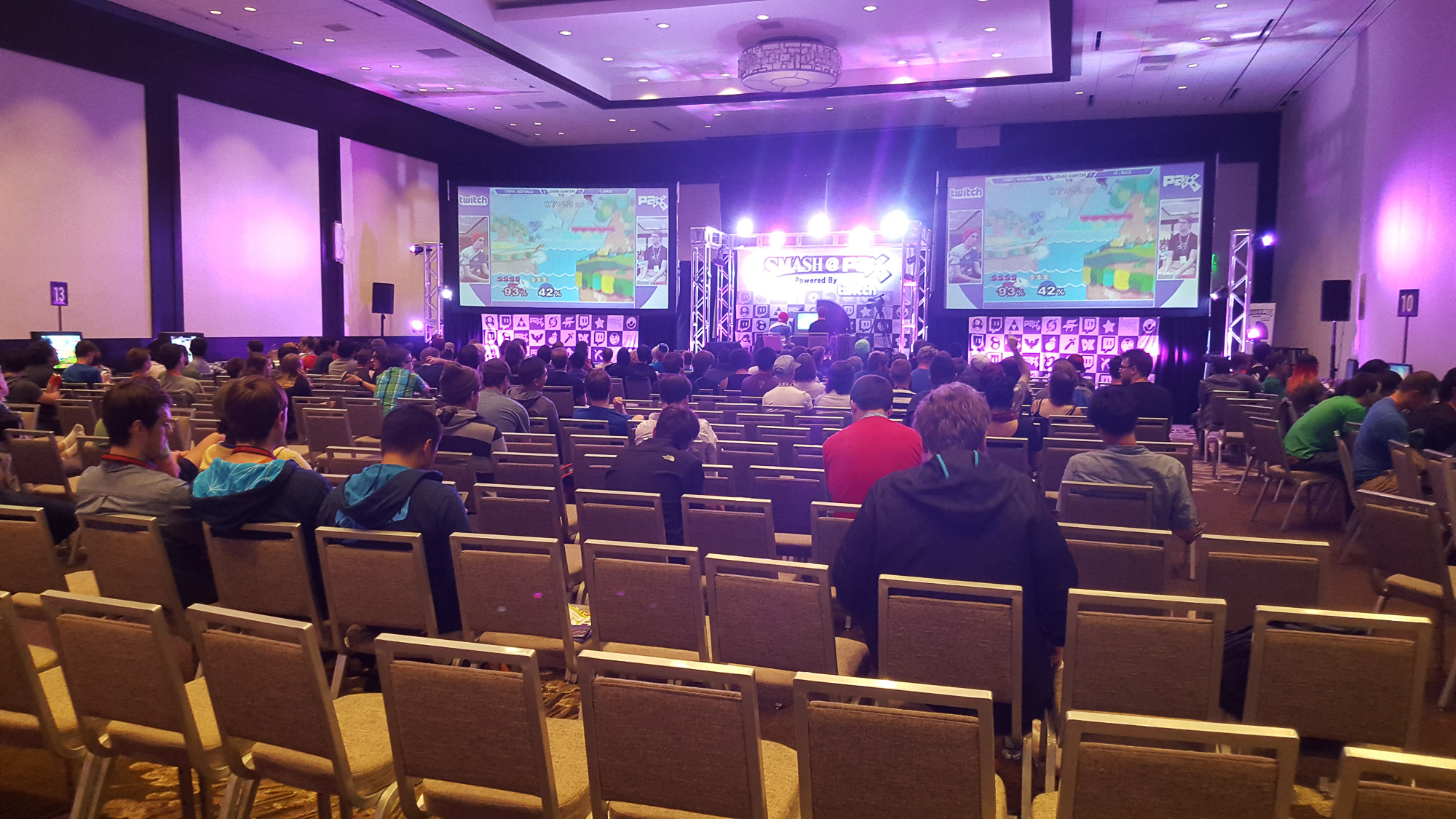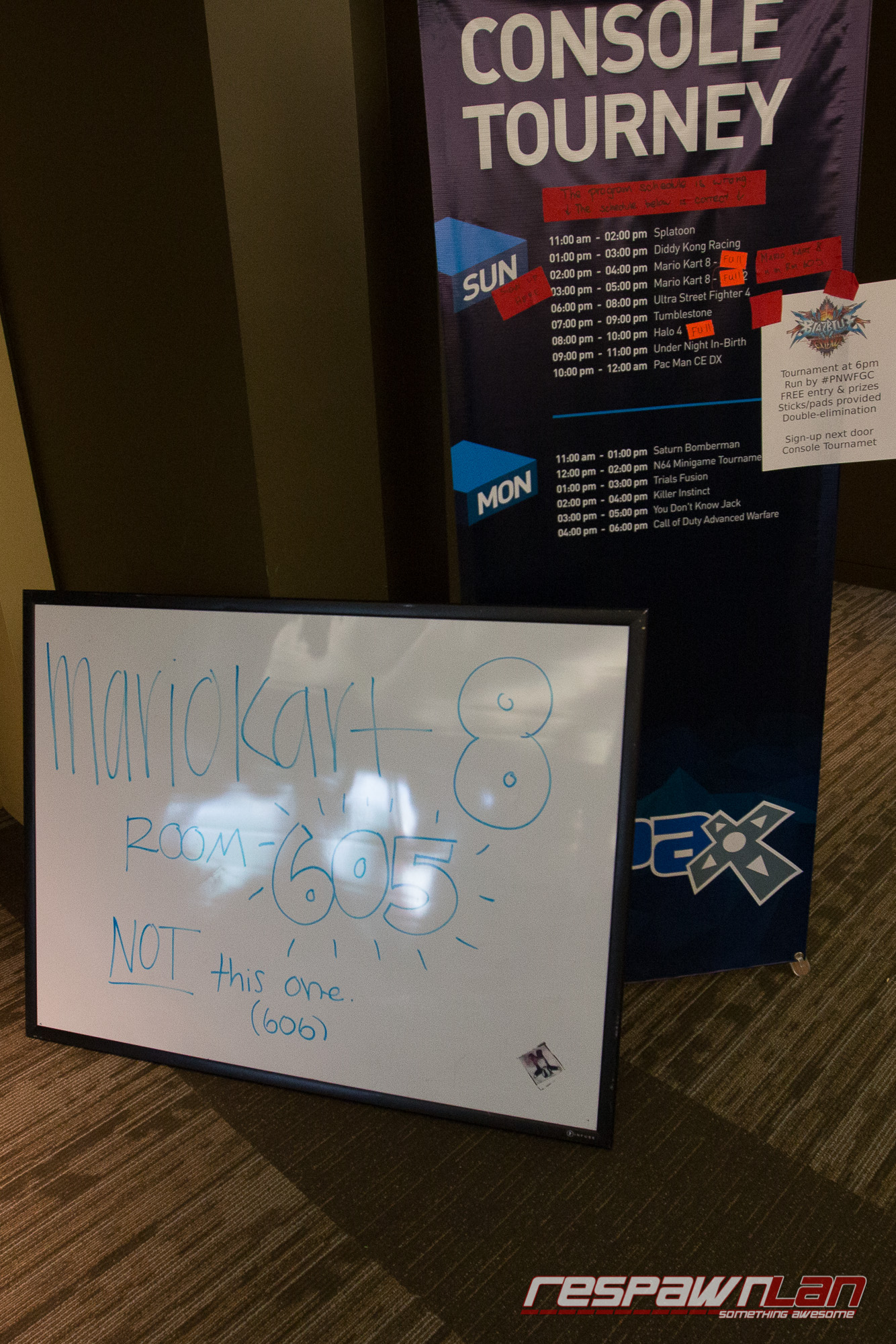 Console Tourney, where the tournaments are held, is a separate area. I didn't participate in any tournaments at PAX Prime this time for console games but if I had known that Splatoon was a thing, I would be telling a different story right now.
Wizards Of The Coast and Magic The Gathering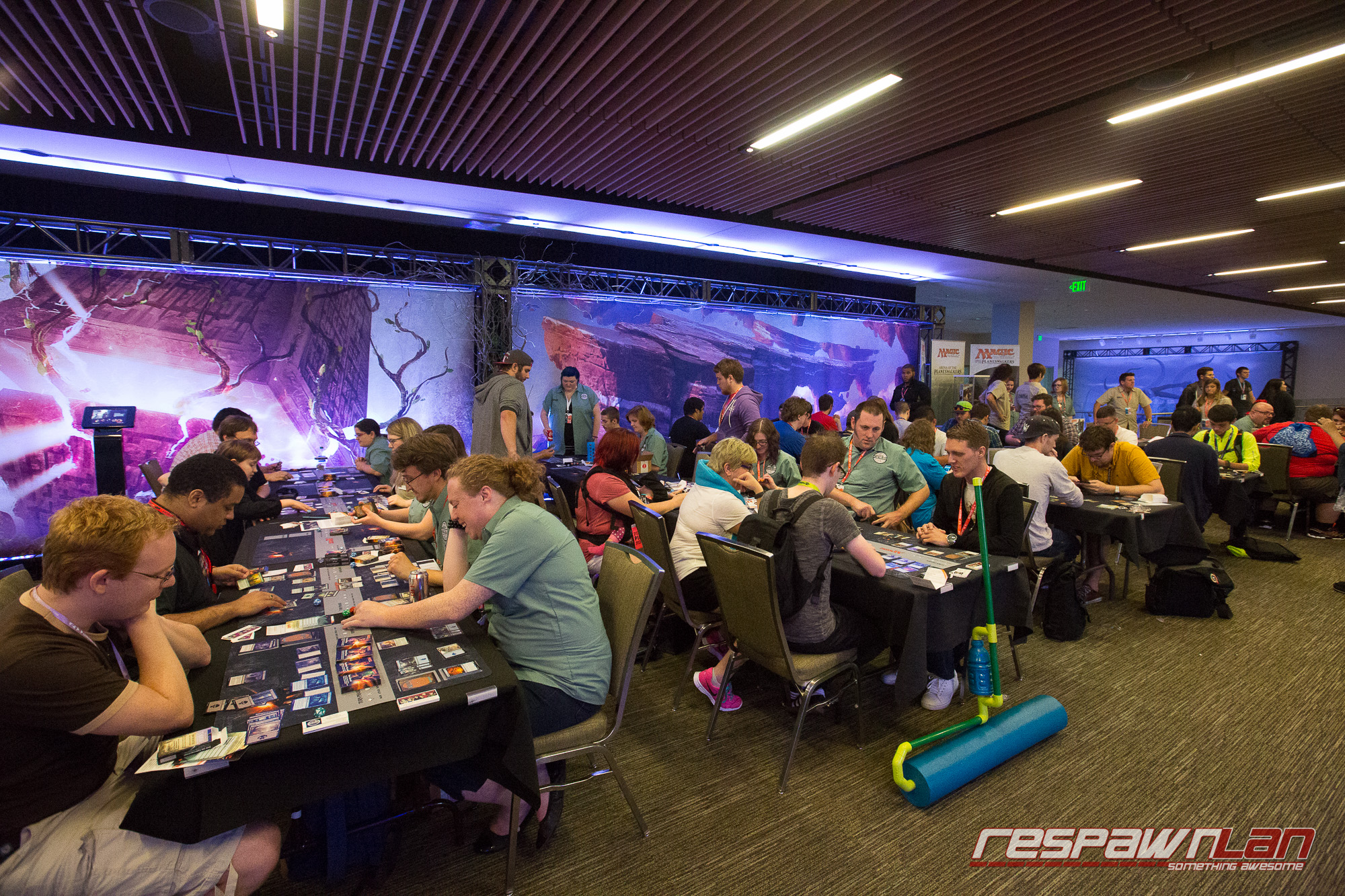 Wizards went all-out this year, instead of occupying a significant component of the ever-expanding expo halls, they occupied two floors of the annex building and hosted the Magic World Championship event, which featured 24 of the world's best pro players, competing for a US$50,000 cash prize.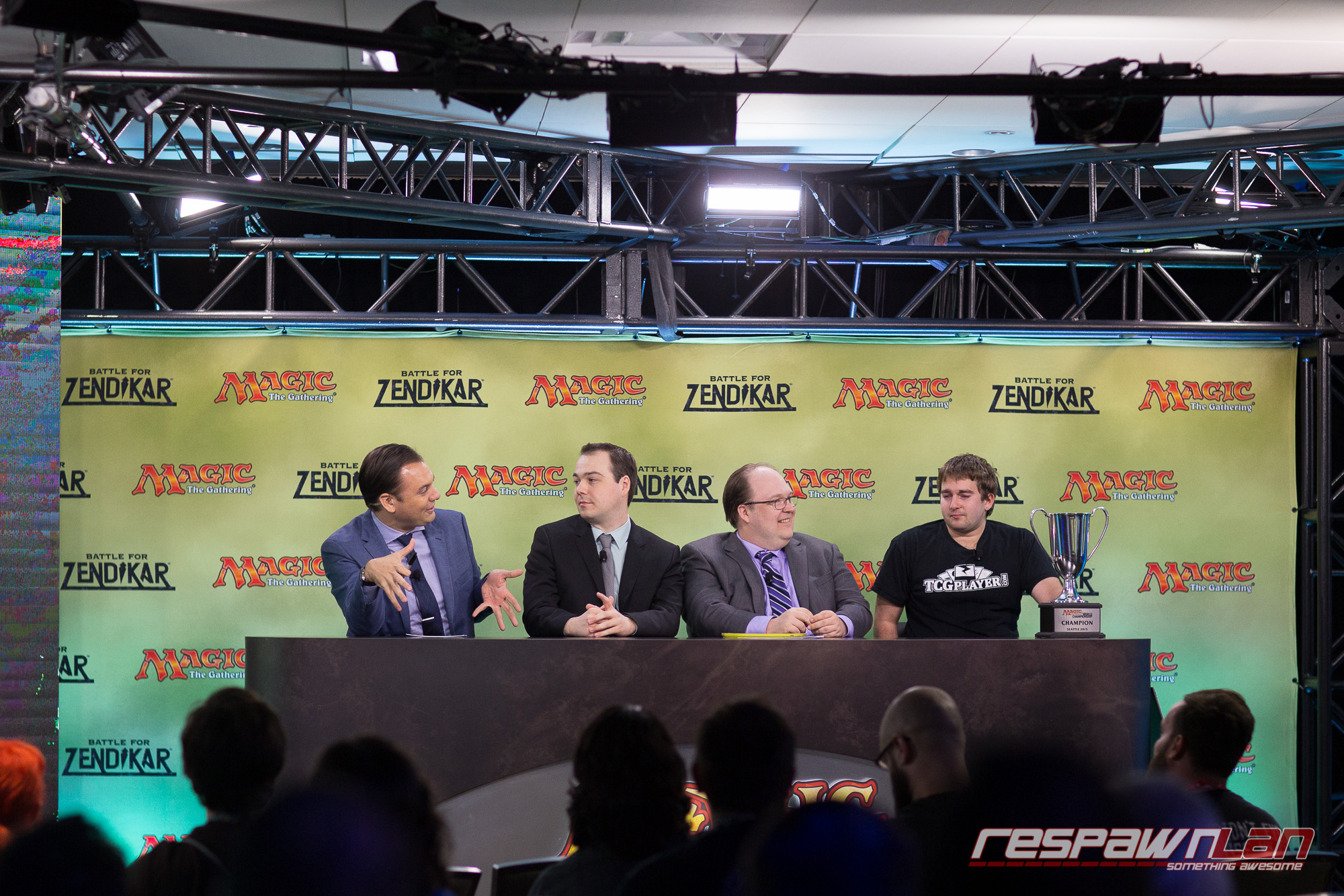 Wizards also hosted a series of panels - not just one - but the most important of the lot being the reveals and announcements for the next two sets where infomration about new cards is released. This was also live stramed, so for those who couldn't get in (or for those who didn't make it to Prime this year), they can still keep up to date with all the info, although with a slight delay. Wil Wheaton was one of the hosts for the show.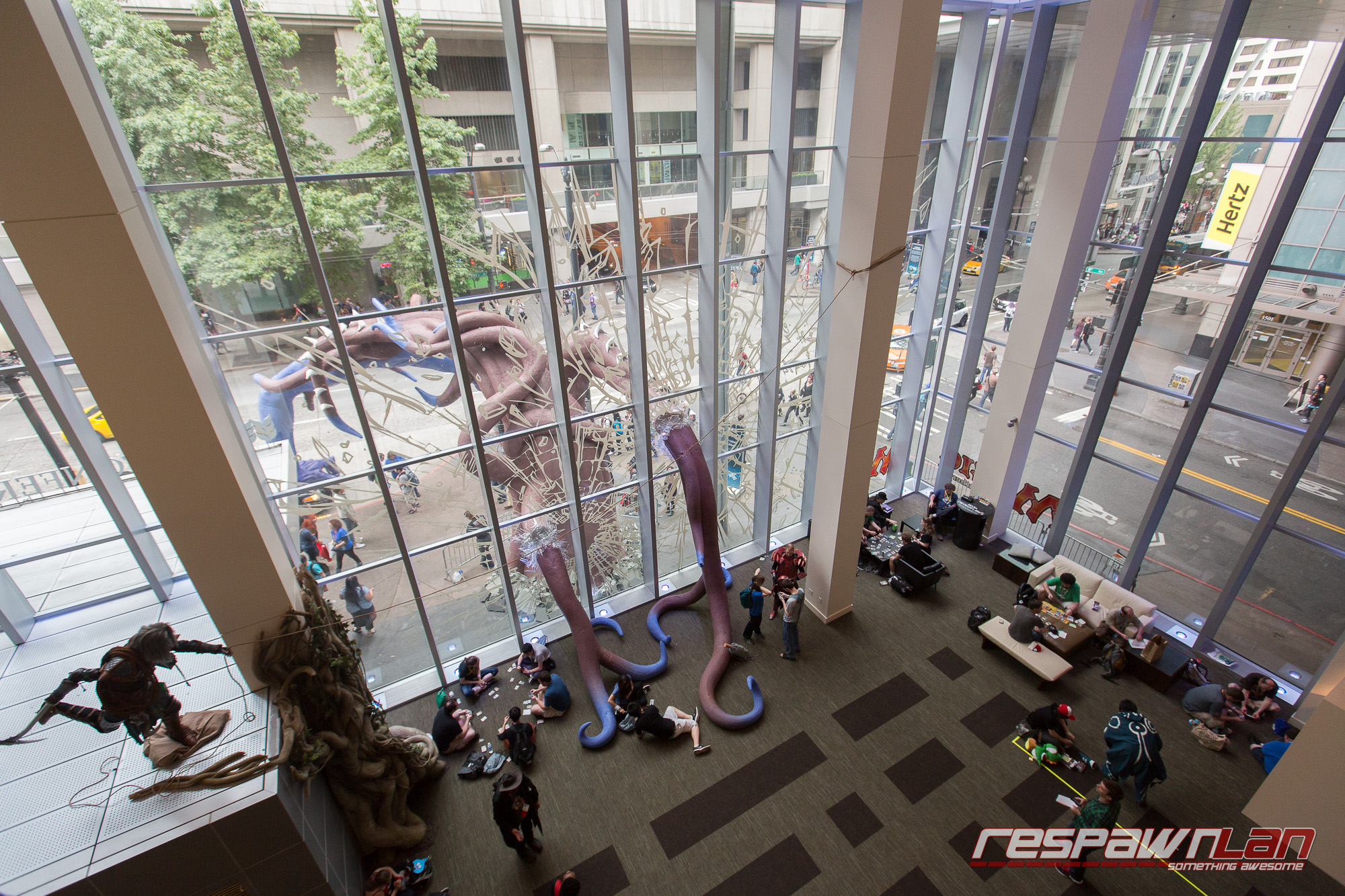 Check out this Eldrazi creature, featured in the latest Magic set, as it appears to have attacked the annex of the convention centre. I had a brief chat to the artist who created this and told me about the police car they picked up at a surplus auction where they removed the engine and then jumped on the hood to create the dent. The street was closed to traffic for a short while as they set everything up.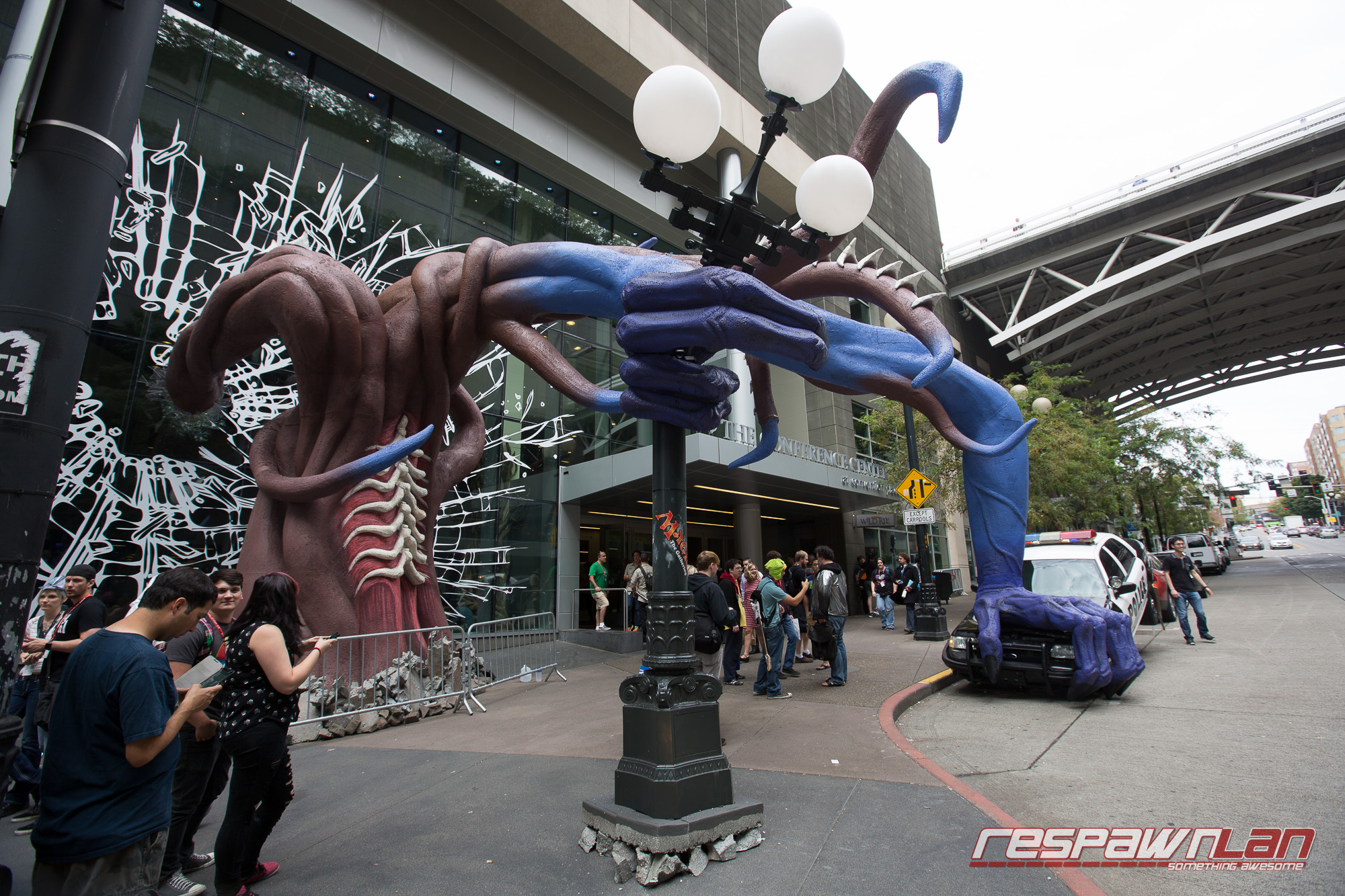 They even hosted a party with a DJ and free drinks and food on the Saturday night.
EVERYONE I met from Wizards was an absolute gentleperson - really passionate about what they did for the company (which, as far as I can call, was 100% Magic The Gathering).
The good news is that if you missed any of the panels related to Magic, they're all available online:
https://www.youtube.com/playlist?list=PL3rP...cGb6dxf5fQrHsX6
And here's the preview show featuring Wil Wheaton and Ashly Burch:
https://www.youtube.com/watch?v=tOuJSELlss8
Think of it like an Apple keynote presentation for Magic - and this one is huge.
By this point, it's clear that if you're a Magic die-hard fan and don't care for the rest of PAX, there's plenty to do and experience without even leaving the annex.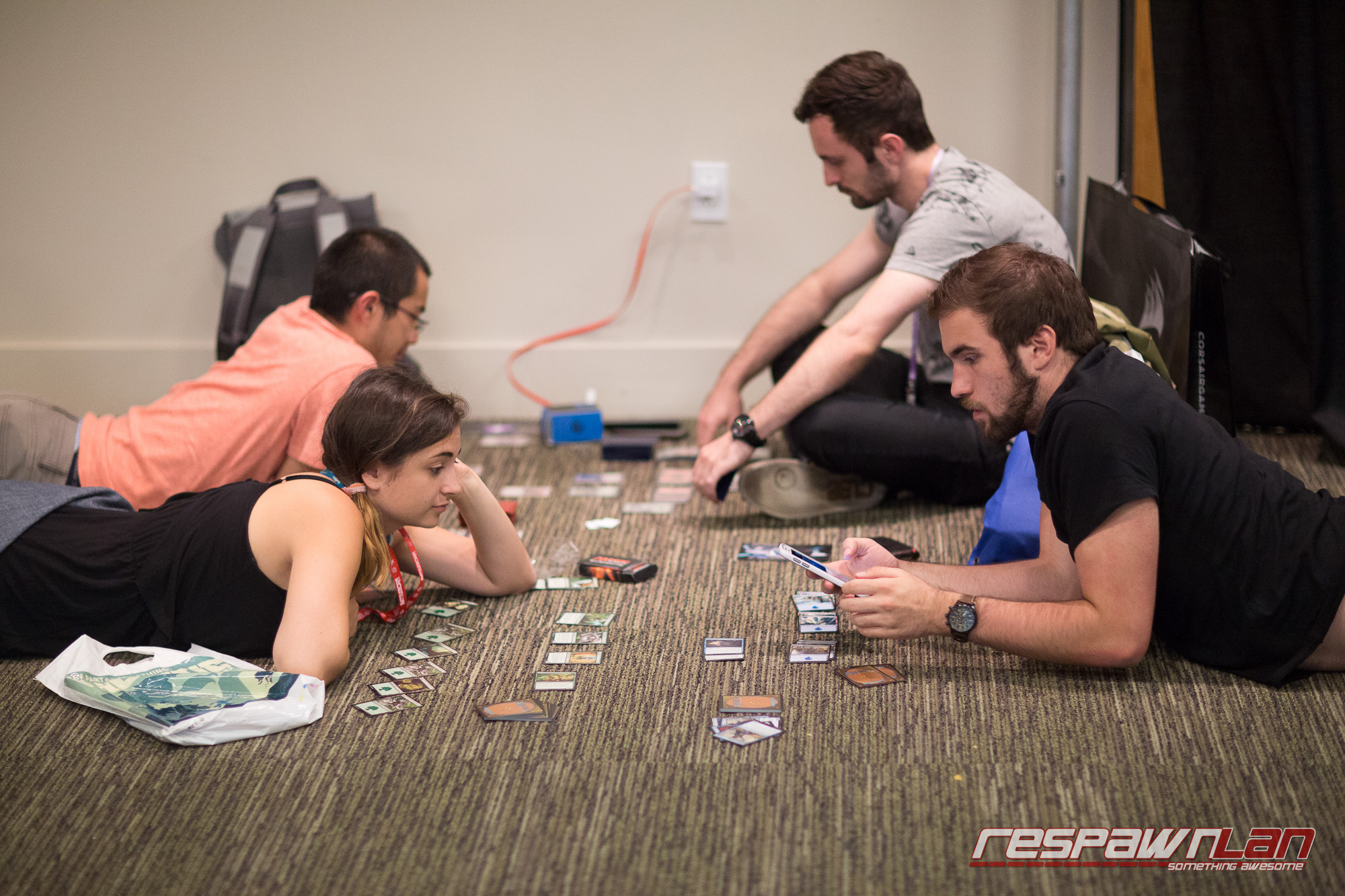 Cards Against Humanity and Exploding Kittens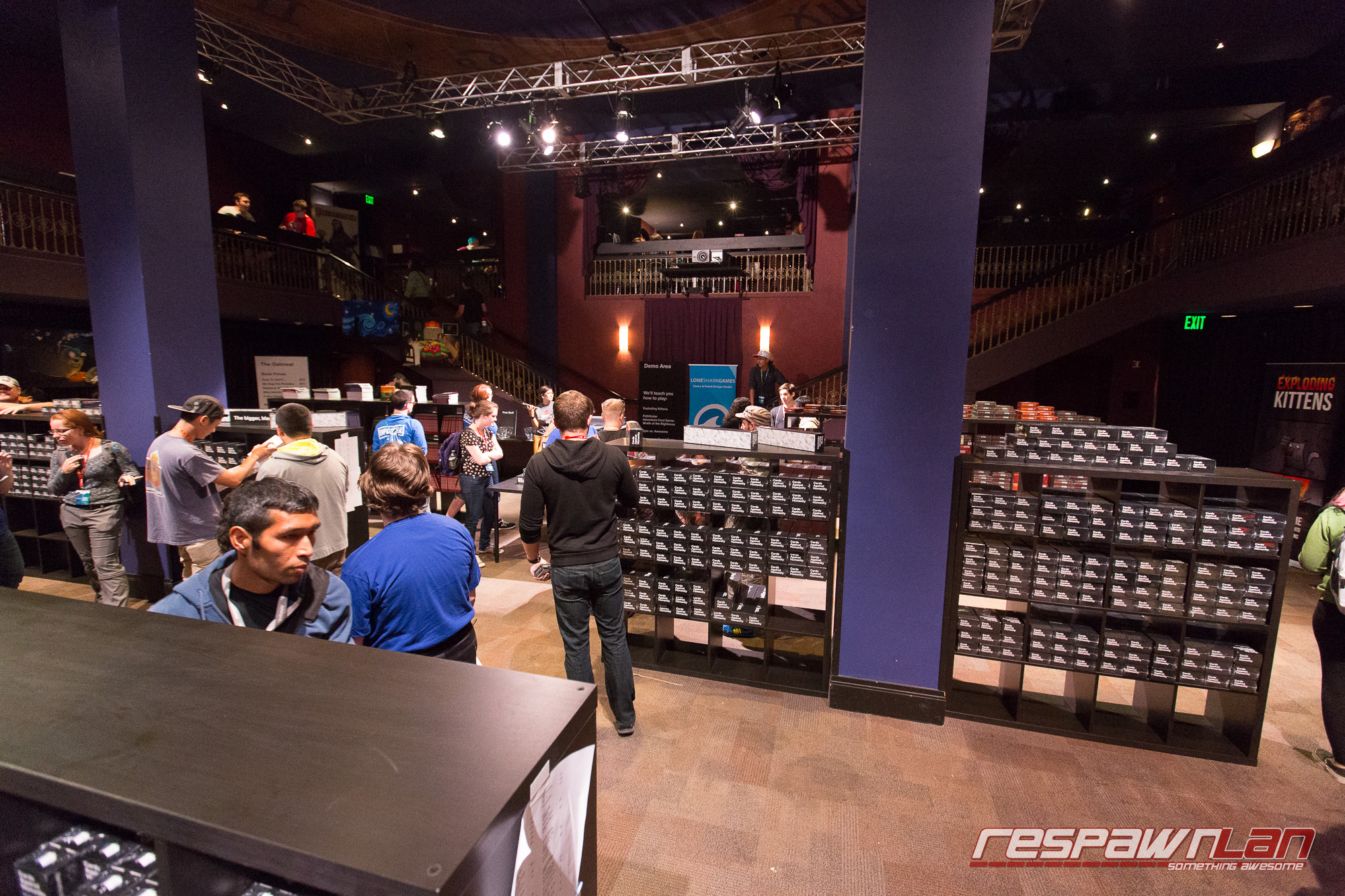 We've all heard about Cards Against Humanity and most of us are aware of the amazing kickstarter success that was Exploding Kittens. These guys, along with a few other indie board/card game creators, were found in the ABC theatre, a venue that's right next to the convention centre but not part of it - and not part of PAX, either. These Cards pranksters decided to give out a limited release exclusive pack during a panel last year which included Oatmeal (called "Pwnmeal"), actual oatmeal inside the packet, which created a huge mess for the organisers, not to mention violating food safety codes. It would be speculation to talk about whether the anti-sticker rule being violated at PAX Aus by giving away stickers on the expo floor also contributed, but CaH were barred from exhibiting at a PAX.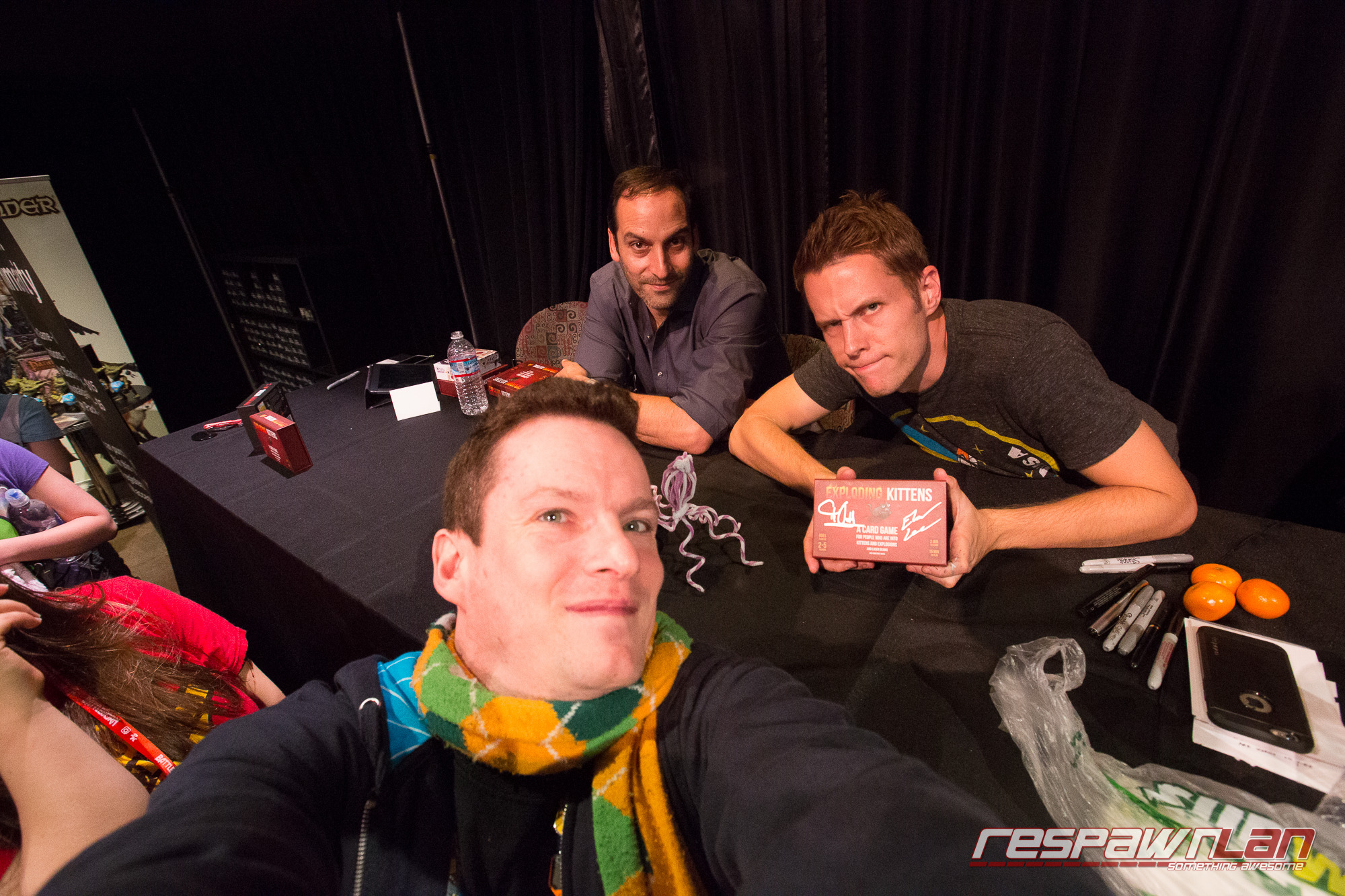 Oh look! A shameless selfie with the CREATORS OF THE GAME. This is the kinda stuff that makes PAX Prime kick just a little bit of serious ass.
This year, the pranksters joined forces with Matt Imnan from The Oatmeal and provided a retall space including panels, which was a great way to stock up on The Oatmeal merch and purchase some Cards. Part of the CaH team were there, signing cards and all three members of the Exploding Kittens team, including Matt Inman himself from The Oatmeal, were there, signing Kittens.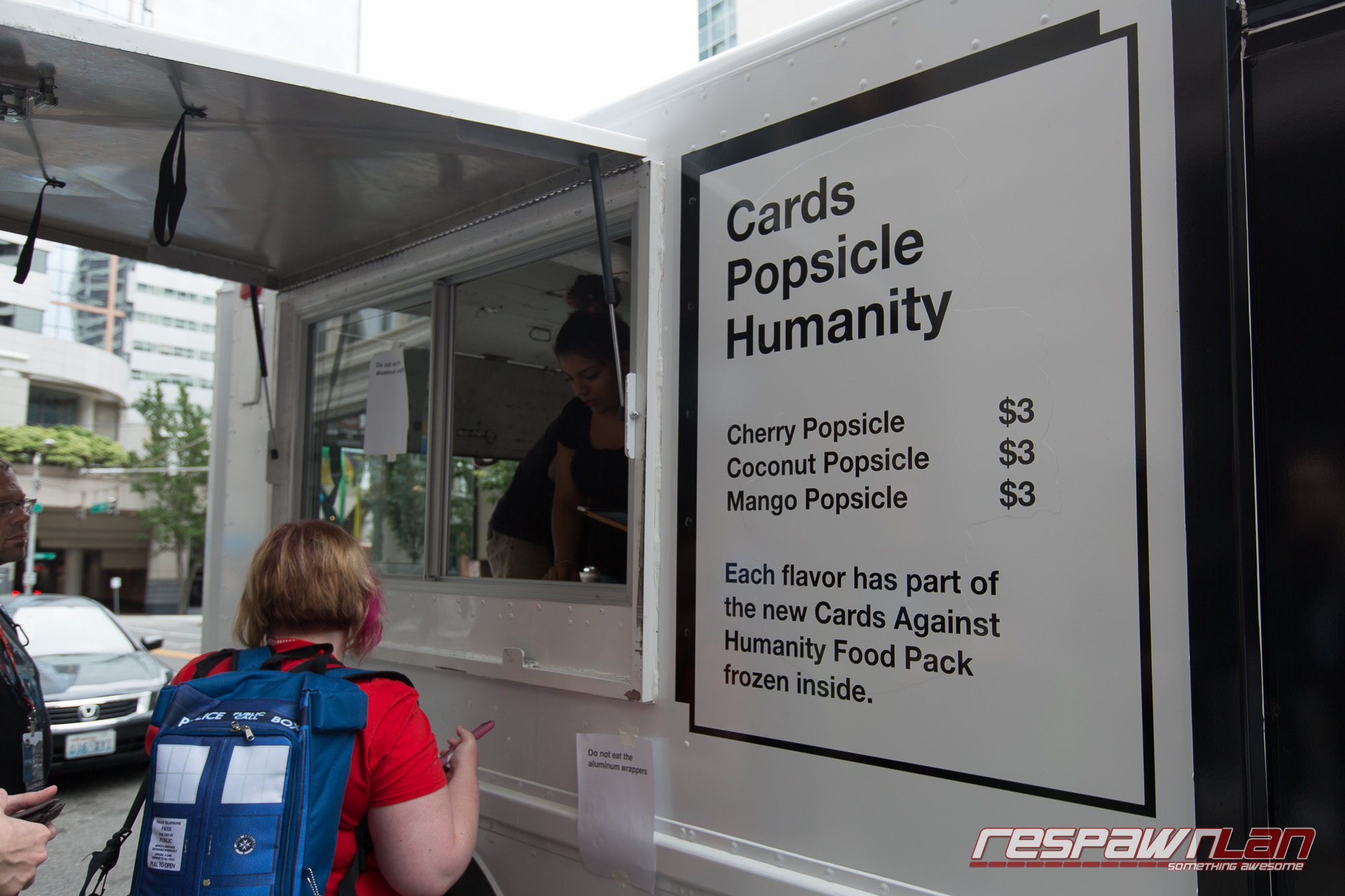 They found a great way to remind us how against humanity they are with the distribution of their latest PAX Prime exclusives through Cards Popsticle Humanity - three different flavours (coconut, mango and cherry) of giant popsicle with the exclusive sets frozen in the middle. These cost three bucks each and you needed all three for the full set - which sold out fairly early on. I was enterprising and utilised a plastic cup and an hour of waiting for the popsicle to melt before turning it into a slushie - then rinsing the CaH silver packet. All three packs formed the 'food' expansion.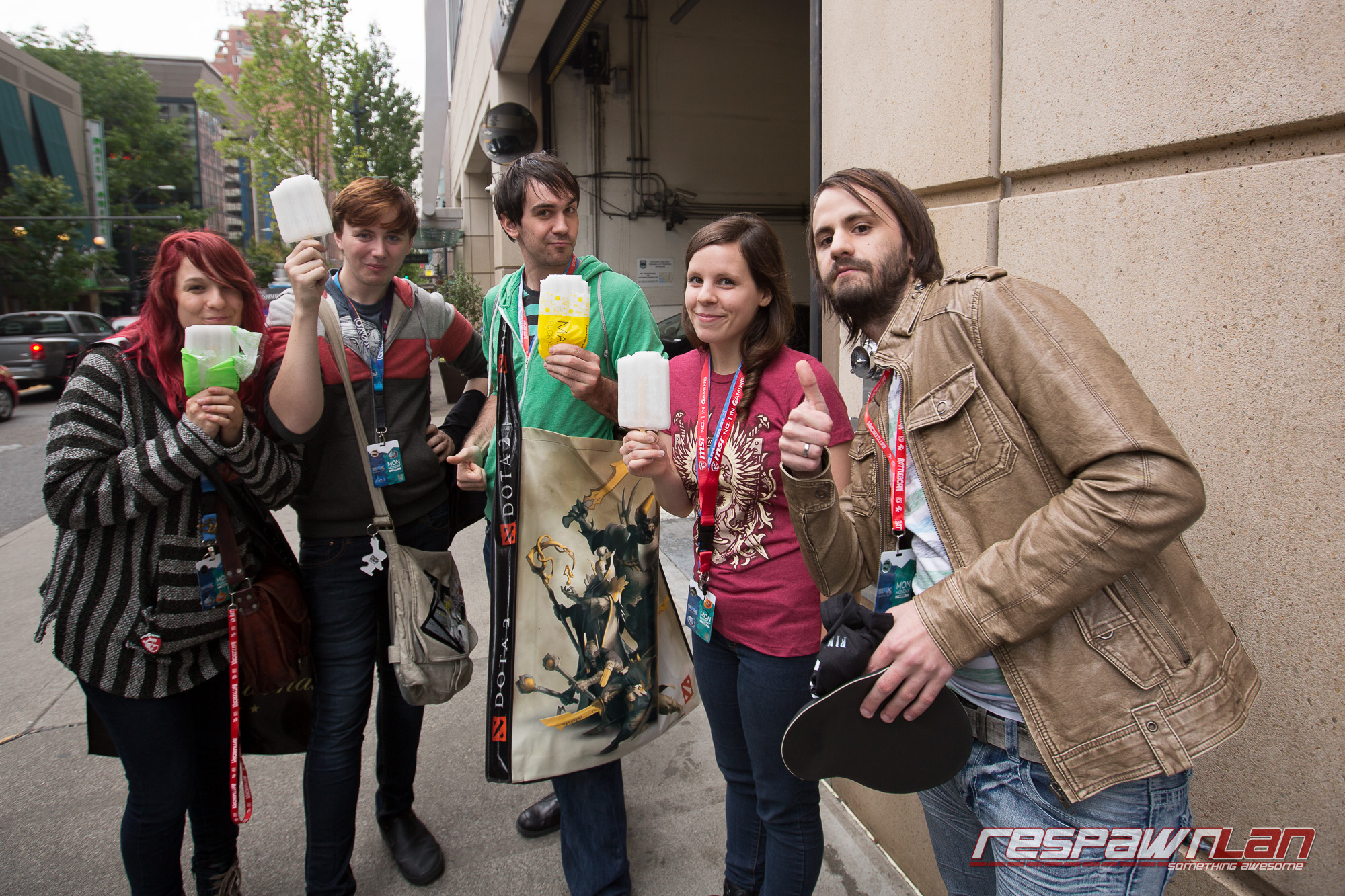 The CaH panel was held in the PAX venue in the Sheraton hotel. It was hilarious, included a live band whom were playing Smash Mouth's All Star on the way out and a cover of T-Swizzle's Shake It Off on the way in. Groovy!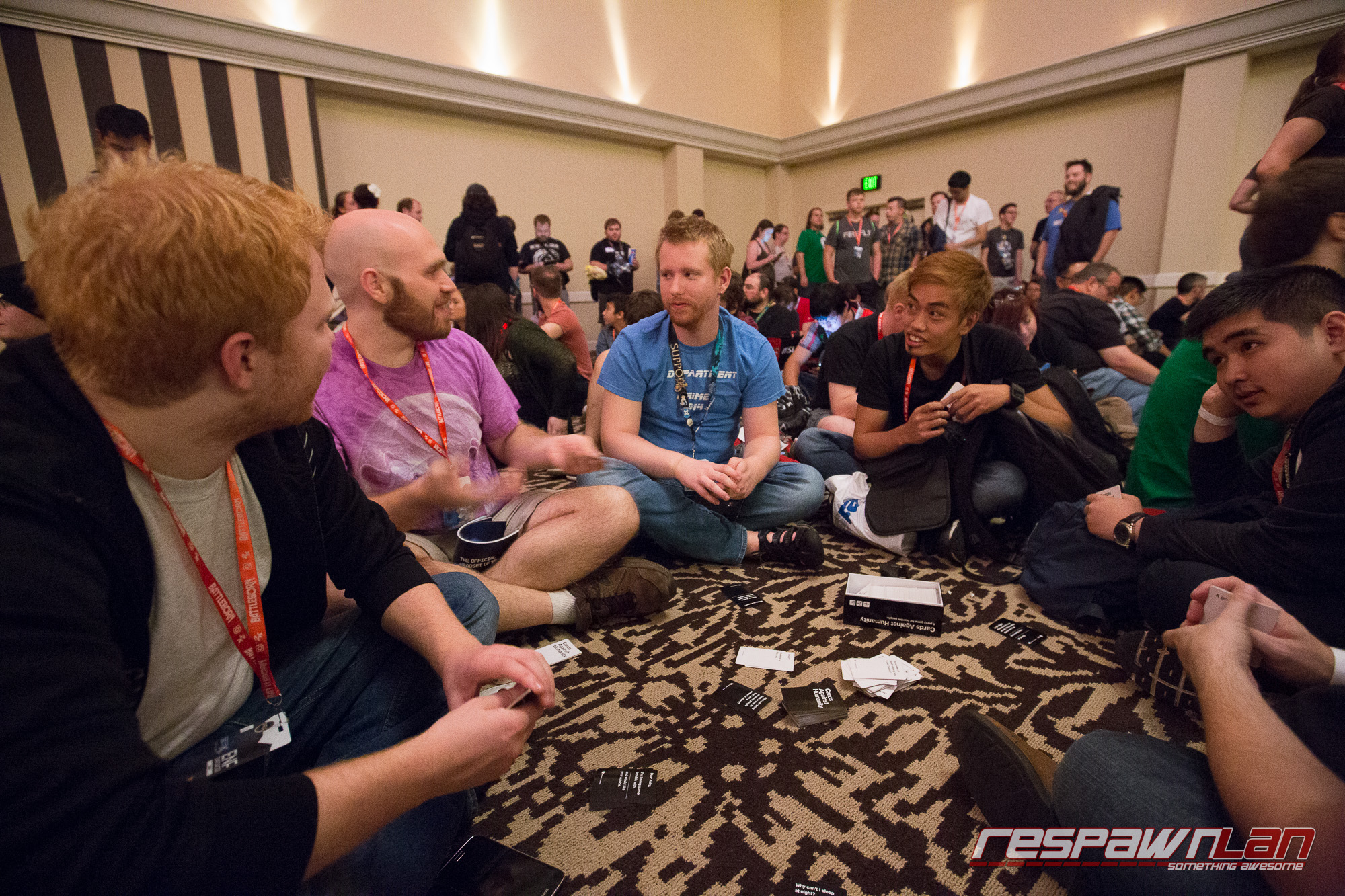 The line for that panel filled up a whole hour before the panel. It was hilarious, but offered no real surprises or change of format beyond what we saw in PAX Aus, where I lined up for a mere five minutes before commencement of the panel.
There were no PAX-specific expansions like last year, distributed at the panel.
Conversations.
My favourite part of PAX - or any community-driven event, is meeting people and exchanging war stories. Conversations. This is what PAX is all about, at least, for me, and it's where all the cool ideas happen. I met some amazing people at PAX this year, everyone from attendees, omeganauts, people in lines who are just as obsessed with Splatoon as myself, to game developers such as the developer of Duck Game, a platformer I absolutely love.
And the Magic designer who designed the mechanic of my favourite card ever produced. He signed my card, Kaalia of the Vast.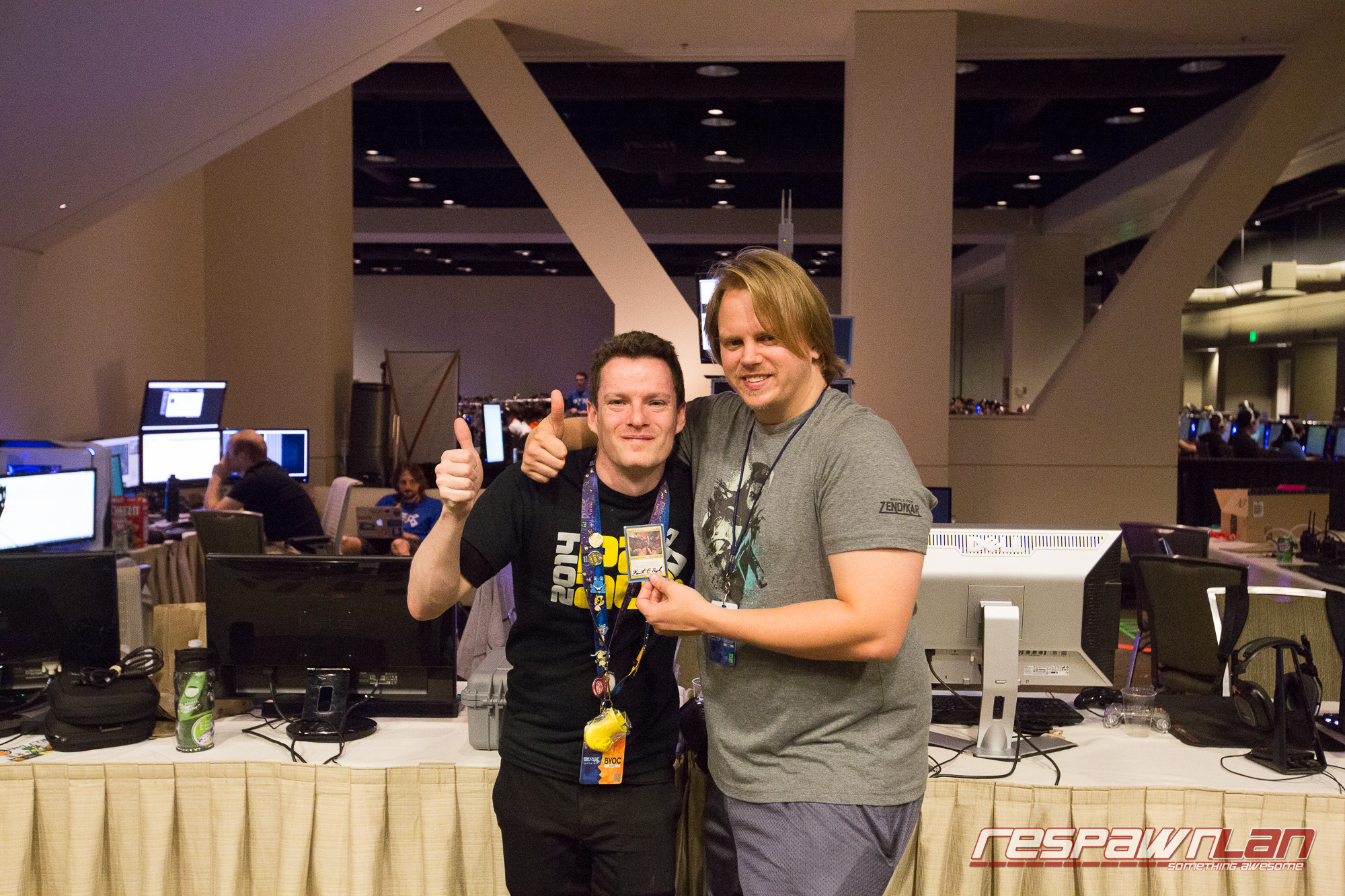 I had a great chat with the creator and developer of DUCK GAME.
I also met these guys from the podcast Loading, Ready Run who do the Magic the Gathering-themed YouTube podcast, "Friday Nights".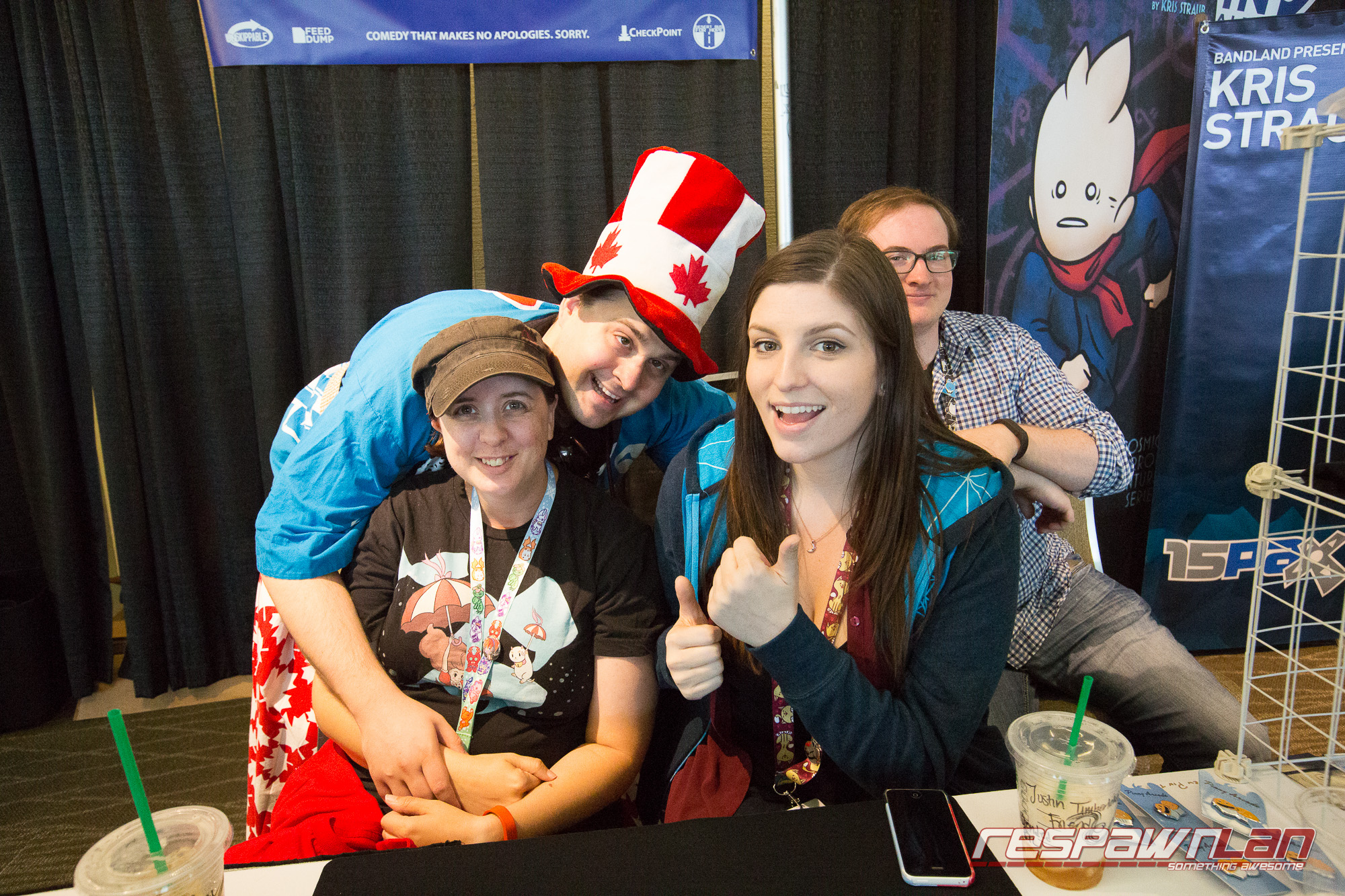 SERIOUSLY, THIS WAS SO FREAKING COOL.
Meeting people in lines around the expo at PAX is by far one of my favourite things about PAX.
Rocket League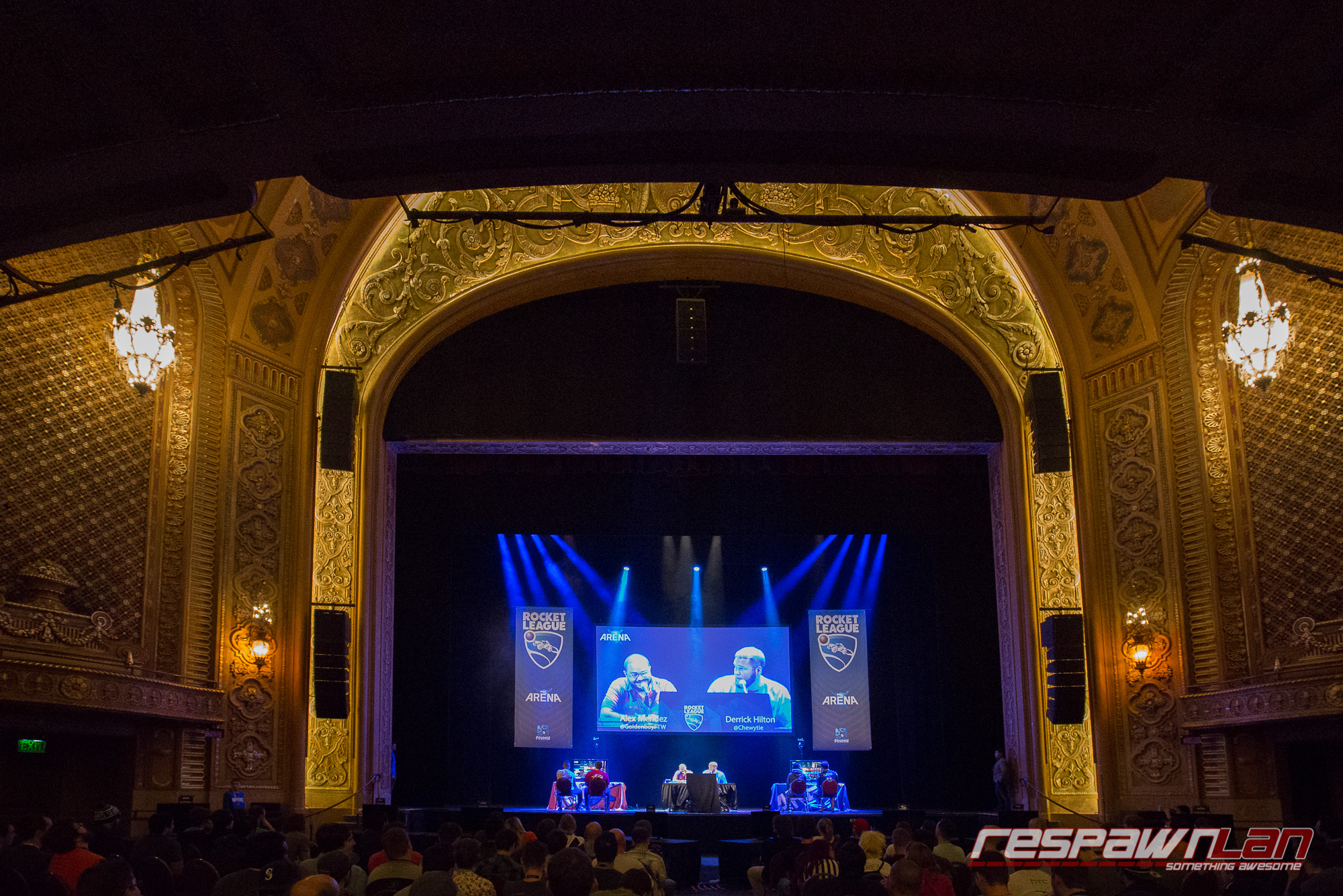 This is my FAVOURITE PC GAME right now and I have played it for a whole five minutes.
It's a video game, available on both PC and PS4, where you play soccer but with cars. 2v2, 3v3 and 4v4 - the 2v2 mode is considered the most competitive. The game has barely shipped for a few months and ESL, MLG have picked it up and you bet we'll be running at at Respawn LAN events for the foreseeable future. This game took over PAX - the Paramount theatre, a prestigious venue in Seattle, was home to the PAX eSports Arena which was nothing but competitive Rocket League all weekend.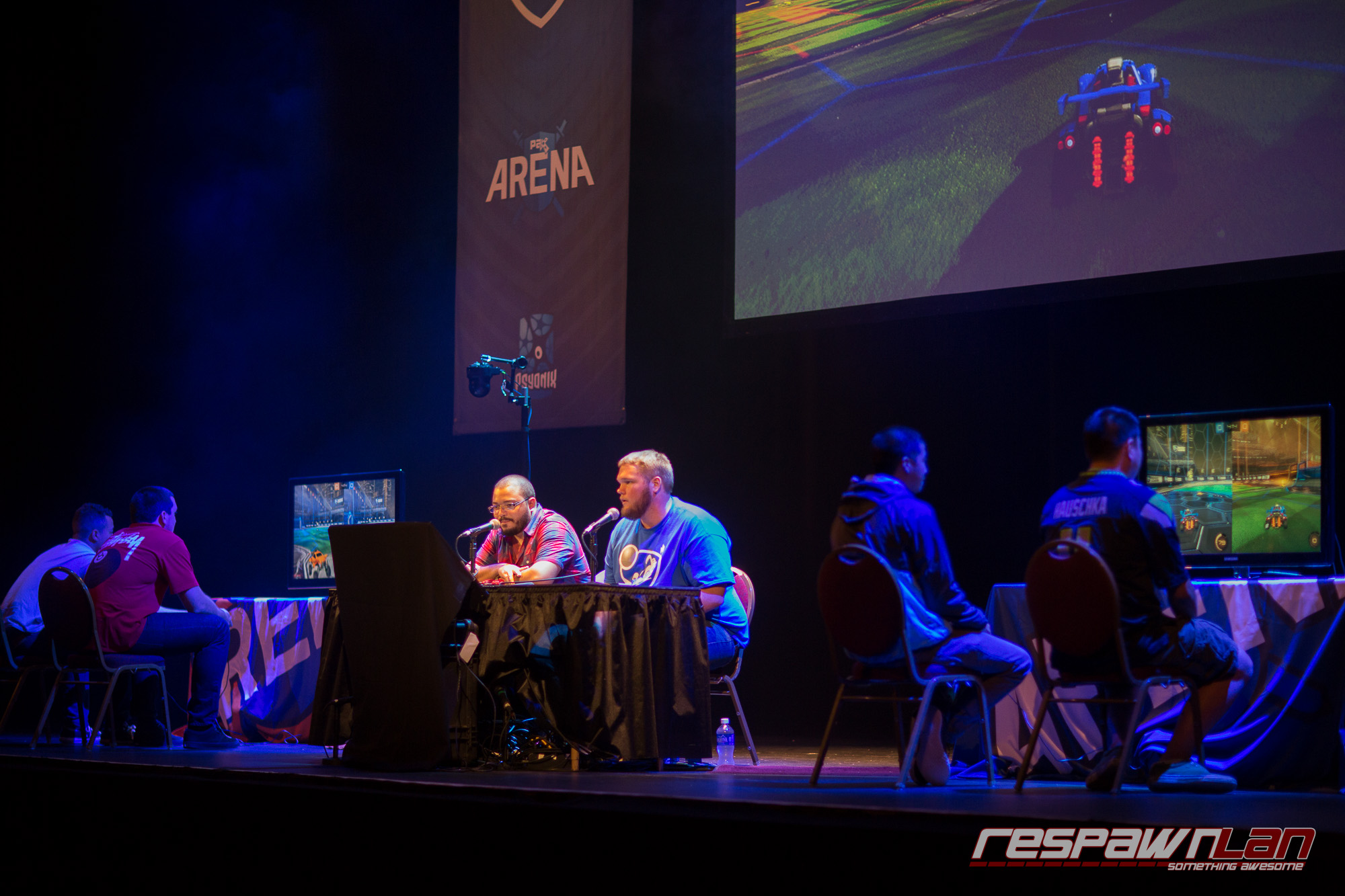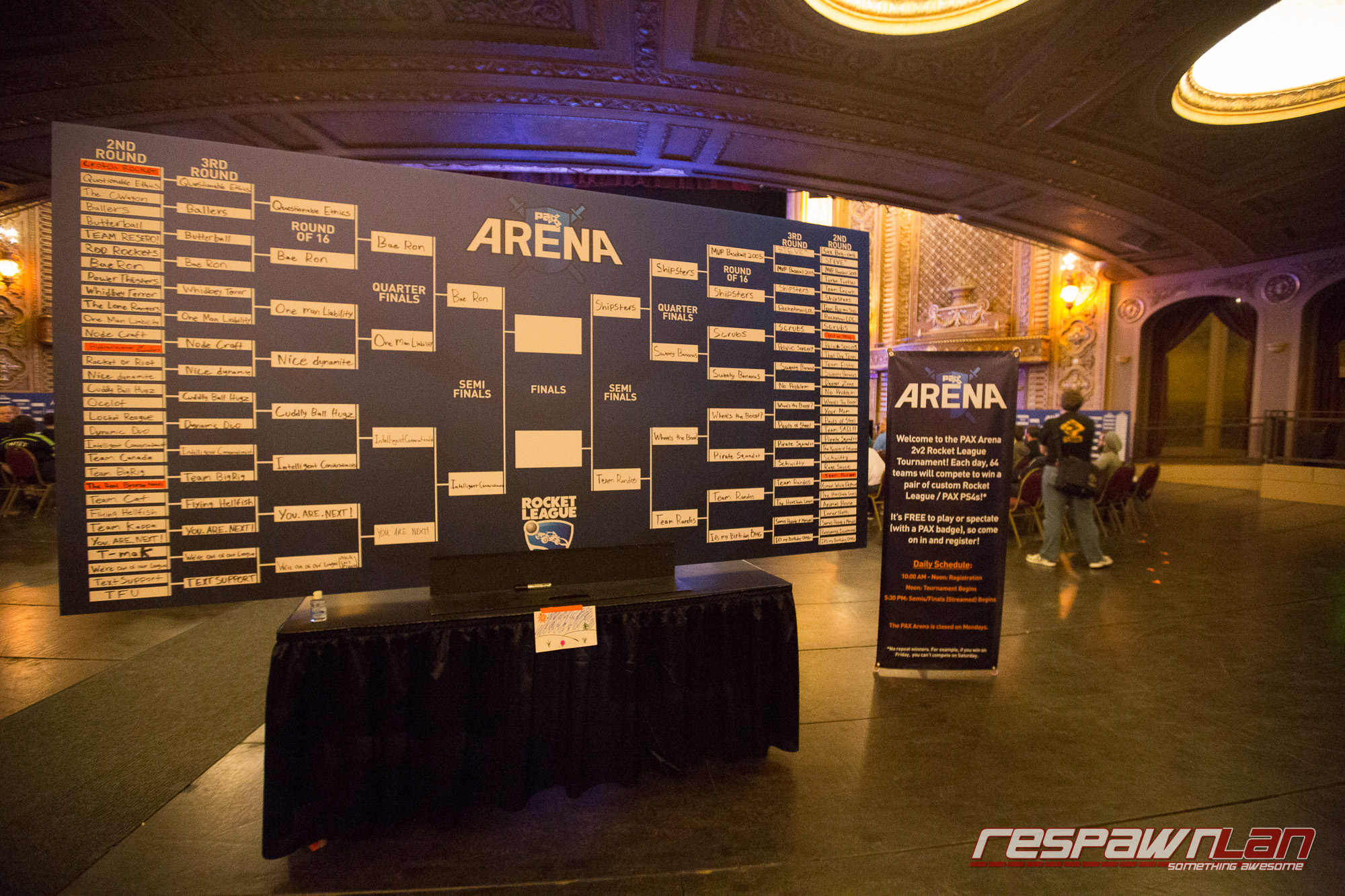 This game is hot as chips. It had a solid reception at PAX Prime and almost everyone I spoke to was nuts about the game. Do yourself a favour, take ten minutes break from reading this article, download Rocket League, play Rocket League, then come back and tell me how much it rocked.
2v2 makes it super easy to run tournaments for, too.
Cosplay
Cosplay is a huge thing at PAX Prime. Everything from League of Legends to Splatoon and everything in between. You'll see I am a little obsessed with Splatoon right now.
Yes, there's a bit of Splatoon cosplay here... and SEXY SAX MAN, who was running about the convention centre and expo floor playing Careless Whisper.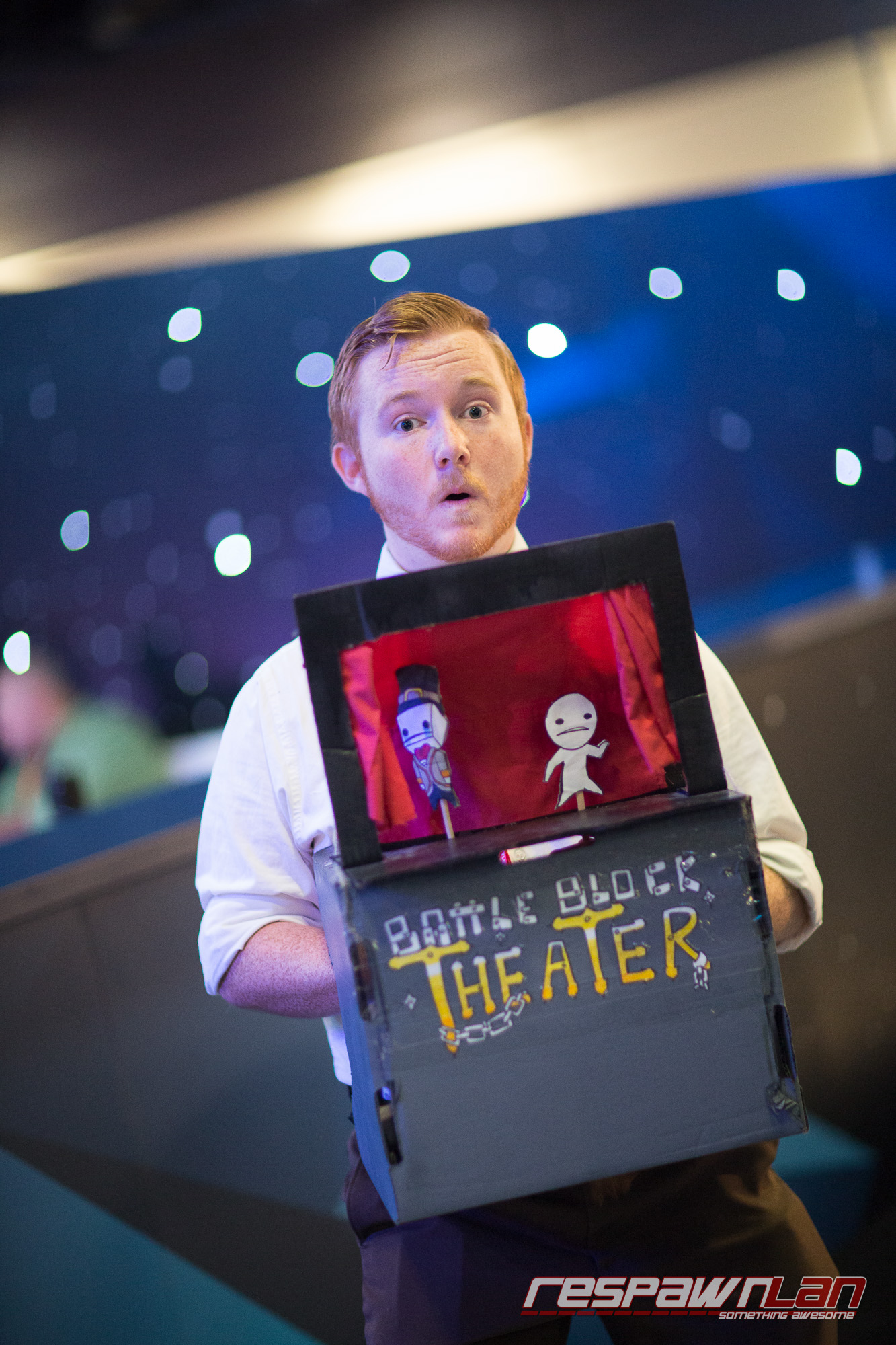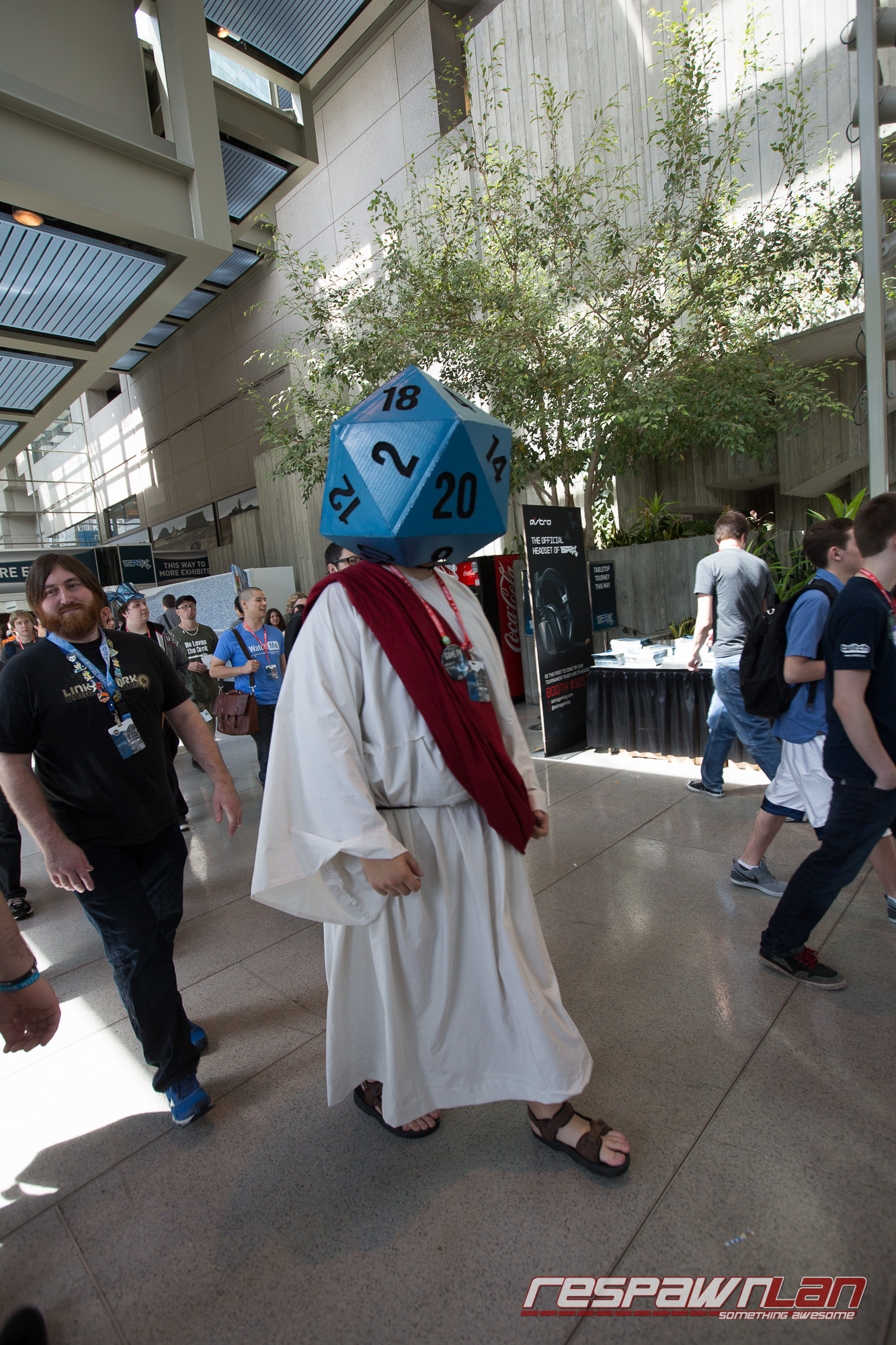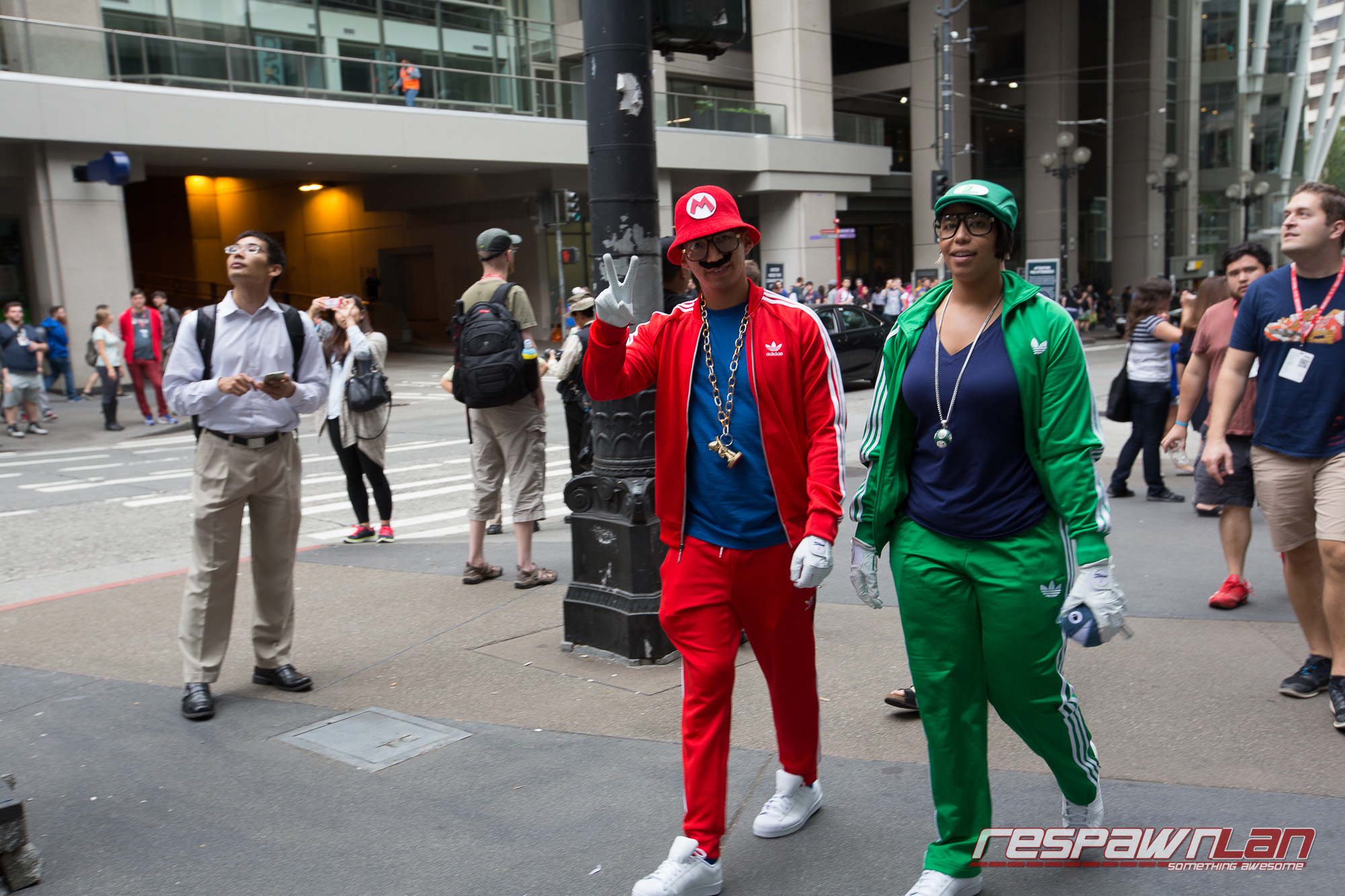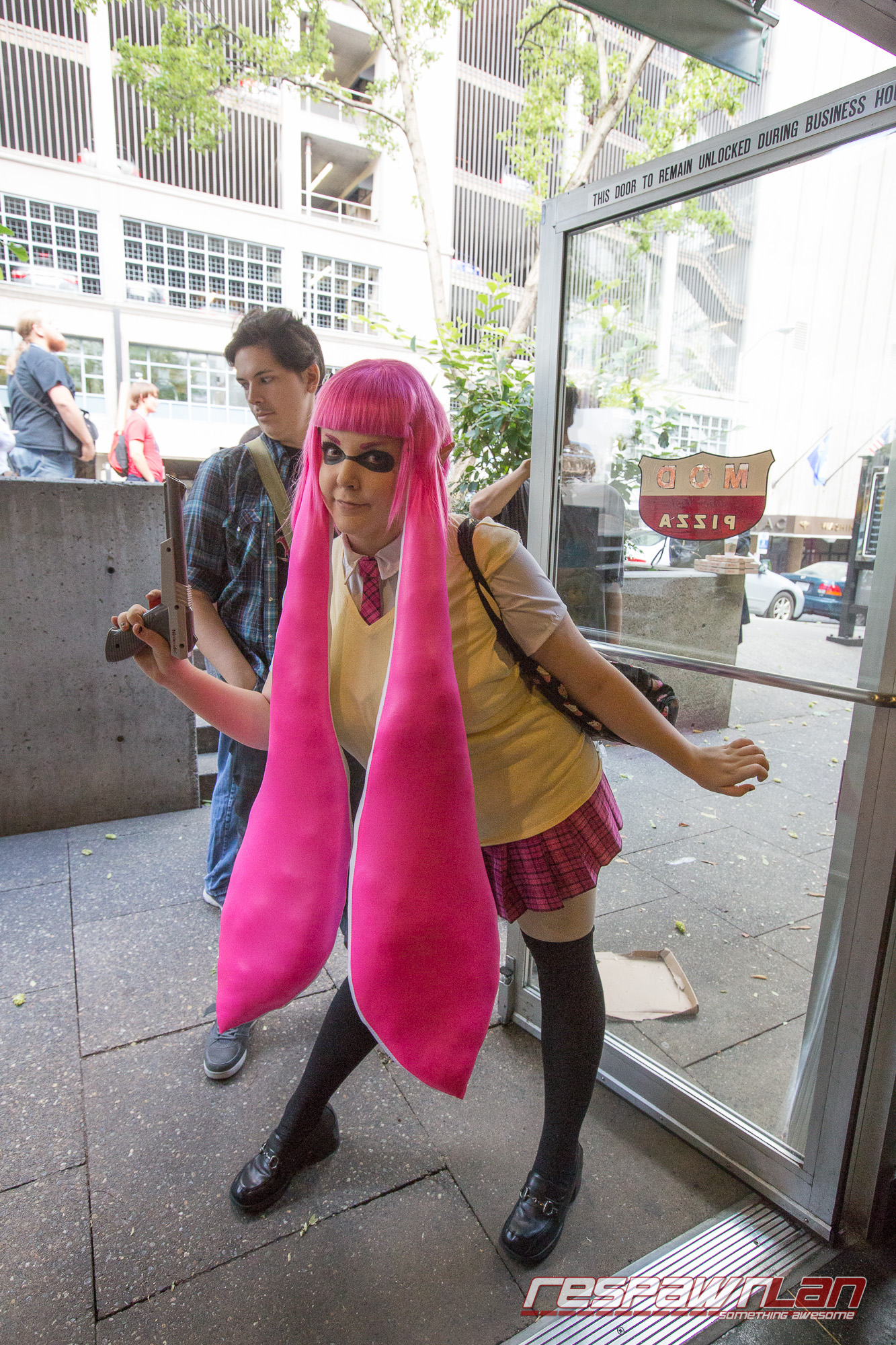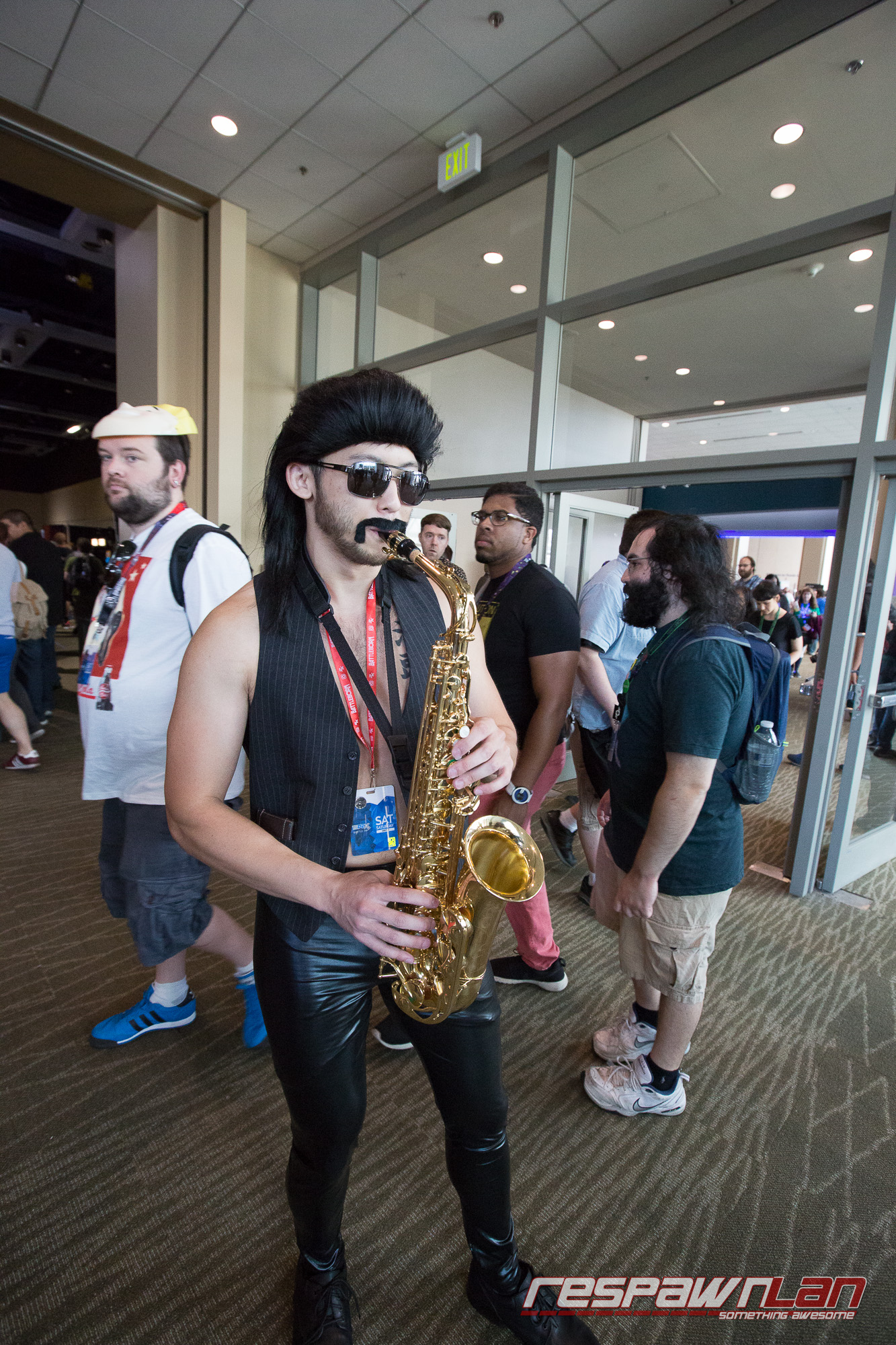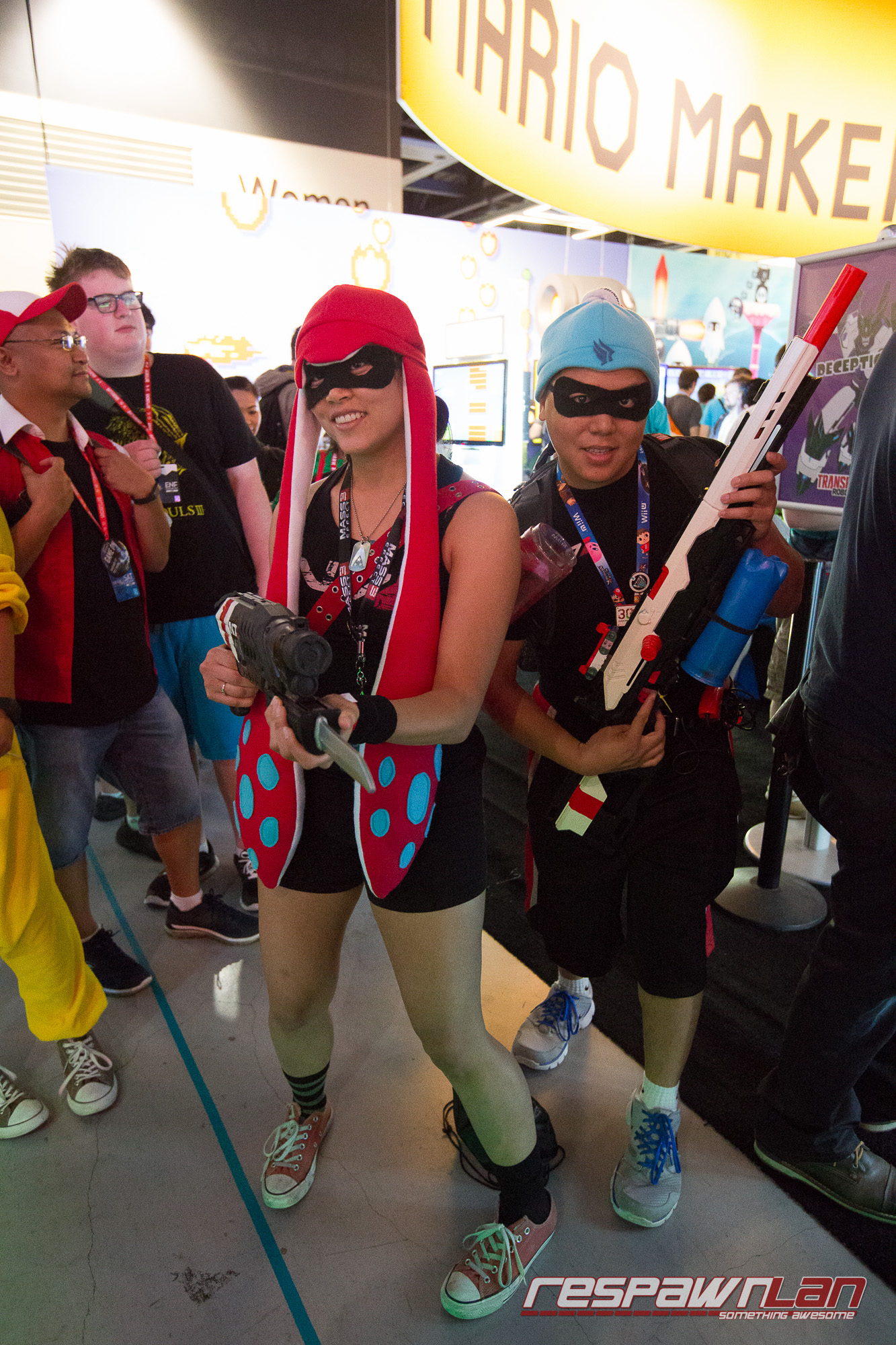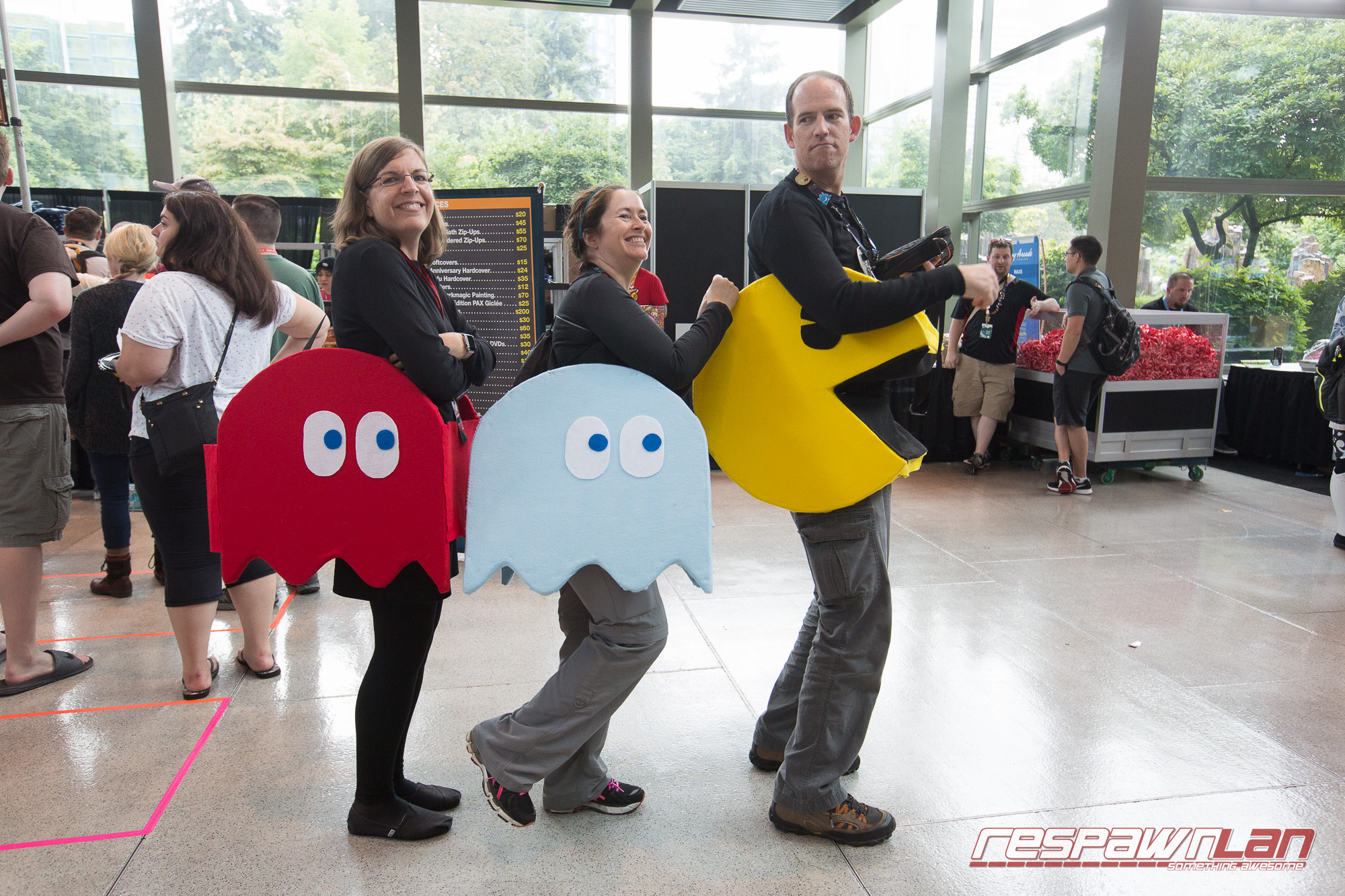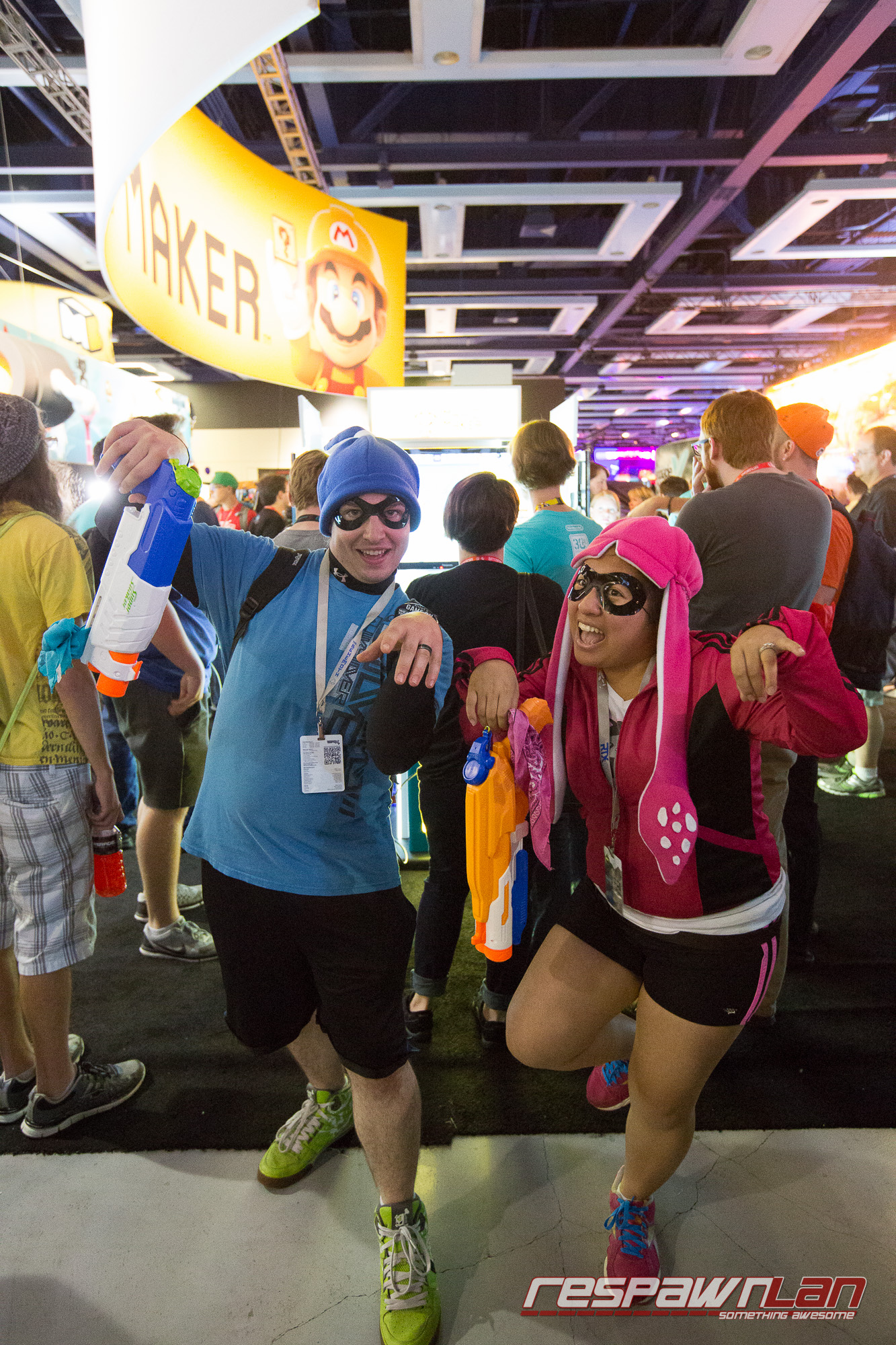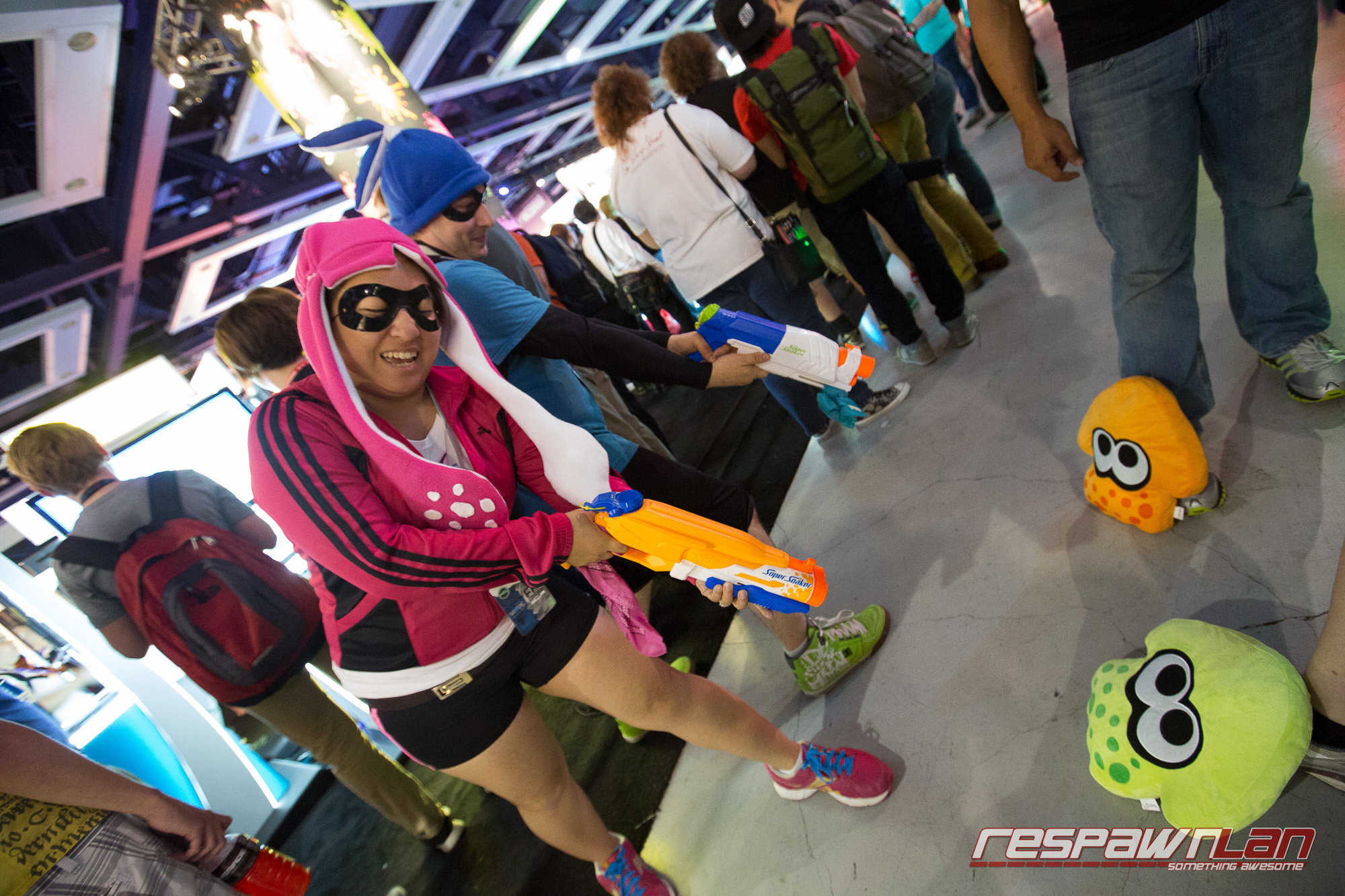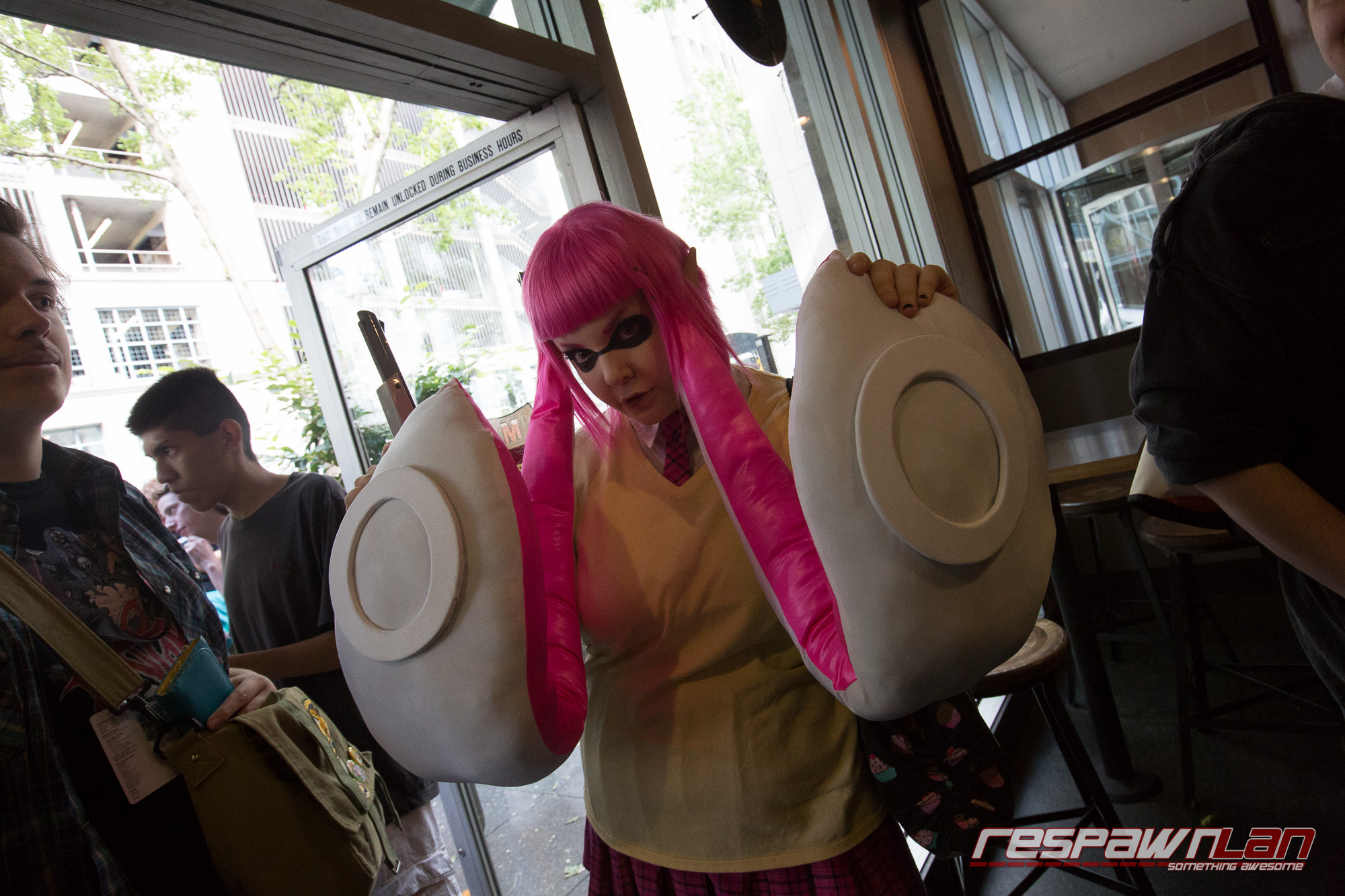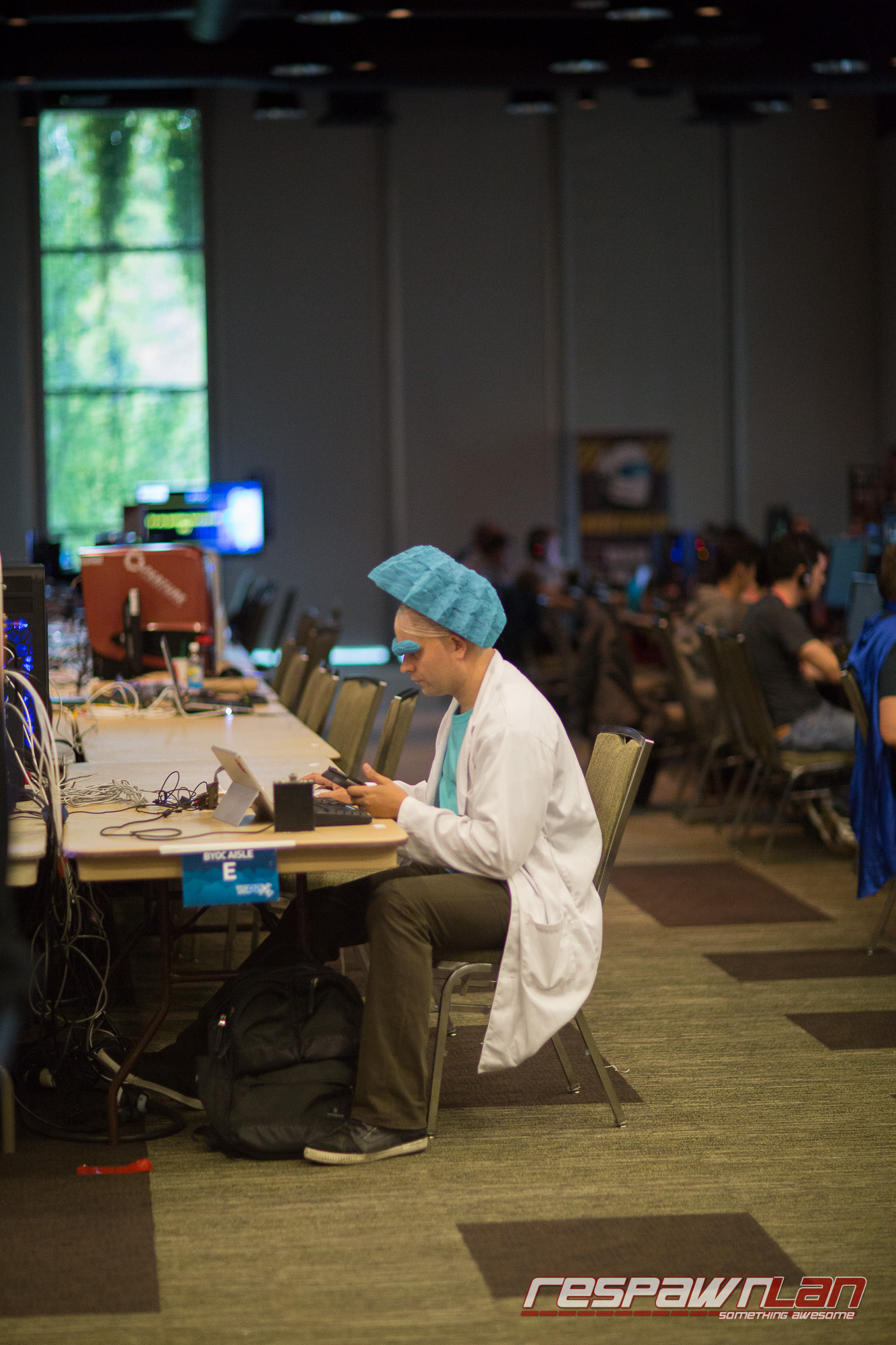 A real Mario Kart! This thing drove, too!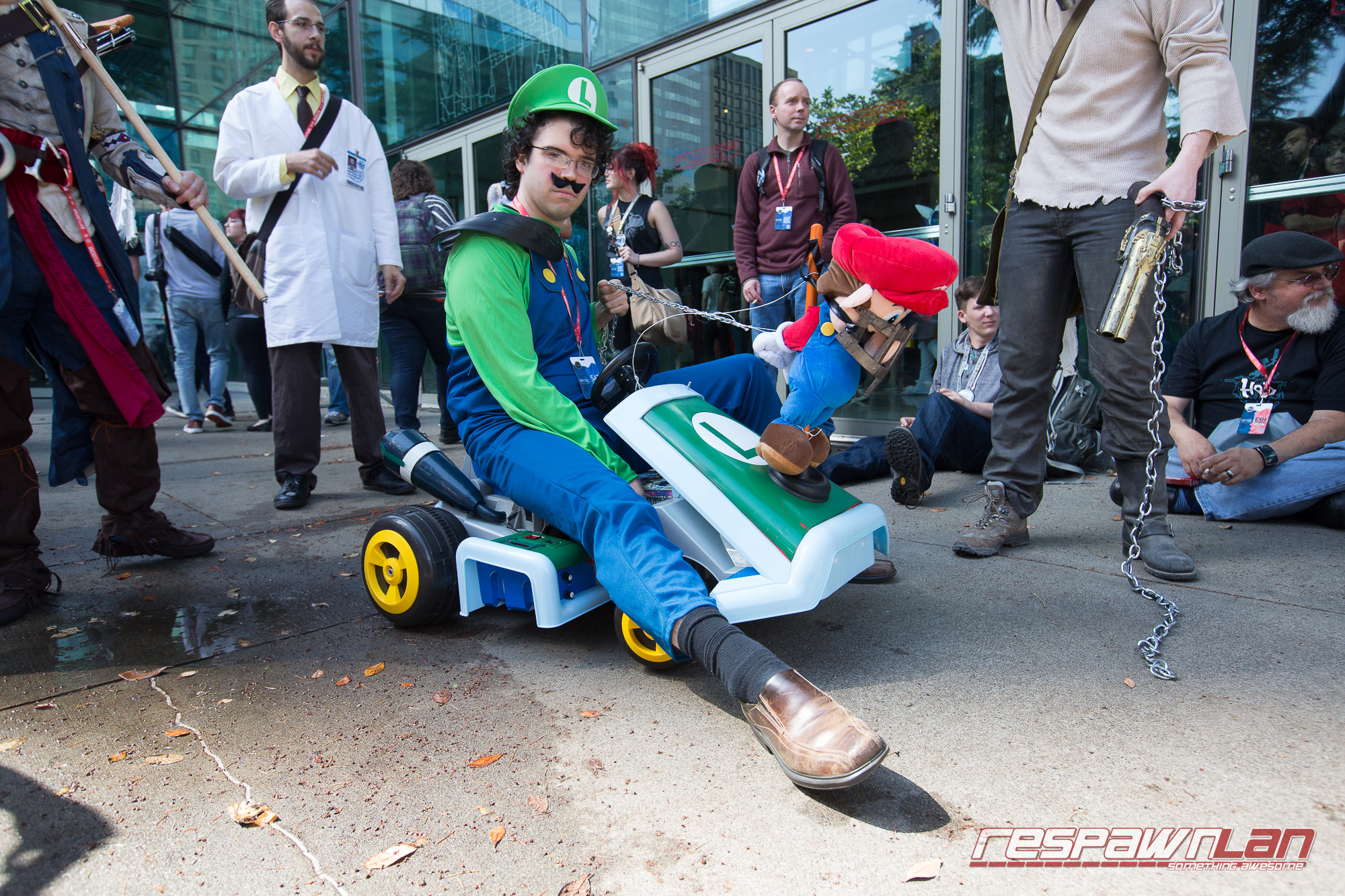 And a massive League of Legends shoot: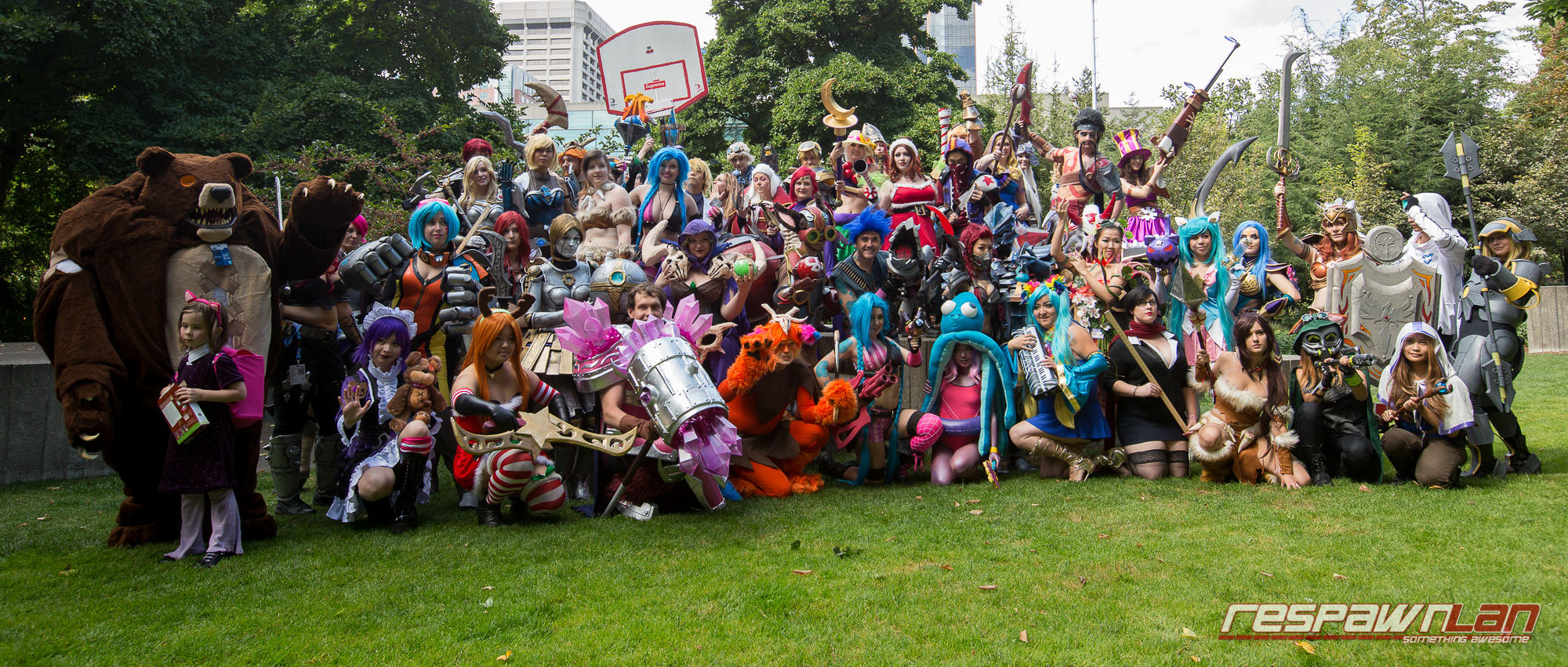 Pinny Arcade
http://www.penny-arcade.com/news/post/2015/08/14/pax-prime-pins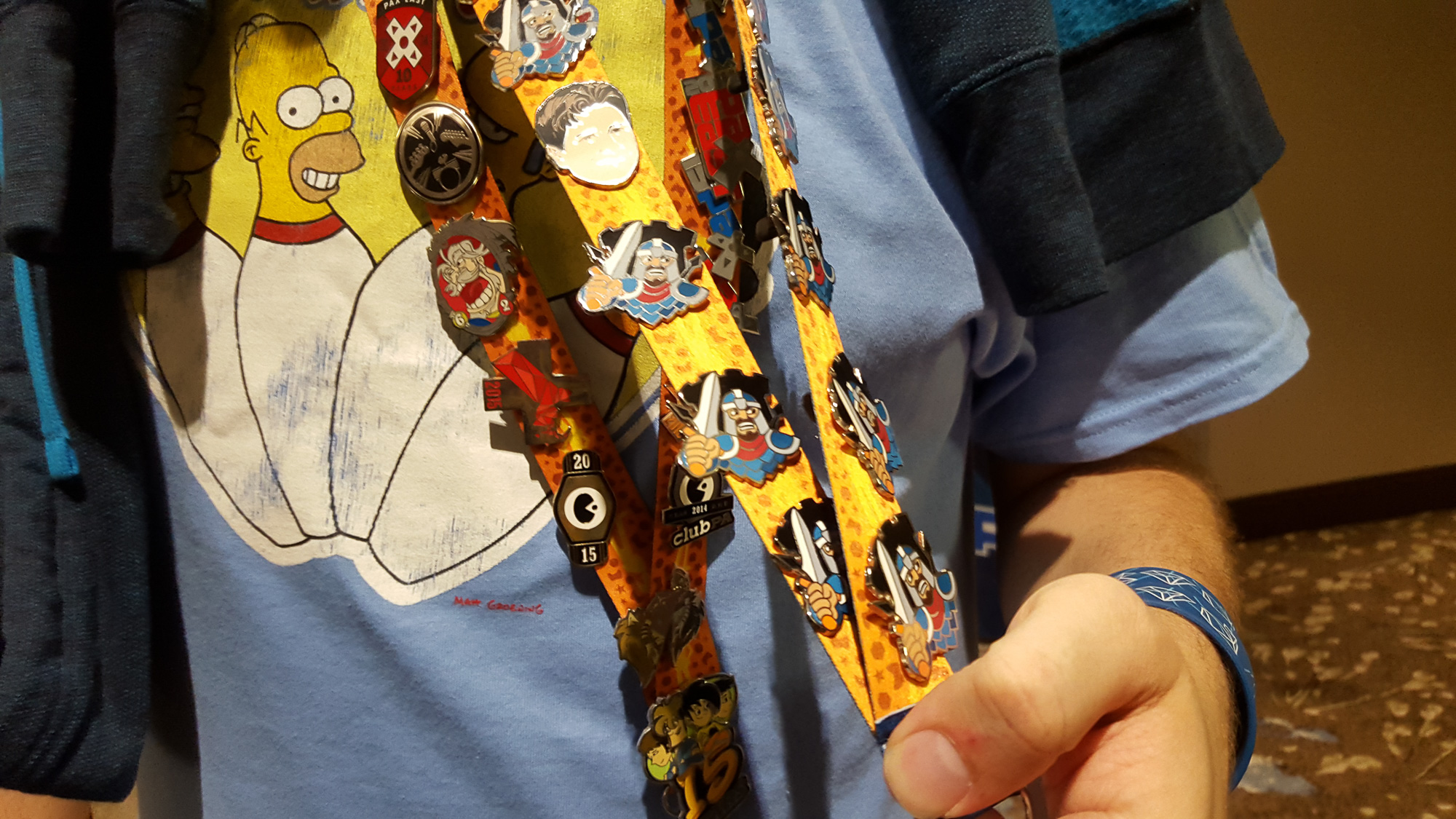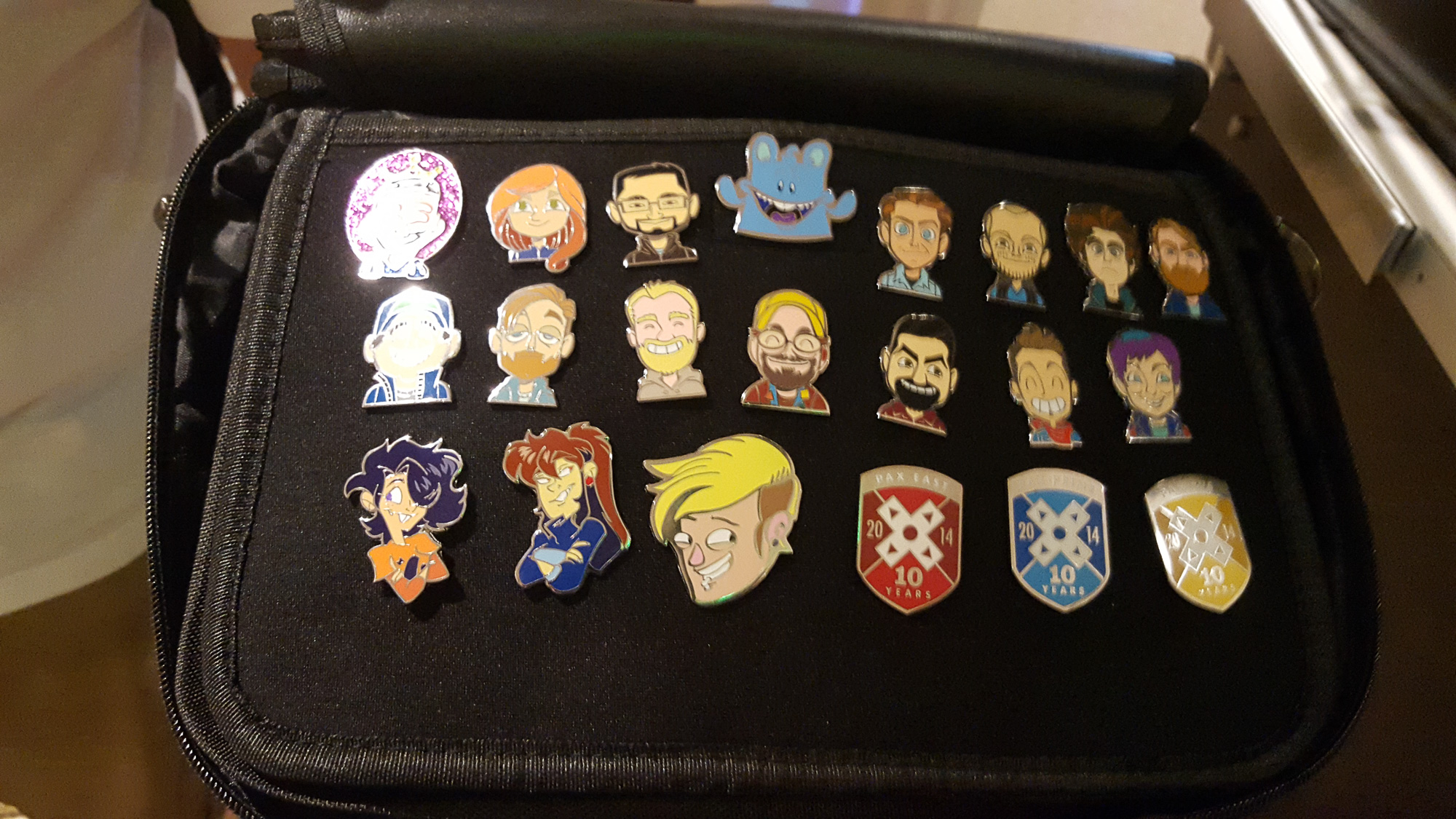 I've spoken about this a bit throughout the article so this is worthy of talking about. Pin trading is a big deal. The idea spawned from button collecting from Disneyland theme parks that the Penny Arcade organisers decided to make a thing out of and Pinny Arcade was born - a trading and pin collecting culture with official pins to ensure that trading is kept fair and legitimate.
Some of these pins can be purchased, others can be obtained only by completing various tasks such as playing five games of Magic The Gathering to get a pin from Wizards Of The Coast, or waiting in line to play a game of World Of Warships (from Wargaming). Others are limited release, available for purchase - there were a few hundred Fallout 4 Pip Boy pins available at the start of each day from the Bethesda booth, for example.
The PAX Merch stand had the larger, more readily available sets including the show set, which is unique to that show and core sets, which are a base set designed to kick-start a collection. They also released a limited edition exclusive pin for the show, known as the Prime Polygon, where there was less than a thousand released for the entire show, only obtained by lining up at 7AM at the merch booth located at the Sheraton hotel.
There was a special trading event held on the Sunday evening. Some of the trades that took place here boggled the mind and I ran into a few people who claimed to have the entire set of every pin ever released. Some of these pins, such as the DLC Kickstarter pin, go for around US$1500.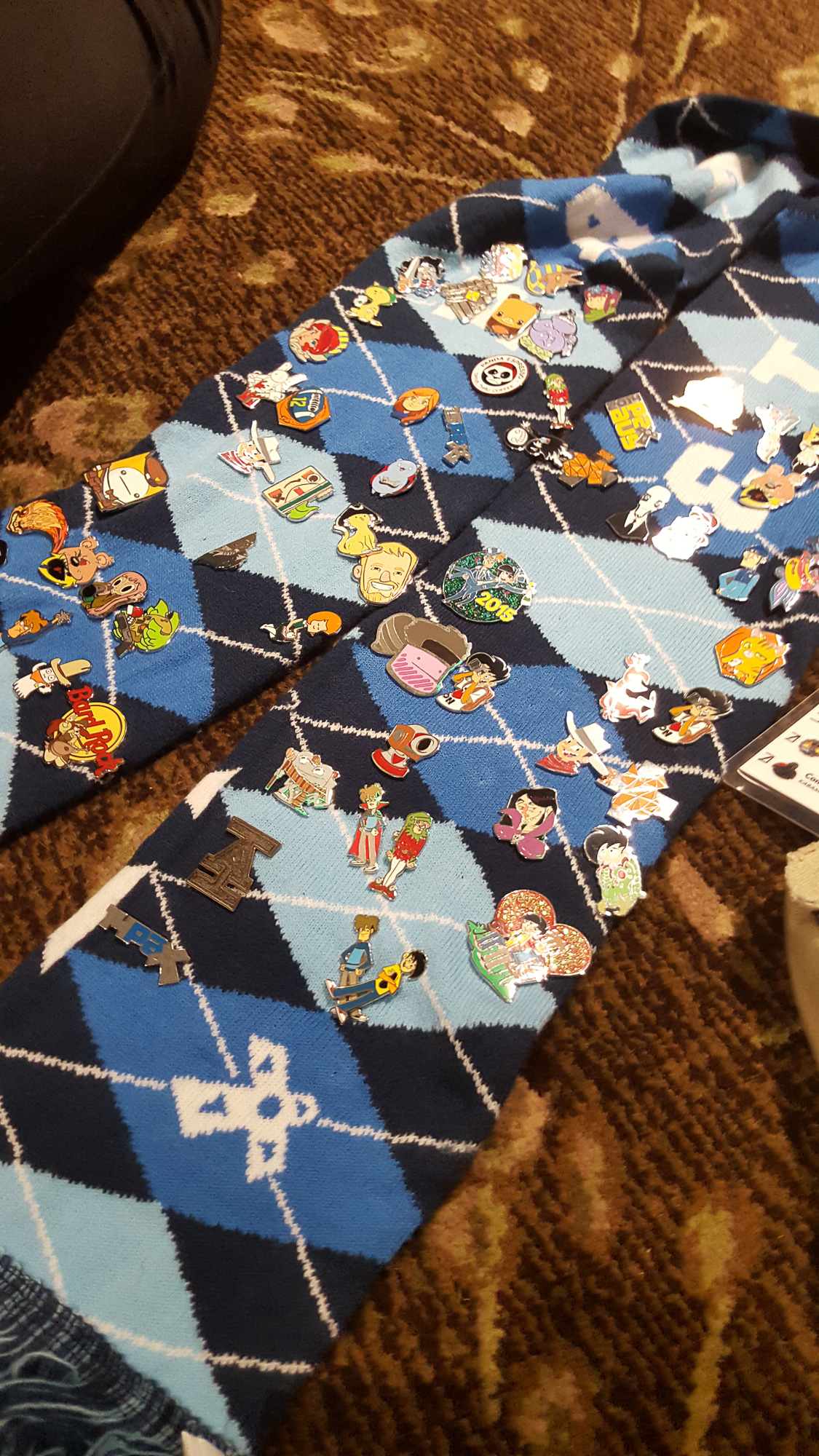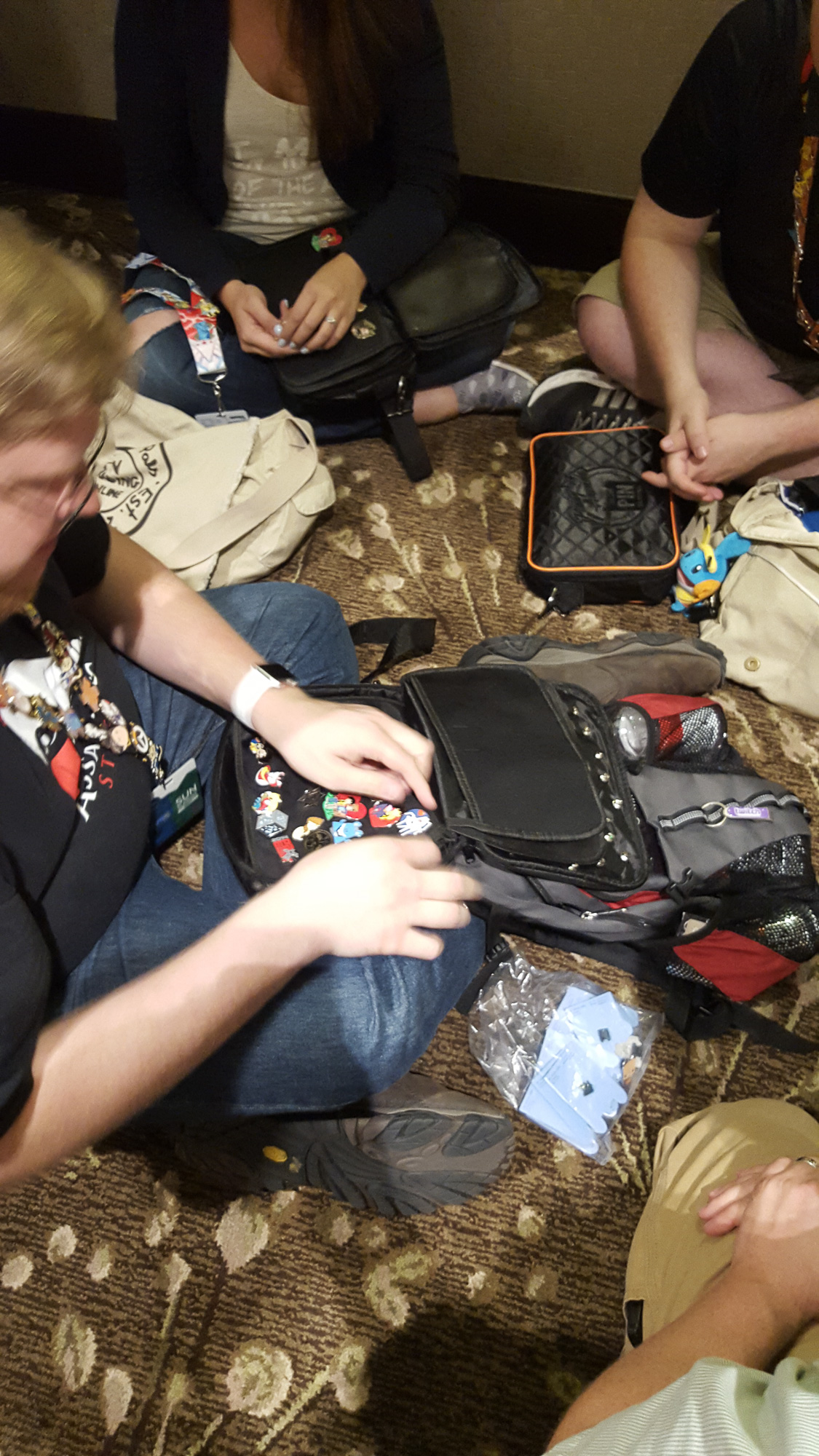 There was a LOT of trading going on. A few people had sets of every Pinny Arcade pin ever made. I had the pleasure of making someone's day by trading a complete set of PAX Aus 2013 pins for practically every pin I wanted. I also put a smile on a face by trading a PAX Aus 2014 shield pin. PAX Aus pins go very far overseas, especially 2013 pins and the limited edition ones. It's incredible what over nine thousand miles can do to a pin trade. Advice if going to an American PAX from Australia? Stock up on Aus pins. These guys will love you for it.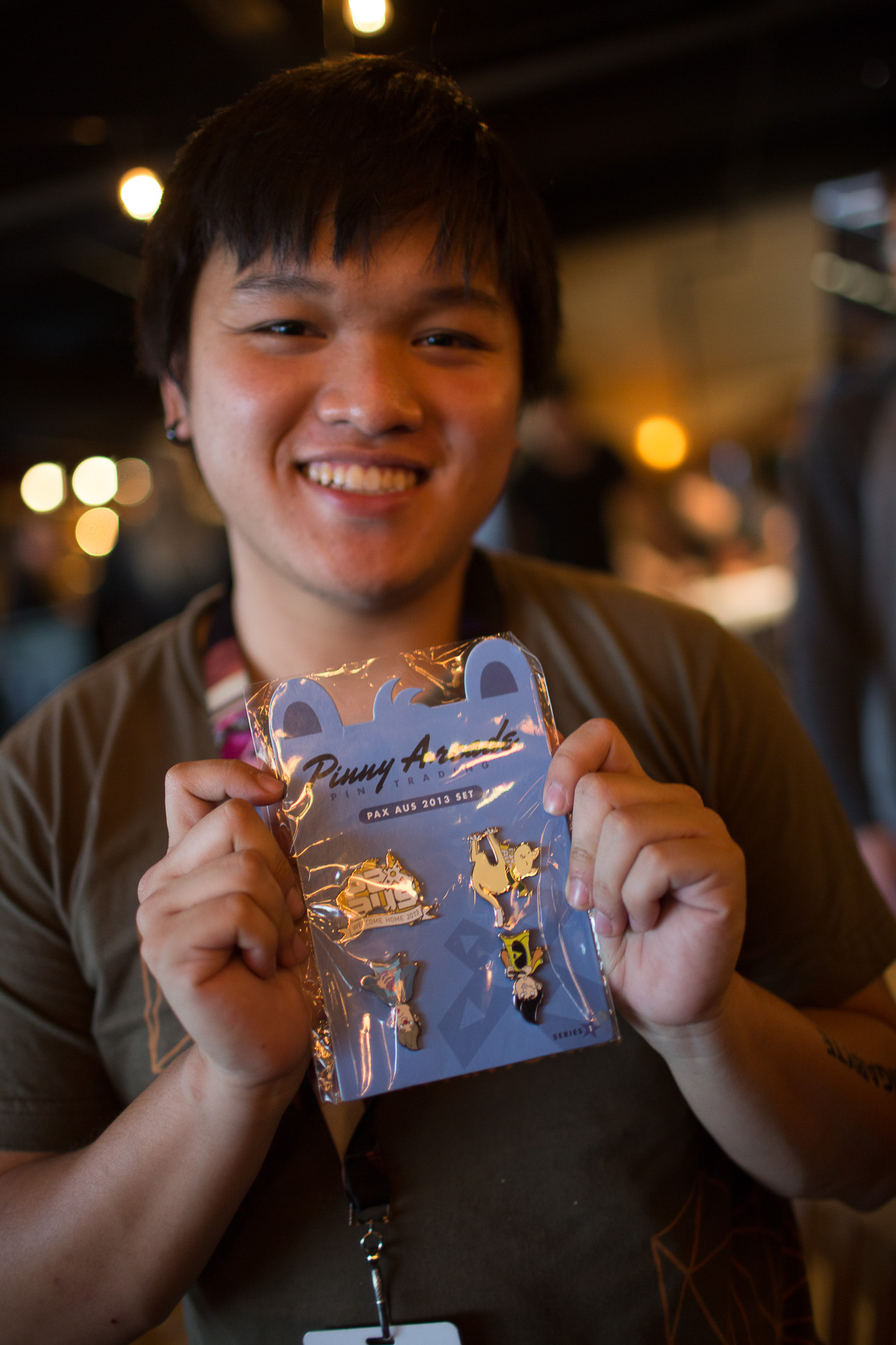 This fine gentleman will likely have the full set of pins before too long; at the time, he was five pins short of the entire set, after the trade, he was one.
There was also plenty of pin trading going on around Merch on the final day of PAX: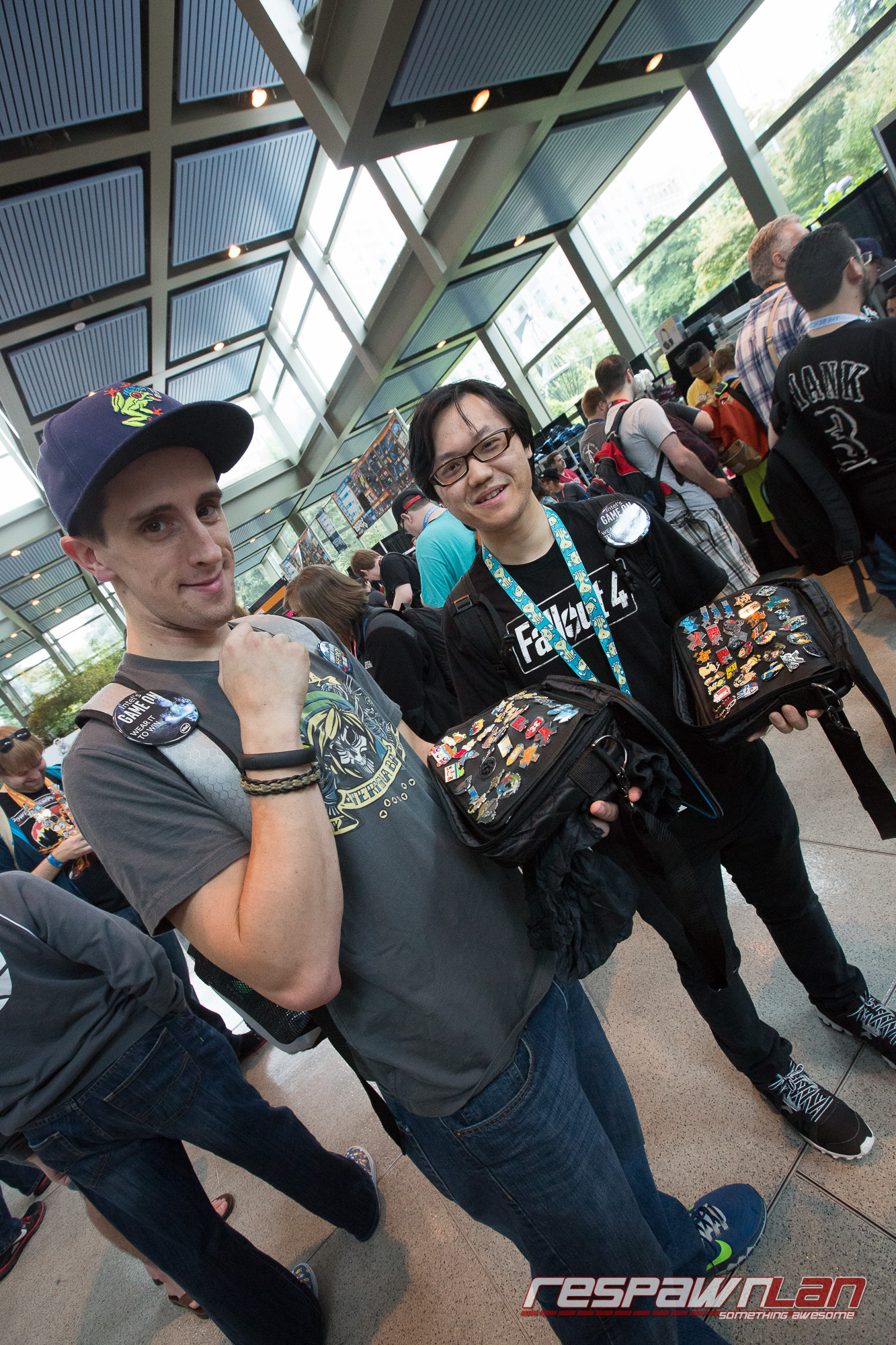 Merch
Merch booth is a lovely, lovely place but also a horrible, horrible place. It's horrible, as the fingers of merch dig deep into your bank account and remove many dollars in exchange for delightful, shiny and not-so-shiny things.
There are two merch booths: there's the main merch booth located within the WSCC: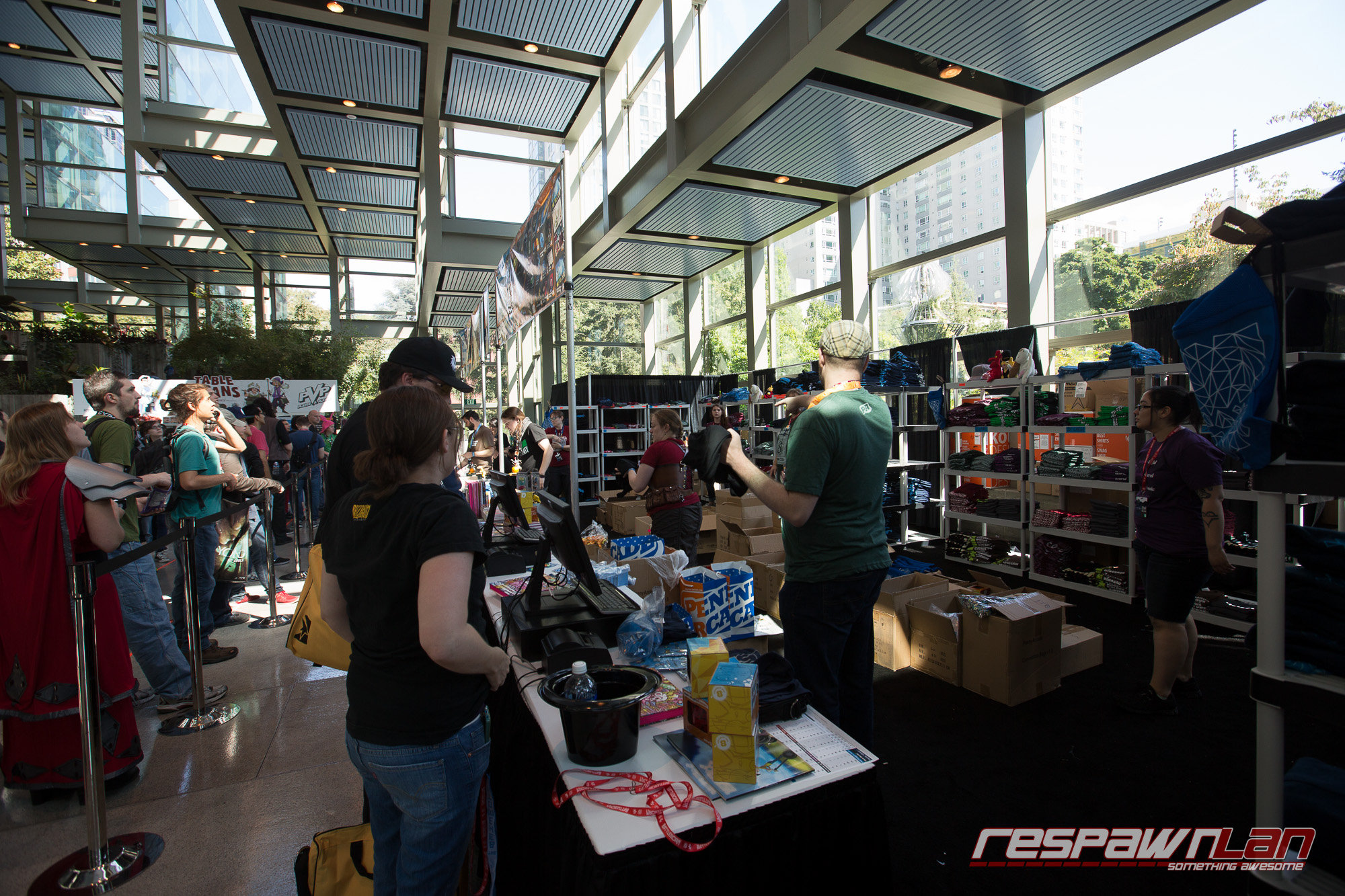 And Merch Lite, located outside the venue at the Sheraton hotel. You can see people here queuing up for the limited edition Polygon pin who started lining up since 7:30AM in the morning.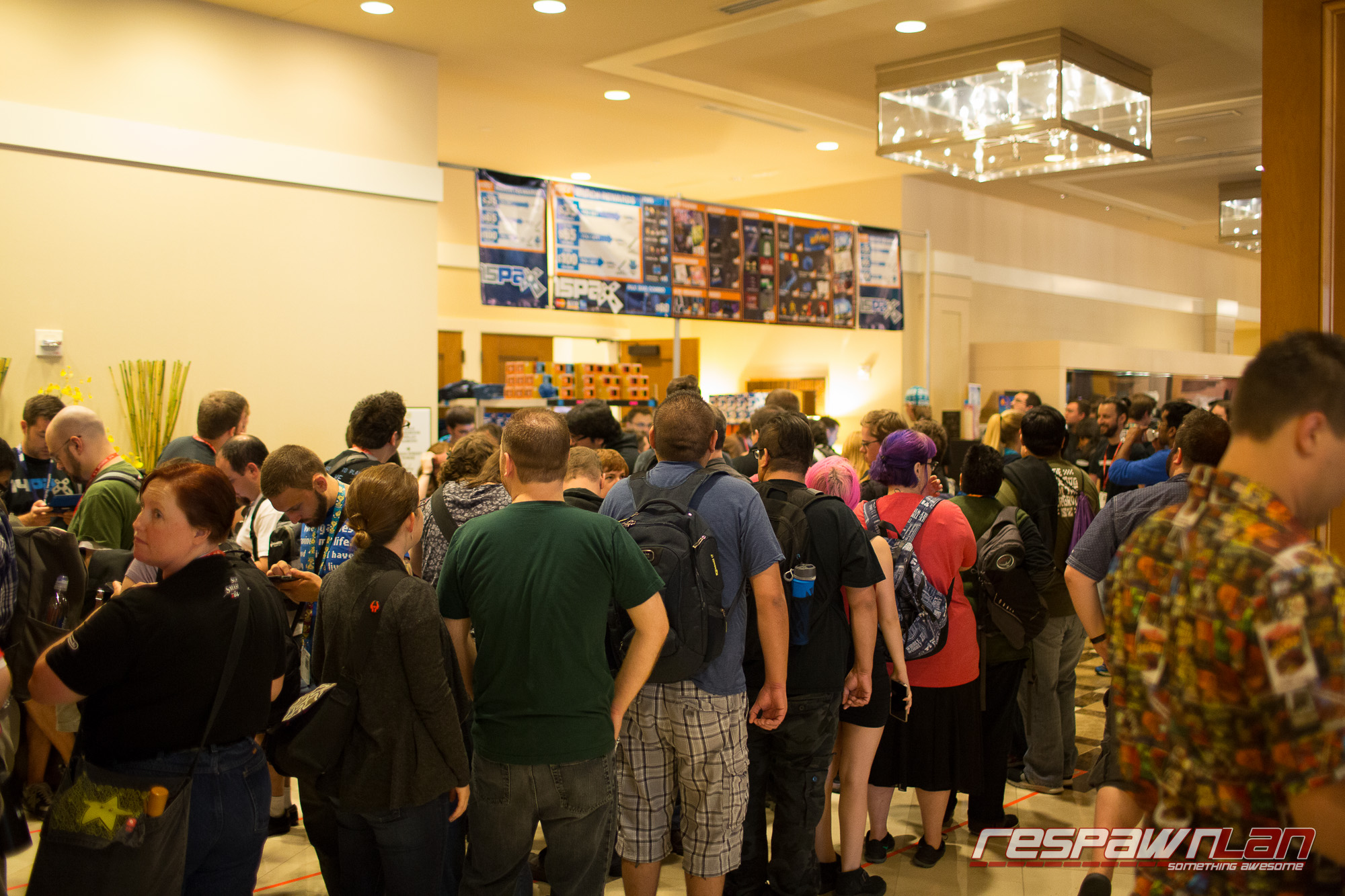 It's lovely, because hashtag swag, hashtag yolo.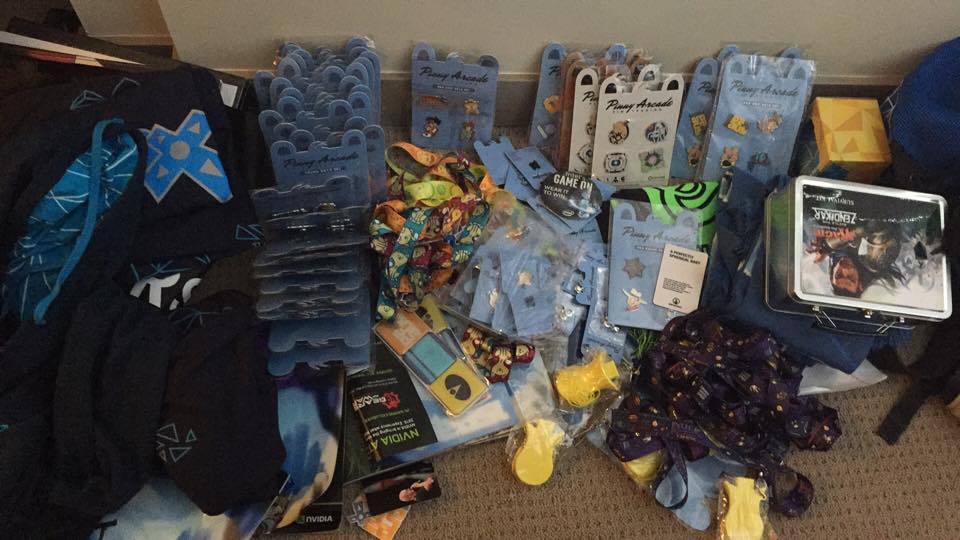 The hoodies this year kicked ass - I bought two of them as I am sure they'll get a lot of use. Same with the scarves - these things look awesome and while there was some speculation that scarves would be PAX East only, I'm glad to see the blue colour returning this year to Prime.
The pins? They're for trading back home at Aus - US pins are sought after, and trading into earlier sets of Aus pins is always worthwhile.
BYOC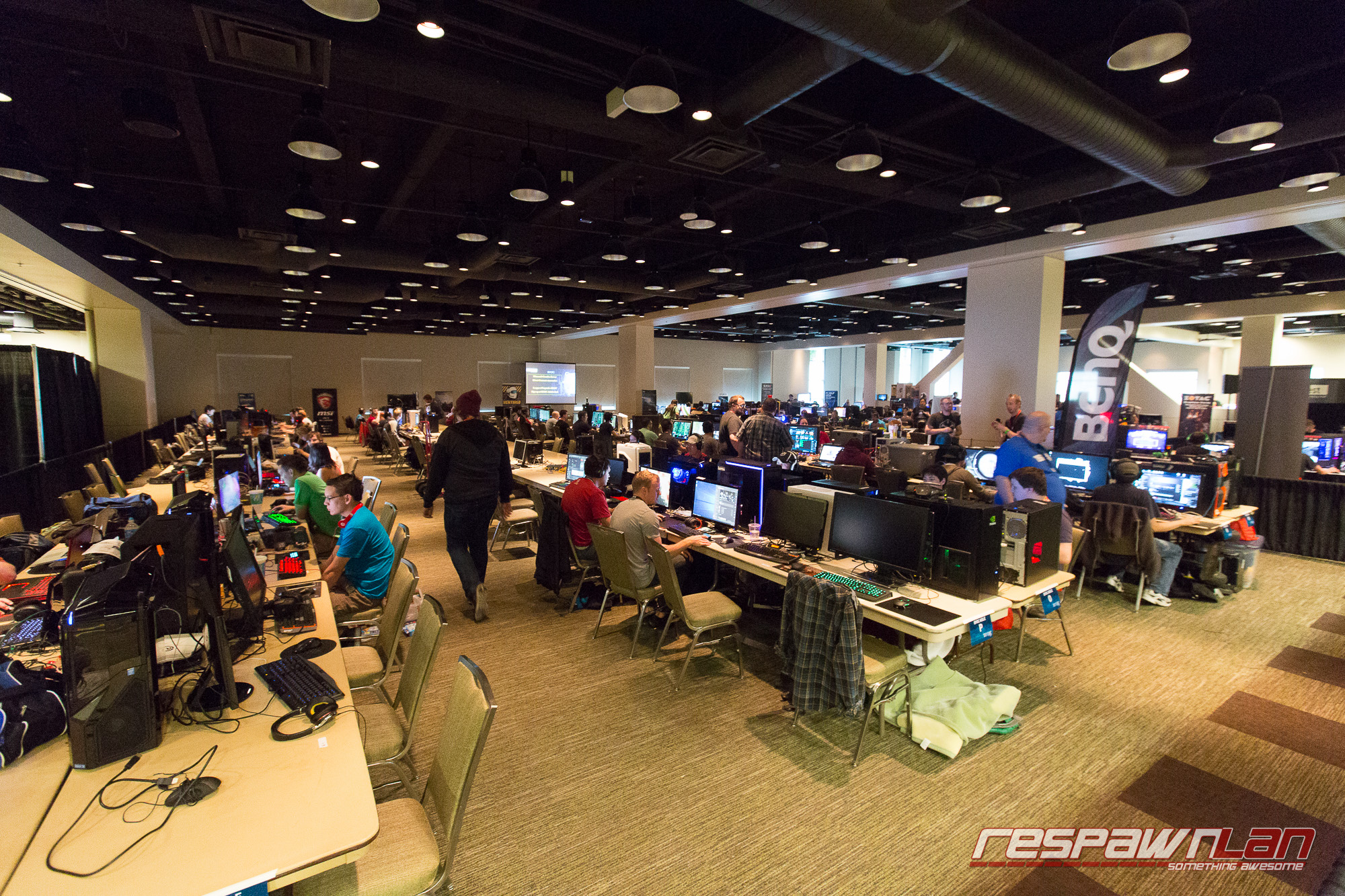 Perhaps the most exciting part of PAX than well, the other exciting parts of PAX, was BYOC -the Bring Your Own Computer section. This is the LAN party, like a Respawn, but at PAX. Over 400 seats, some awesome exclusive tournaments and prizes not open to PC freeplay. A BYOC badge costs a little extra and is an add-on to any PAX pass and simply entitles them to a seat and access to the BYOC area.
EXTREME MULTI DISPLAY SURROUND!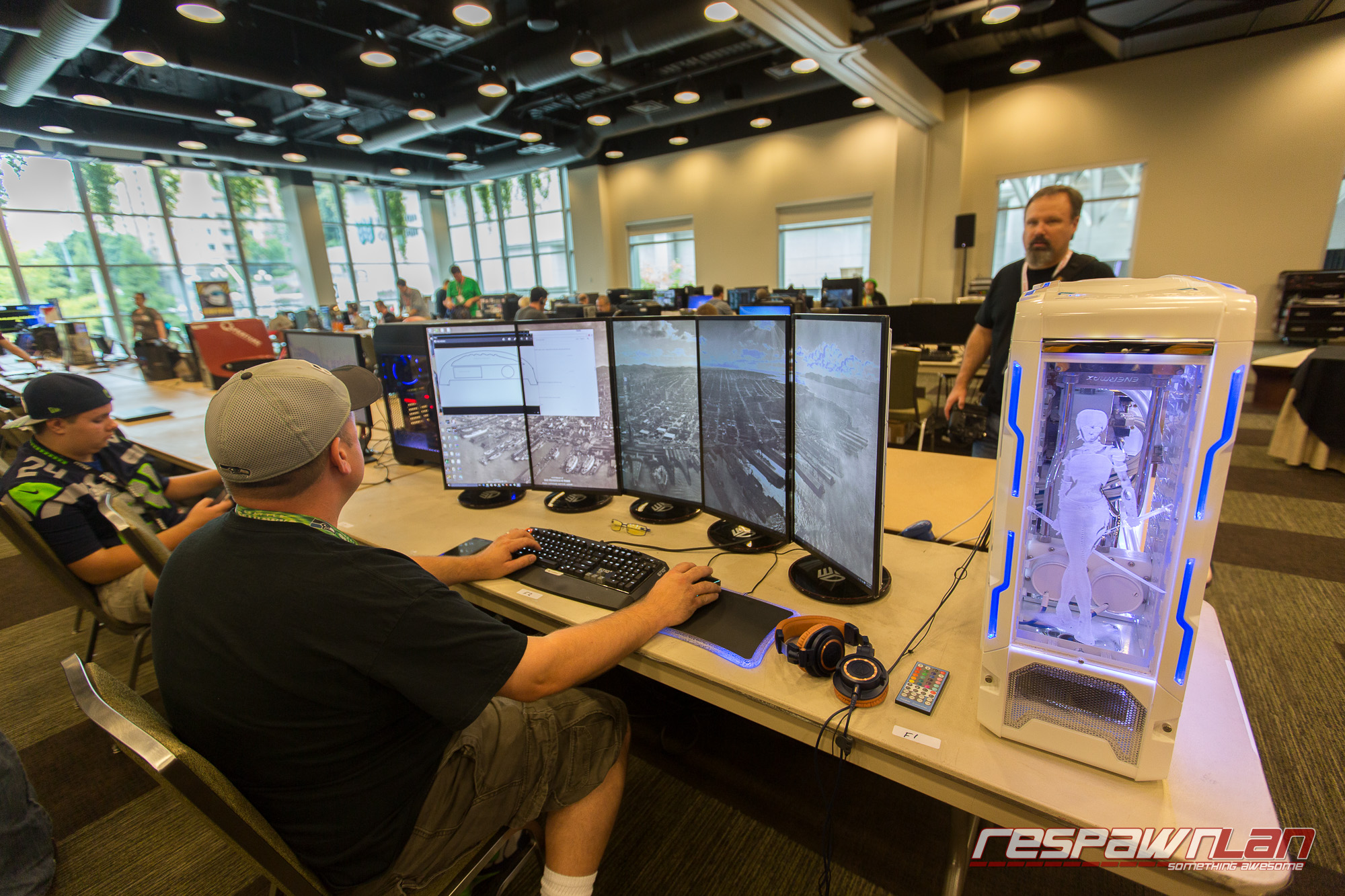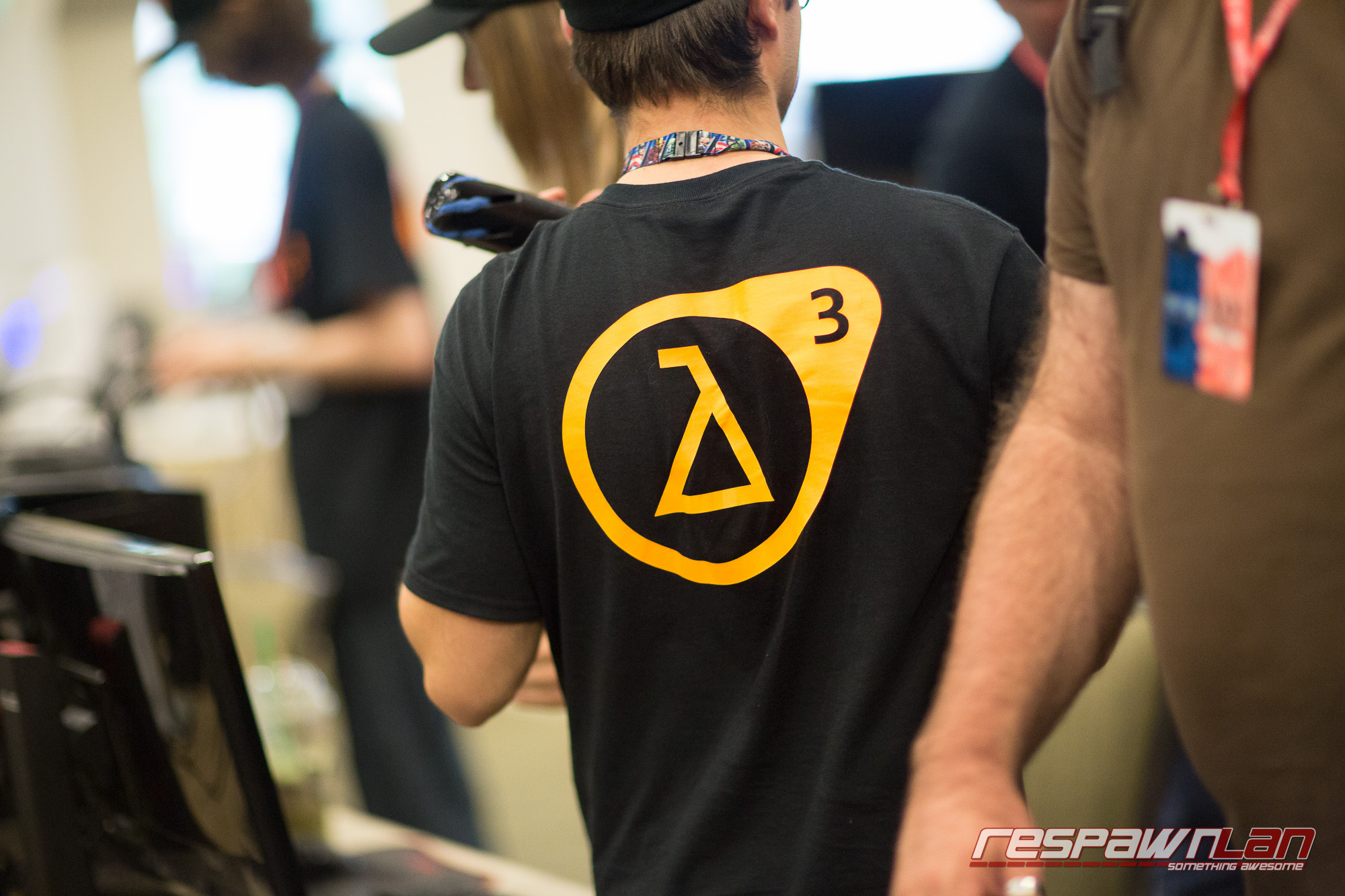 Check out this insane case mod into a Mac Classic II!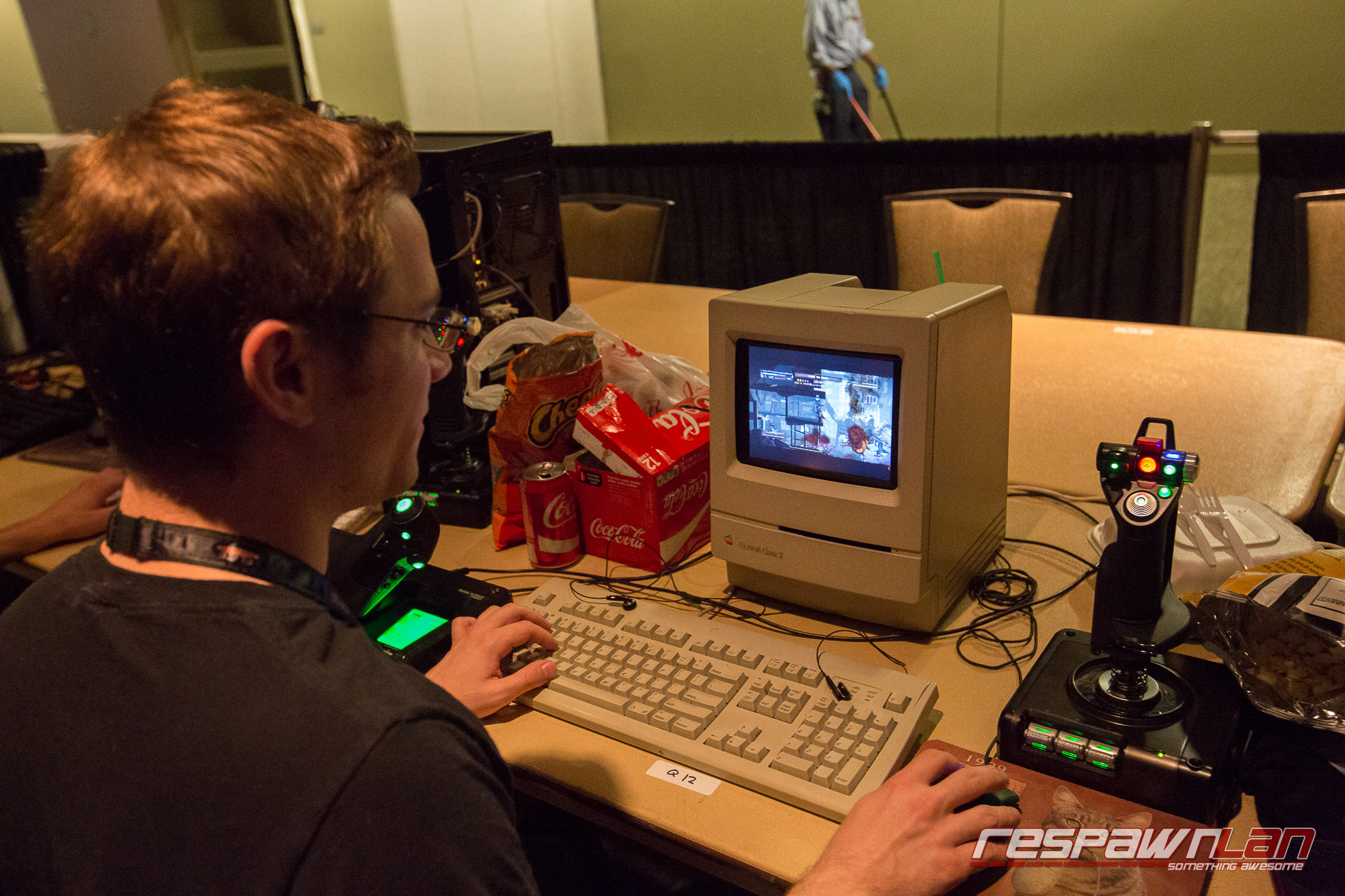 Unlike a Respawn, however - and much like PAX Aus, the BYOC area is only open during PAX hours, with the exception of the first day where people get to bump-in their gear two hours prior to the show and get set up before lining up to get into the expo hall. Outside of PAX hours, equipment is typically left behind - with 24 hour security observing the area and all equipment is subjected to a strict check in/out process to ensure safety and security of equipment. Nobody without a BYOC badge is permitted in the area - volunteers for the area are even required to have one. The only exception is All Areas badges worn by Penny Arcade staff.
Expect the usual BYOC activities to go on here, including some incredible case mod showing-off. BYOC also gives you a nice secure space to sit down and chill for a bit of the expo and other activities get too overwhelming of fatiguing.
Both the BYOC and PC freeplay sections are largely operated by the LANfest group, in a similar fashion to the way the Respawn LAN team overlooks the PC section at PAX Aus.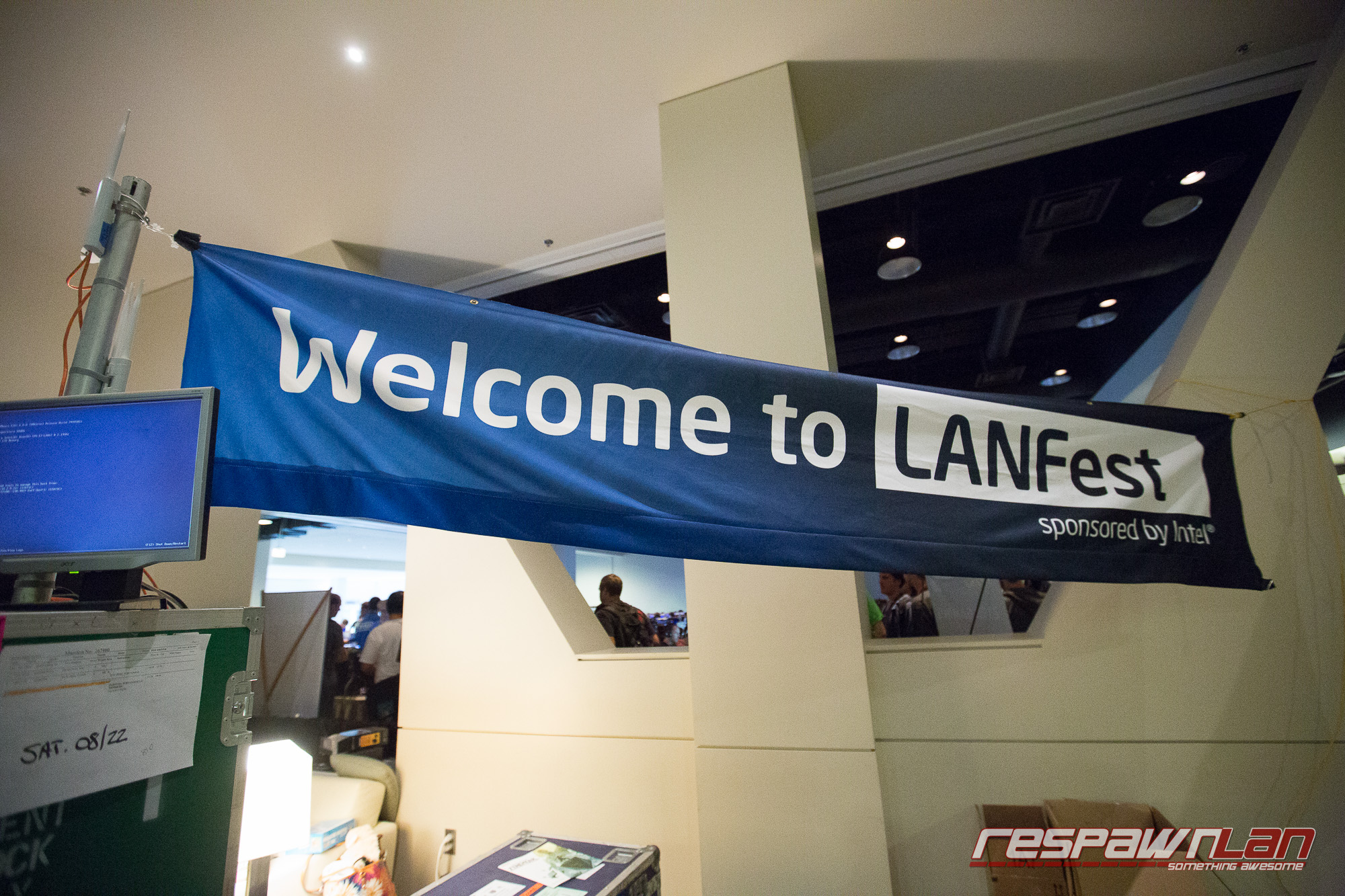 PC freeplay
It's a room with over 300 PCs, mostly highly specc'd systems with the latest games preloaded. There are heaps of tournaments, including the aforementioned Rocket League. System specs of the white systems were Intel's latest 8 core 5960X processor with Gigabyte G1 Gaming GTX980 graphics cards.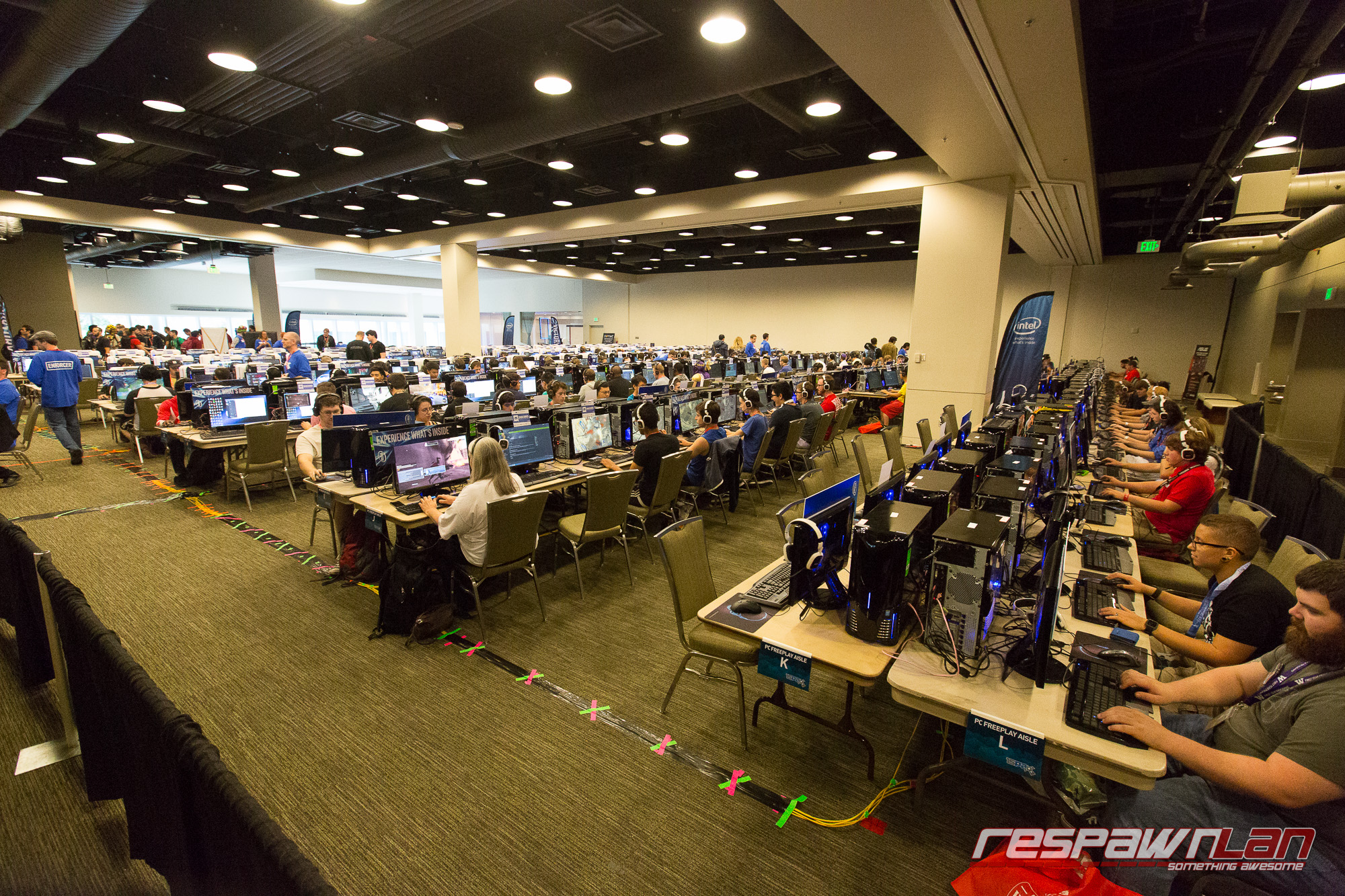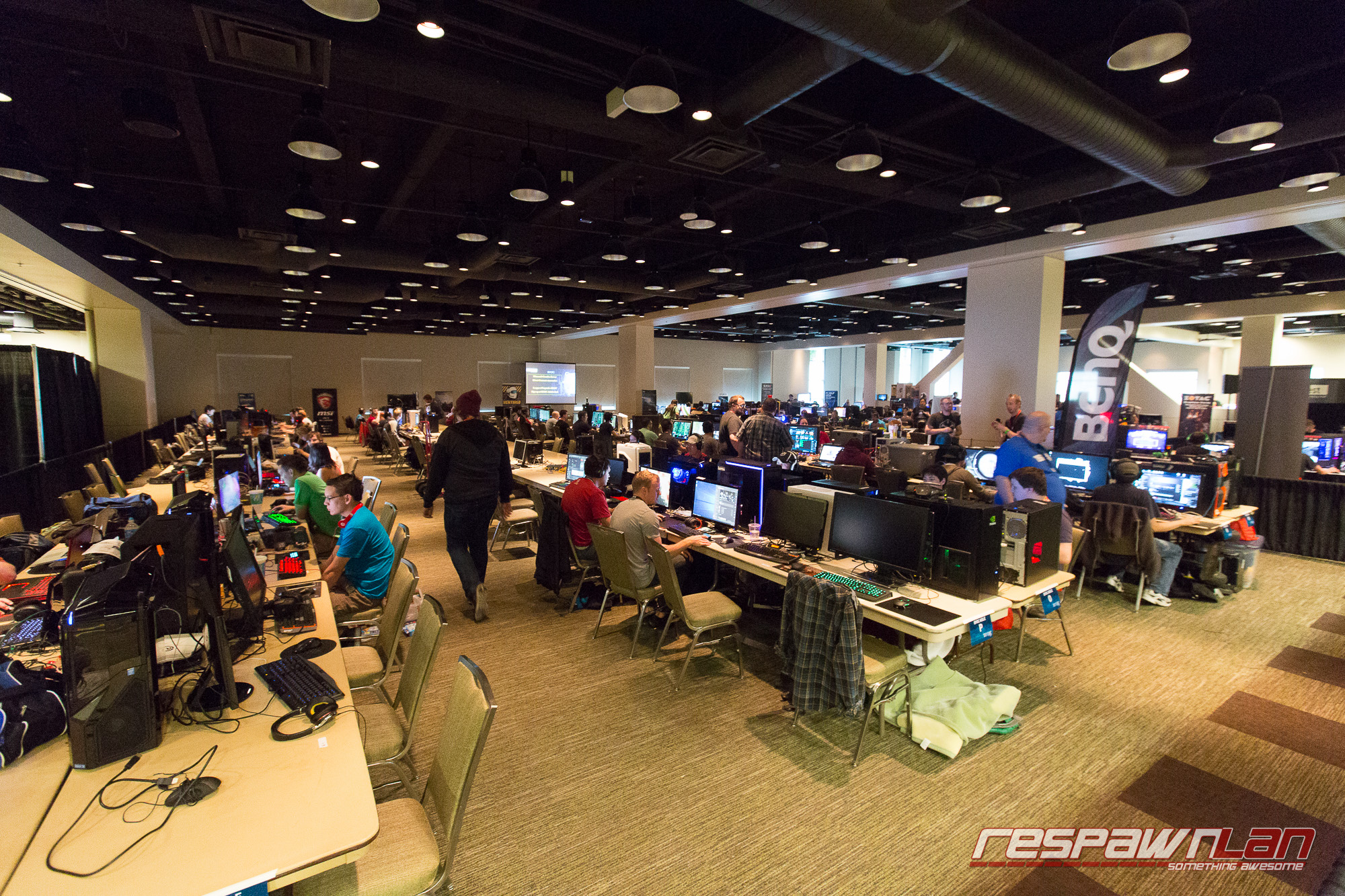 The Omegathon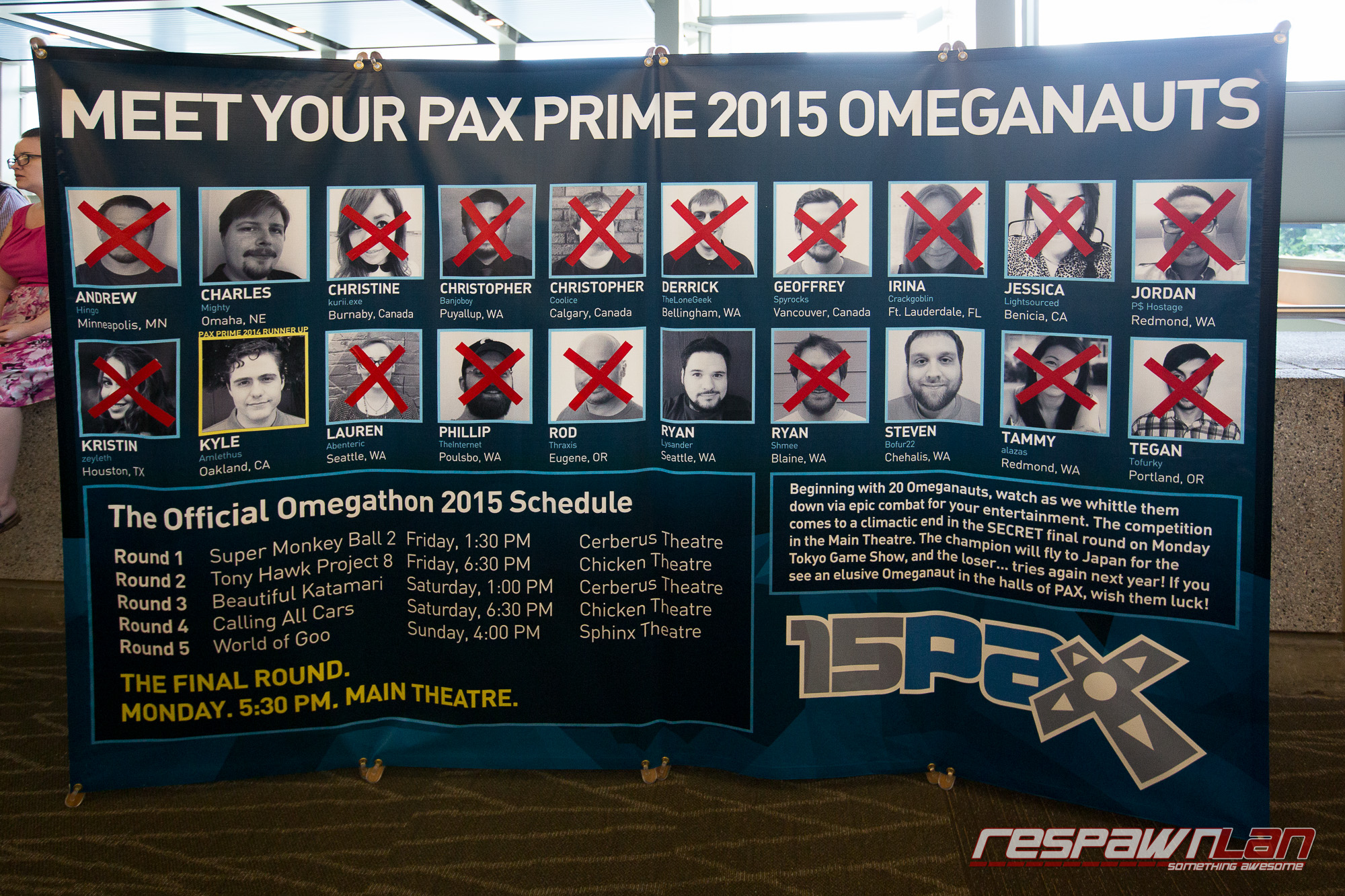 As I explained at the start of the article, I missed the Omegathon but I did have a chance to meet and chat with a few Omeganauts during the show.
The Omegathon is a tournament that runs throughout the duration of PAX - attendees are randomly selected (it's opt-in when you buy your PAX badge as to whether you'd like to be included in the draw and Robert Khoo himself will call you up and invite you over the phone) to compete against each other. There's no eSports or professional thing about it - these are gamers completely randomly selected to play in a wide range of gaming genres and can be comprised of any sort of game; tabletop, video games from classic or modern consoles, PC games - literally anything goes. This makes for great spectating as well as competition. The Mario Maker final at PAX Prime was especially of interest because the two remaining omeganauts were relatively inexperienced at Mario!
The winner of PAX Aus 2014 had the choice of a AUD$3000 cash prize or a trip to any other international PAX - and having just been to one, I can definitely encourage any Omegathon winner to take the trip if possible. PAX Prime Omegathon winners are typically offered a trip to the Tokyo Games Show or a cash prize of equivalent value. The competitor who comes second is invited back as an Omeganaut in the following year to try again.
Omeganauts also sport the most rare PAX badge, characterised with the letters "OMG". There are less of these than All Areas passes for staff. If you are selected, wear that badge with pride. You'll be part of something special you will remember for the rest of your life.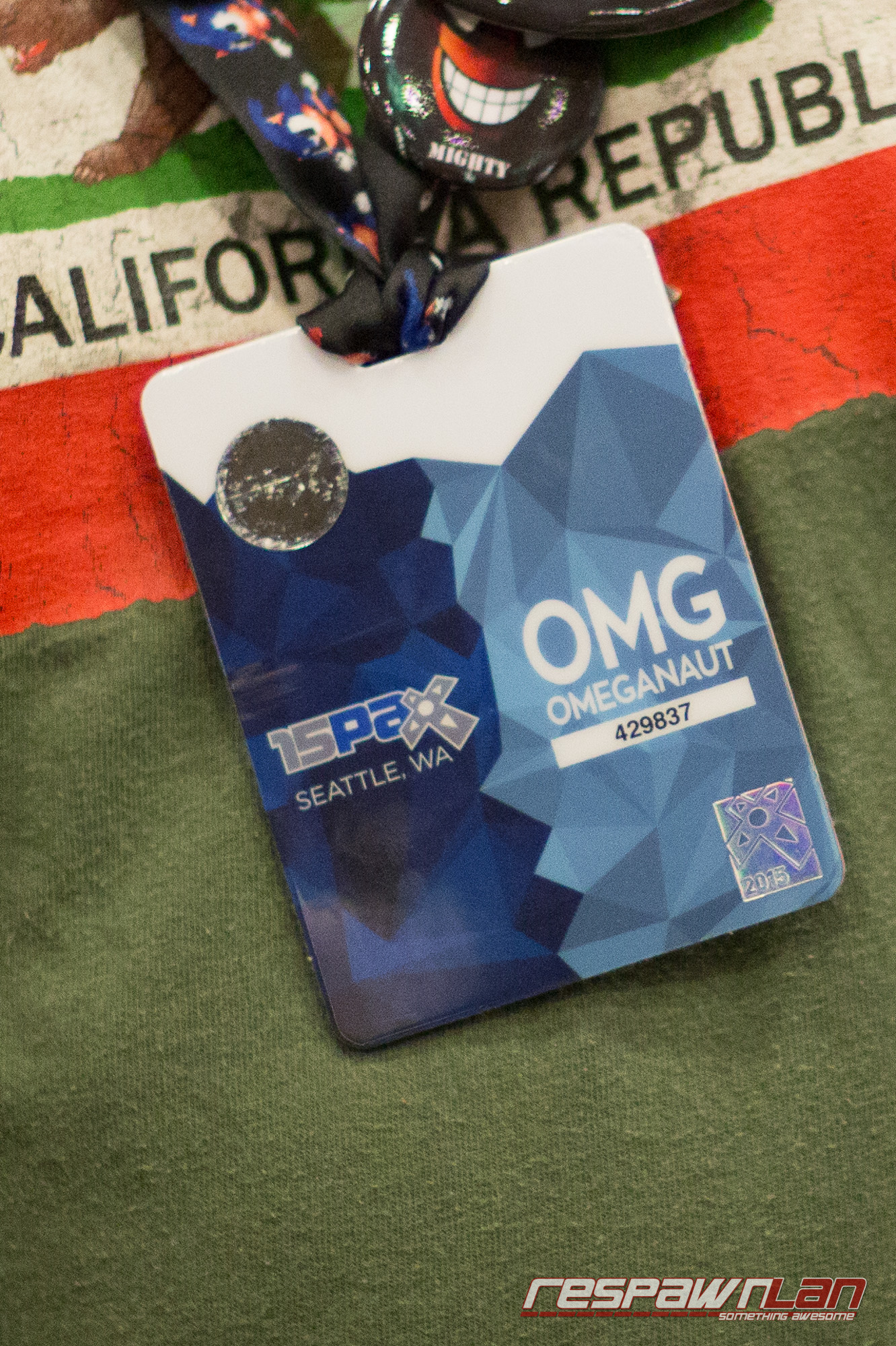 More information about the Omegathon can be found on the
Penny Arcade WiKi page
.
The PAX Prank
One thing we see at American PAXes and we have yet to see at the Australian PAX events is the PAX prank. This year, the use of the hashtag #PAXEuropeIsReal (hint: it's not and it never will be, but a few people started actually believing it) and distributing documentation on tin foil hats (and actual tin foil for said hats), along with these posters throughout the venue: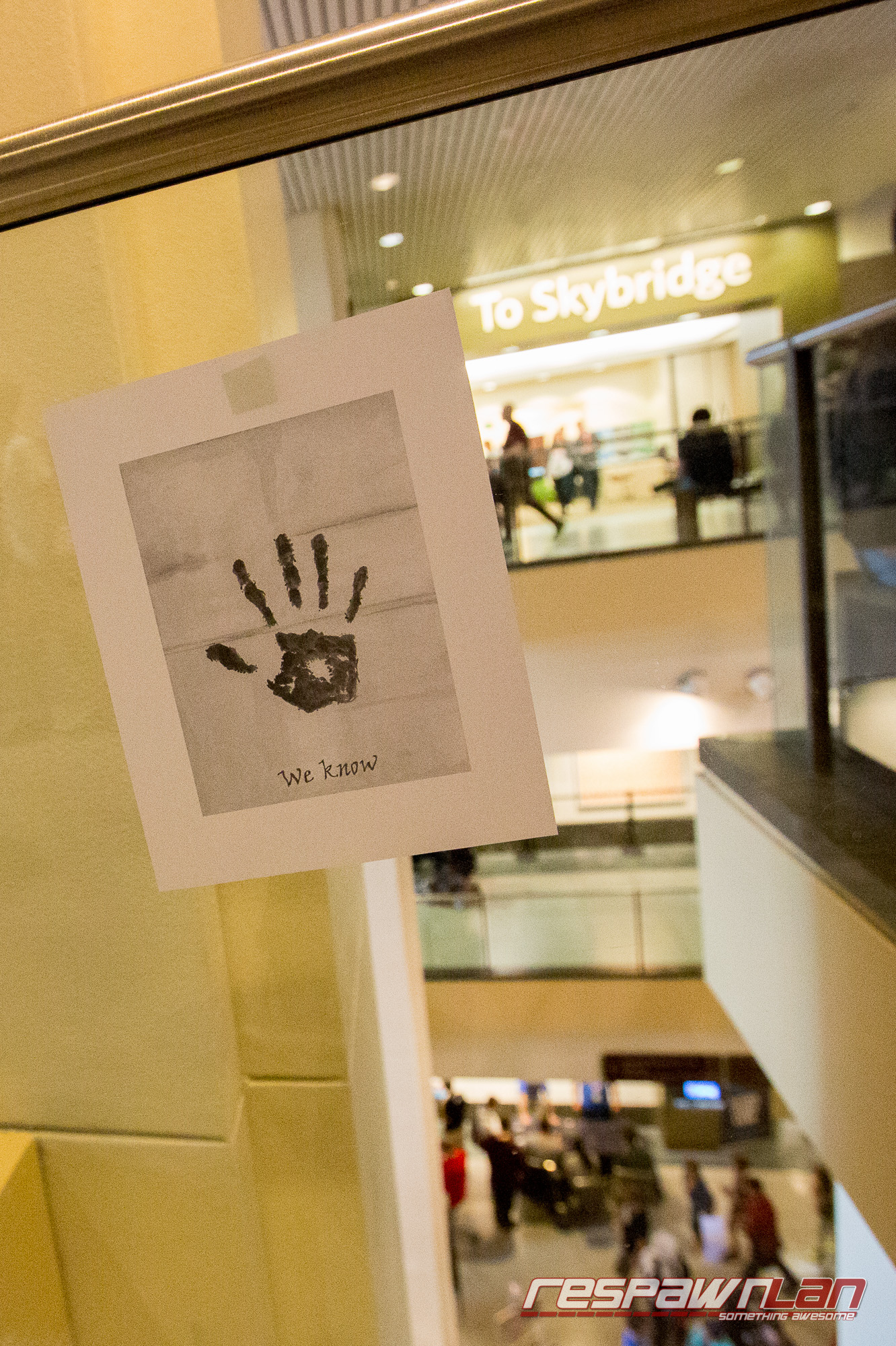 They even created a
Twitter feed
.
PAX South's PAX Prank was these, which some people thought were real (for a while).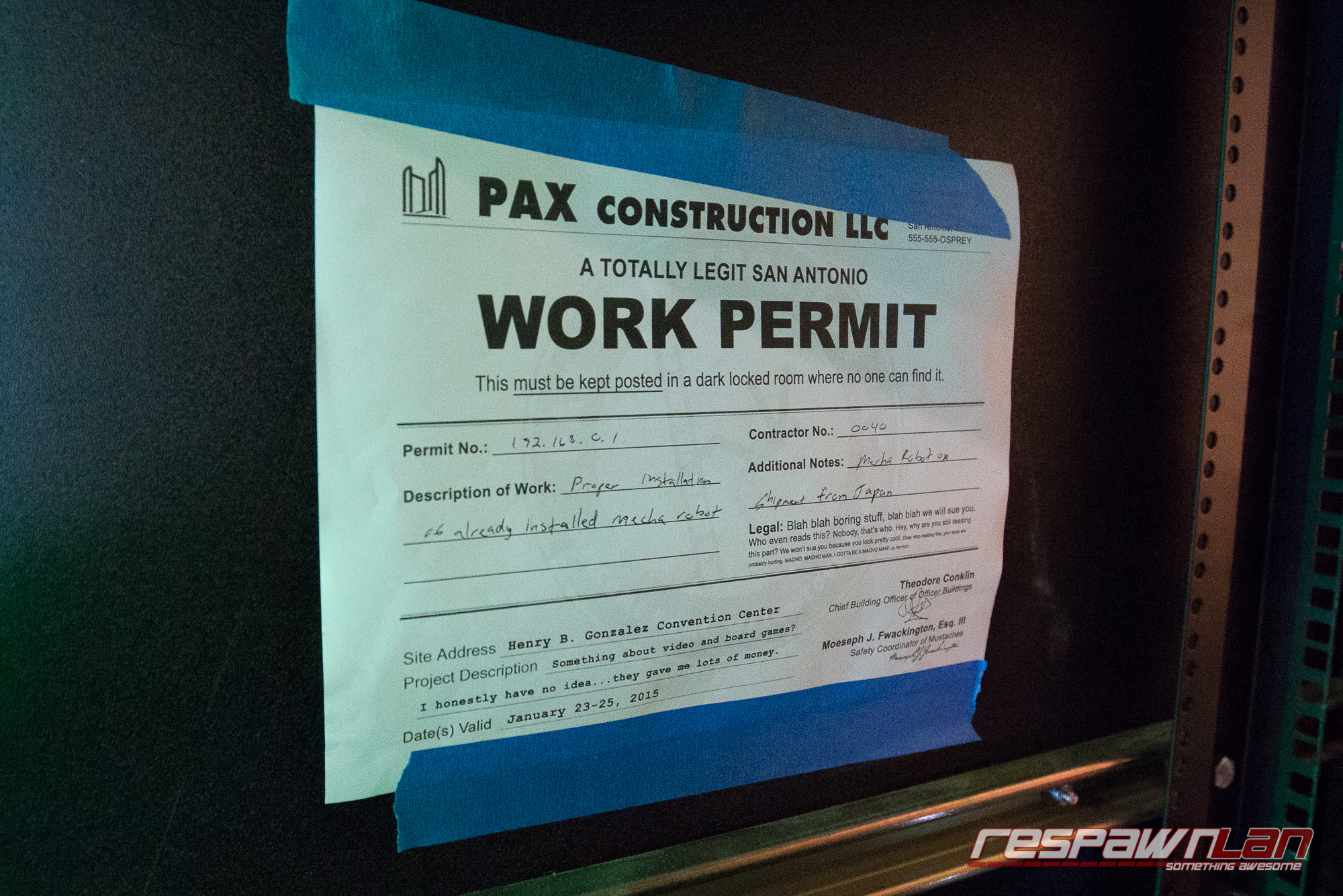 The End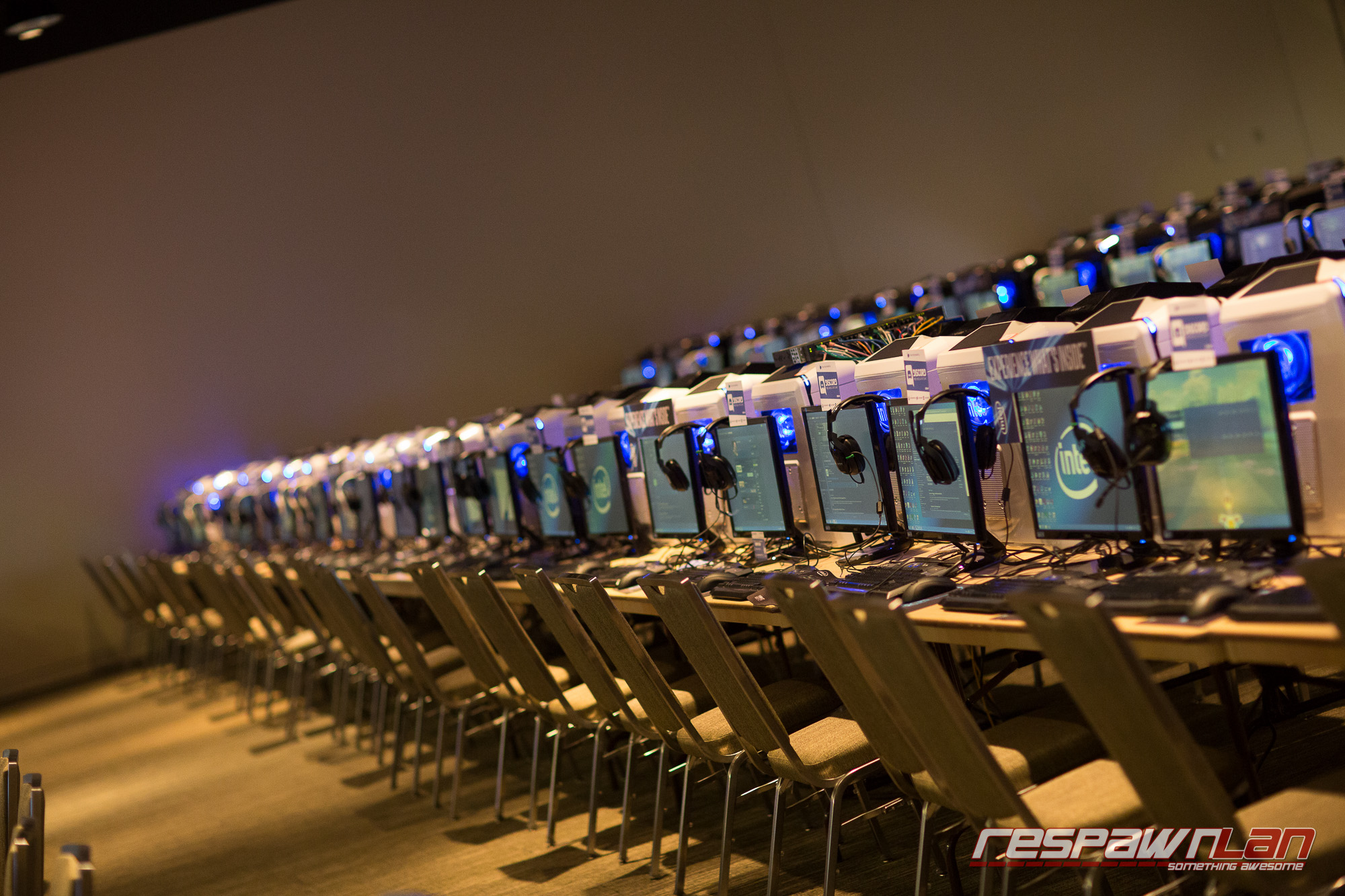 All good things must come to an end. At 6PM on the dot, the lights get turned up in the expo hall and packdown. At 7PM on the Monday, it's time to find your new friends, find a bar and begin the long process of grieving that PAX is over. PAX is a wonderful place where you meet so many people and friends that the comedown is challenging for most, coining the term "Post-PAX depression" or PPD for short. After a full weekend of being exposed to an overwhelming amount of sensory input, the cooldown can be jarring, especially when the whole city turns into a PAX city for four full-on days.
Recommendations to deal with it? Keep in touch with the people you've met. Catch up with them before you leave. Or buy tickets and make travel plans for another PAX. Play some games.
Write some articles. Actually, scratch that; writing this brings back feelings of PPD. But knowing this, there's a more local PAX happening in less than two months time right here in Melbourne and I can't wait.
So, which PAX is better? Is Prime better than Aus?
Well, it's different. It's got more swag, more bling, bigger names, more personalities. But PAX Aus has a unique flavour that feels more homely, more close-knit. PAX Prime's demographic is more disparate than PAX Aus. Perhaps PAX loses something in the scaling up to the size of PAX Prime but it gains something, too - the sheer size and epic scale makes it a PAX worth attending. The extra day helps, but there's absolutely no way that you can possibly experience everything at PAX Prime in the four days.
Yes, it's a lot of coin to drop on an overseas trip for a PAX, but the experience is so different and awe inspiring that I highly recommend the trip. And it's still a PAX, it's still recognisable as the same fundamental event, with different people in a place on the opposite side of the globe, those three letters are all it takes to create something familiar, an environment that can only be described in the two words that Robert Khoo once said "once you see a PAX, you'll know what we mean",
"Welcome Home".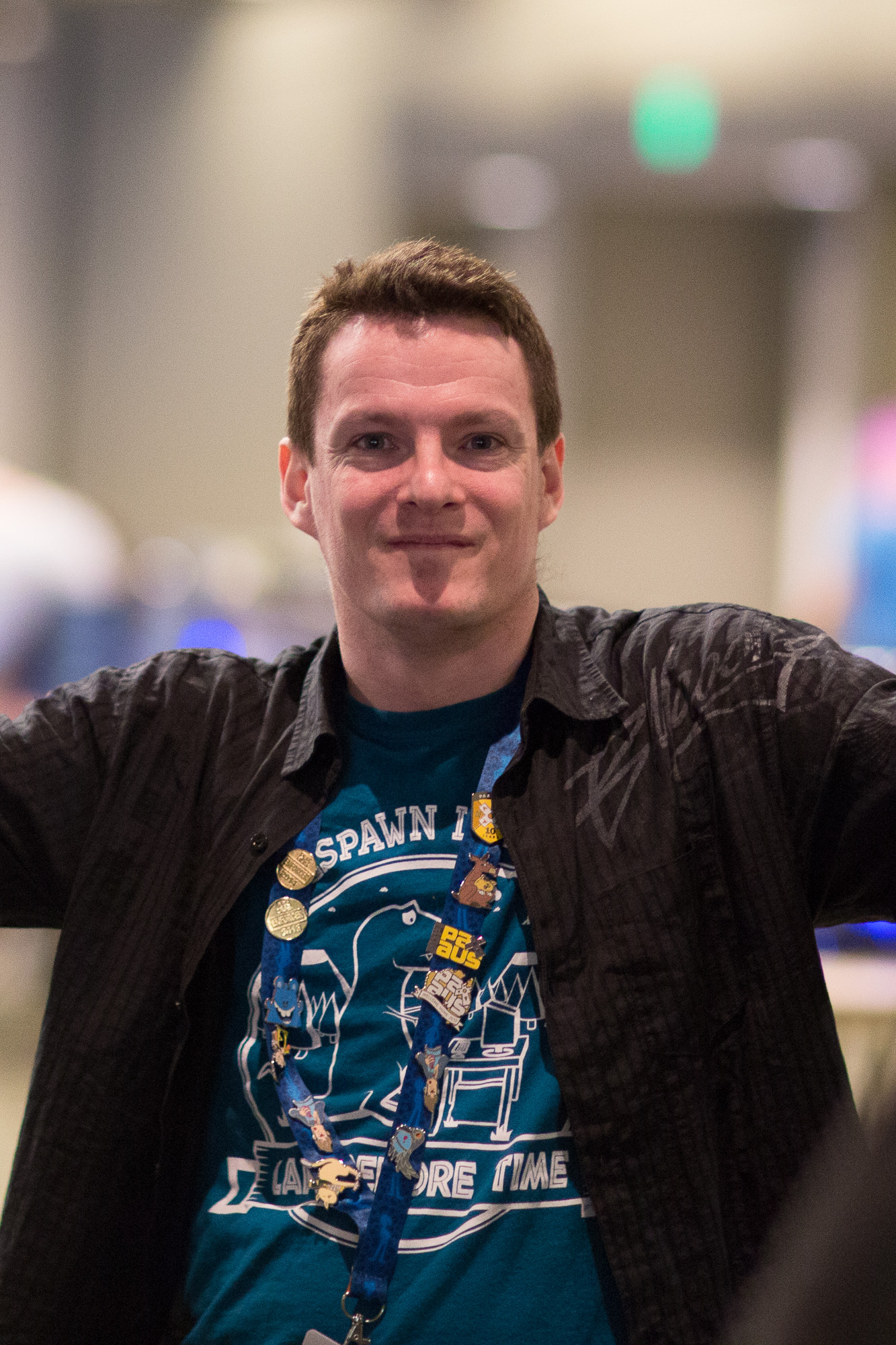 --
Thanks to NVIDIA for their support in gathering the content for this article!